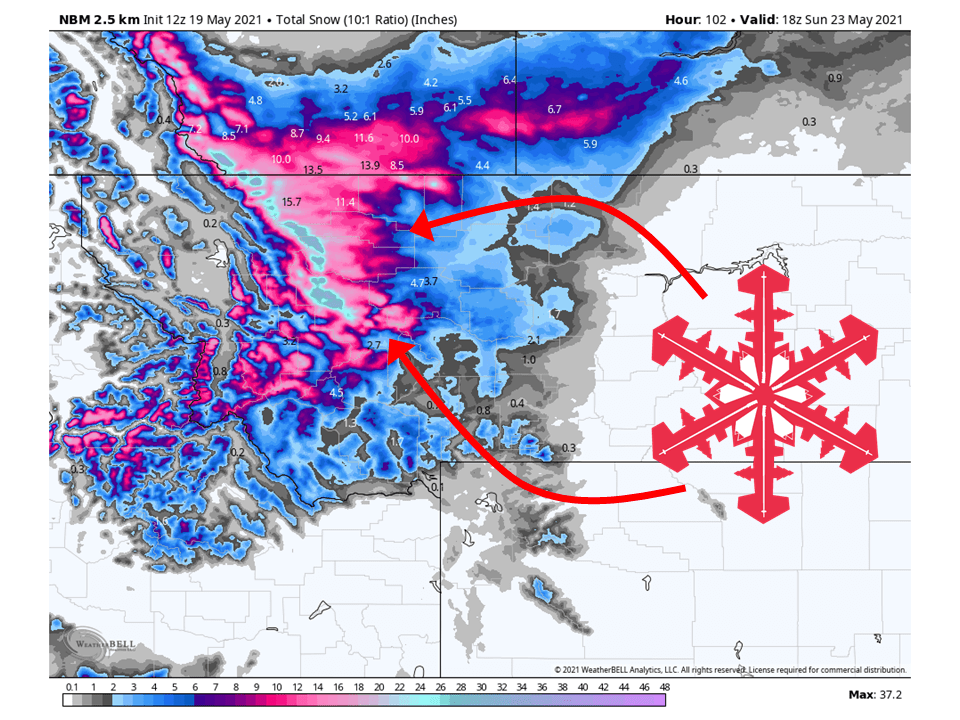 Forecast By SnowBrains Meteorologist – Eric McNamee
 1:25 PM MST, 5/19/2021
Forecast Summary:
A strong upper-level low will move into the state tonight and bring 1-3 FEET of snow to the mountains of Western Montana through Sunday.
Precipitation will begin later tonight as moisture moves in from the Pacific and interacts with the terrain.
Precipitation will continue on and off into the weekend as the center of the low moves further inland.
Snow will be heavy due to it being late in the season.
This could possibly result in some power outages across the region.
By Sunday, conditions will generally dry out as the trough moves east out of the state.
A Winter Storm Warning and Winter Weather Advisories have been issued for the anticipated system.
Looking out long-term, global ensembles are indicating below-average temperatures and slightly above-average precipitation for Montana. 
  A strong upper level low pressure system, currently centered 
  around Vancouver Island, will dive southeastward through 
  Washington today. As it does so, it will send copious amounts of  
  Pacific Moisture towards the Great Falls CWA, resulting in rain,  
  and valley snow, to develop from west to east across the area.  
  With this system moving into the area, don`t expect highs to climb 
  much past morning lows, as increasing clouds filter out most of  
  todays sunshine.  
   
  As this upper level low continues to slide southward across 
  Washington and Oregon through the day today and overnight tonight, 
  surface high pressure will move eastward across Central Canada, 
  which will cause northerly wind to bring some colder air near the 
  surface to the area. This influx of colder air near the surface 
  will help to allow rain to change to snow across most of the area, 
  while enhancing the overrunning flow brought on by southerly winds 
  aloft on the east side of the upper level low. With plentiful 
  moisture aloft, decent lift, and temperatures through the cloud 
  layer just a few degrees below freezing, the snow that falls will 
  likely have rather low snow to liquid ratios, making the snow 
  quite heavy and wet. While warm ground temperatures may help to  
  limit snowfall accumulations, trees and power lines will quickly  
  cool to near freezing, allowing snow to quickly accumulate on  
  them, especially given the wet nature of the snow. Power outages 
  will be one of the main concerns, as well as hypothermia for 
  newborn livestock and those recreating in the backcountry.
-NWS Great Fallls 5/9/2021