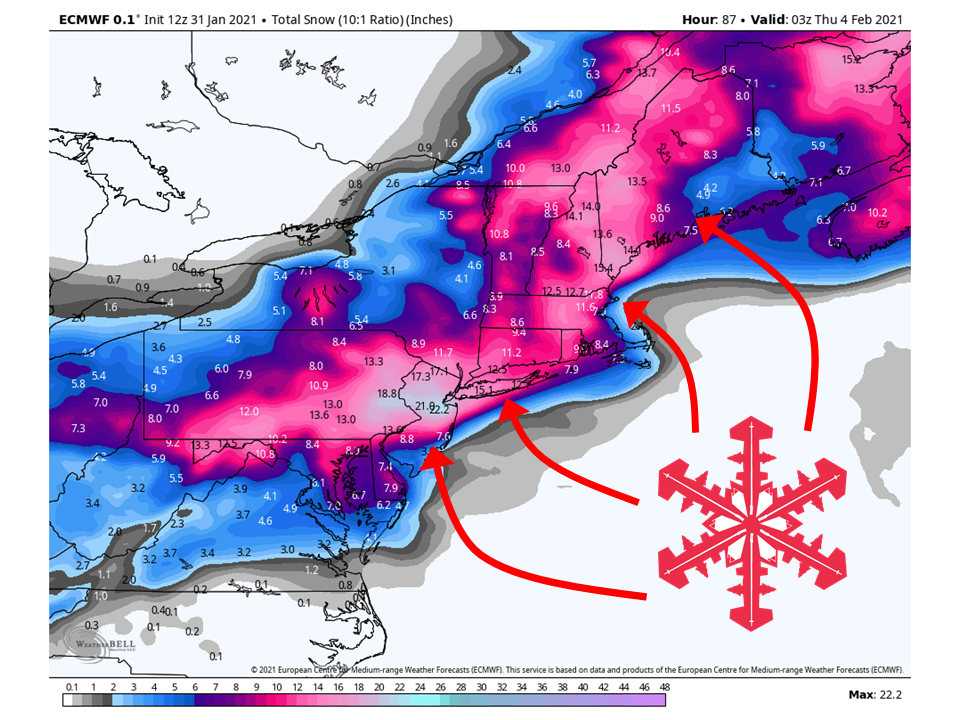 Forecast By SnowBrains Meteorologist – Eric McNamee
12:35 PM MST, Jan. 31, 2021
Forecast Summary:
A strong low is expected to develop today and tomorrow across the northeast, bringing 6-24″ of snow.
This will lead to dangerous travel with near whiteout conditions in spots.
Resorts likely to get the most snow are Killington, Hunter, Okemo, Jay Peak, Mad River Glen, Loon, and Sunday River.
Short-Term Forecast:
Sunday-Tuesday:
A strong low is expected to develop this weekend across the Northeast, bringing 6-24″ of snow to most of the area.
Snow will start to fill in later today and tomorrow from south to north.
Snow intensity will pick up tomorrow as the low becomes closed and intensifies into a classic Nor' easter.
Because of this, winds will be quite strong and lead to blizzard conditions in some locations.
This has led to the National Weather Service issuing Winter Storm Warnings to a broad area.
By Tuesday, the heaviest snowfall will be focused on New England as the storm moves off to the north and east.
Long-Term Forecast:
Monday-Thursday:
Getting into Wednesday, snow will be mostly confined to interior parts of New England.
Snow will taper late in the day Wednesday and conditions will clear out temporarily Thursday before another system moves in Friday.
Snowfall amounts have been increased for almost the entire
area. Amounts were lowered on the South Fork however. Despite
the fact that we are forecasting up to 18 inches of snow, these
numbers are conservative if you trust the NAM. The NAM suggests
that 2 ft is reasonable for this event where the heaviest band
sets up and where it remains mostly snow. Even LI is not out of
the woods for getting these max amounts if the GFS/NAM are
indeed correct with the temp profiles.

Warnings have been issued for all but the Twin Forks, where the
watch has been maintained. This is due to the mixing/rain
potential.

High winds will also impact the area with the storm. The peak
will be Mon and Mon eve. Gusts to around 60 mph still seem
likely, especially across the ern LI. Blizzard like conditions
can be expected with this storm, especially those areas near the
coast that remain all snow. An upgrade to a blizzard warning is
not out of the question for portions of the area. Those areas
most likely to go blizzard would be cstl CT, NYC, and wrn LI.
-NWS New York, NY, 1/31/2021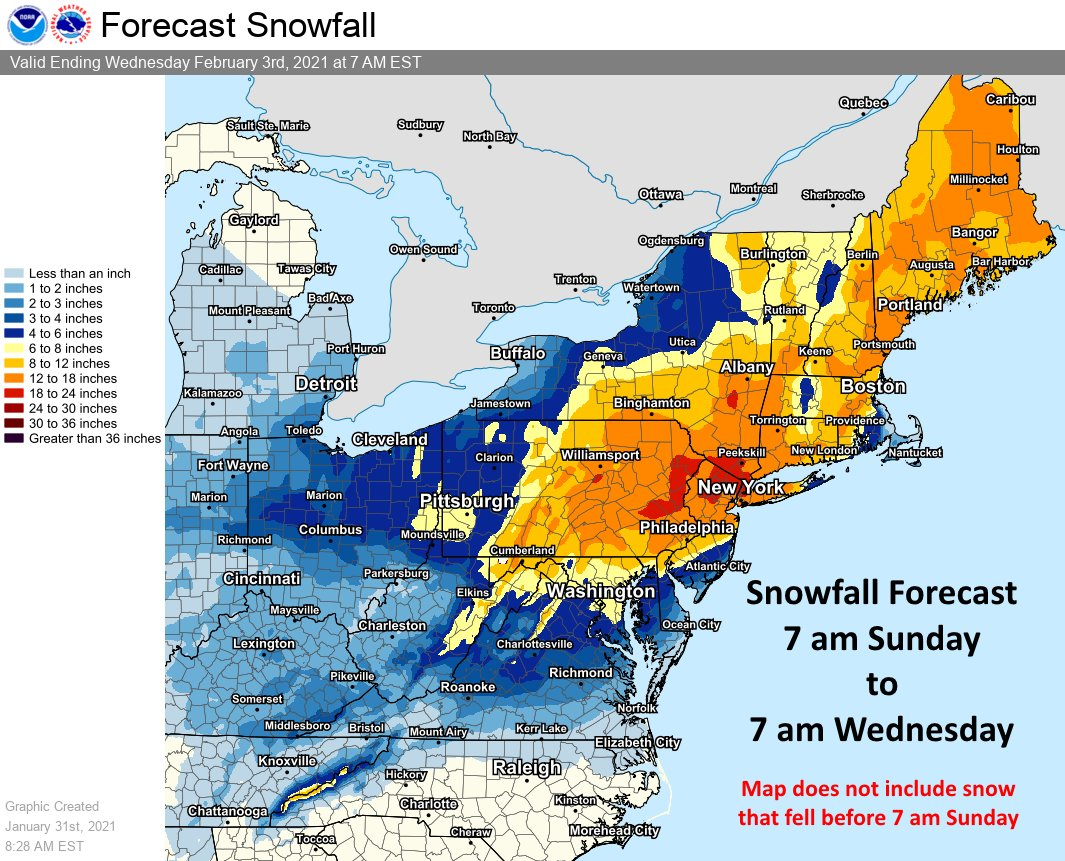 Extended Forecast:
Thursday and Beyond:
Global ensembles indicate precipitation being slightly above-average in the extended period of the forecast, with above-average temperatures.