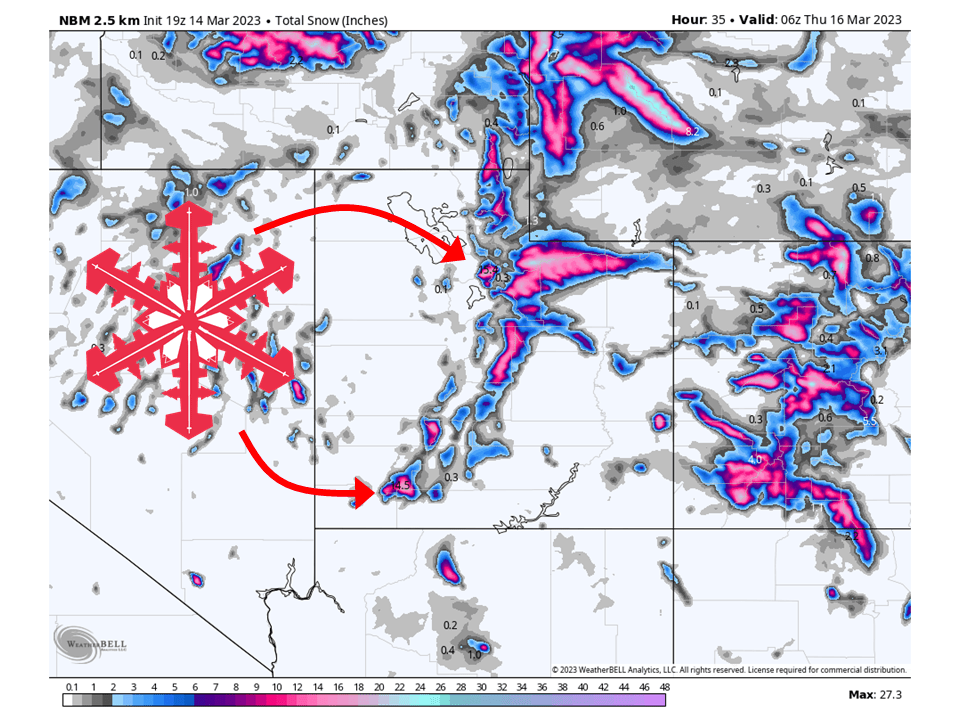 Forecast By SnowBrains Chief Meteorologist – Eric McNamee
 5:35 PM MDT, 3/14/2023
Forecast Summary:
Yet another storm will move through Utah Tuesday night and Wednesday, bringing 8-20″ of snow to mountains across the state.

Snow will develop Tuesday night as the first wave of moisture associated with the storm is transported into the area.

The cold front associated with the storm will push through the state Wednesday and Wednesday night from north to south.
Snow level ahead of this cold front will be pretty high, hovering around 7000-8000′.

Conditions dry out Thursday morning as the system moves off to the east.
Resorts that will see the most snow are:
Alta
Snowbird
Brighton
Solitude
Powder Mountain
Beaver Mountain
Eagle Point
Brian Head
Short-Term Forecast:
Tuesday Night-Thursday:
Another storm will move through Utah Tuesday night and Wednesday, bringing 8-20″ of snow to mountains across the state. Snow will start Tuesday night over high elevations across Utah as moisture is transported into the region ahead of the storm. Snow levels will generally be in the 7000-8000′ range ahead of the cold front, which will lead to some rain on snow for resorts that have lower elevation bases. By Wednesday morning, the cold front associated with the trough will push into the northern part of the state. Along this front, a pronounced band of precipitation will be present with heavy snowfall rates. The cold front will then push to the south/east through the day on Wednesday. Snow showers will continue for a bit behind the front Wednesday evening as moist, unstable northwest flow interacts with the terrain. Snow showers will generally taper off around midnight, but some locations could see snow showers linger late Wednesday night/early Thursday morning. Dry weather is then expected Thursday as the system pushes off to the east.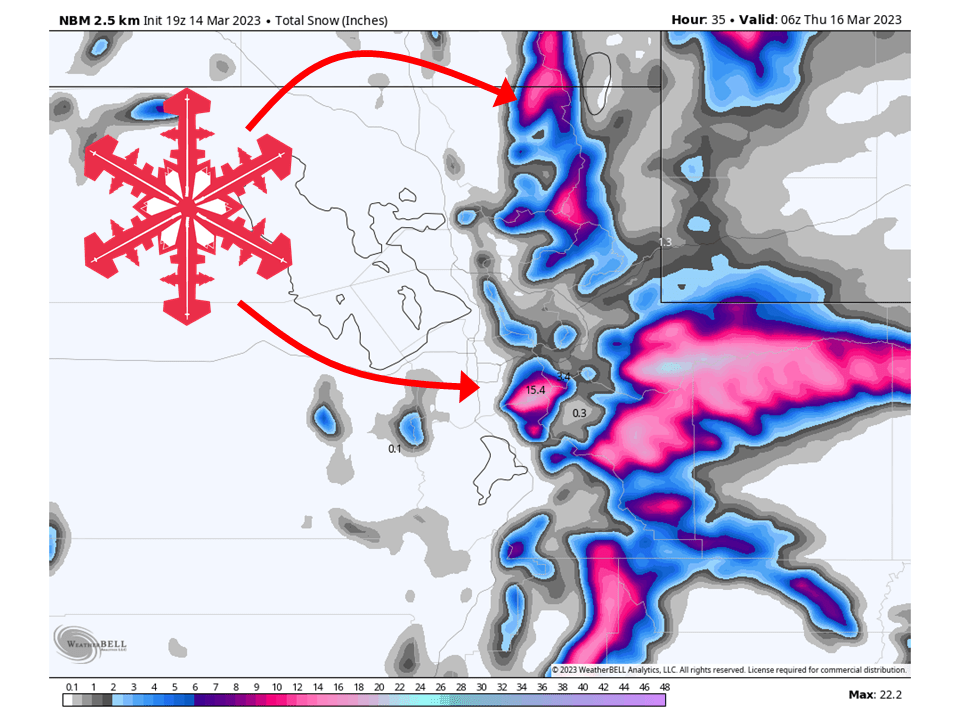 Long-Term Forecast:
Friday-Monday:
Dry weather continues into Friday before a disturbance brushes by southern Utah Saturday. This system does not look overly impressive but will bring some additional light snow, making for some soft turns. Conditions dry out Sunday and then remain dry through Monday.
Extended Forecast:
Monday and Beyond:
An active pattern will continue as global ensembles indicate above-average precipitation and below-average temperature across Utah through the extended period.