Forecast by SnowBrains Meteorologist Nathan Tarino on the evening of 12/30/22
***Just saw this on Alta's website: Multiple days of road closure are possible for SR-210, getting to/from Snowbird or Alta may be off the table for a while***

Forecast Summary
Conditions are sublime across Utah. Coverage is great for this time of year, and this week's storm dropped a fresh batch of great snow to the middle and high elevations.
Another beast of a storm is just getting started, as I write on Friday evening. Snow will last until early Monday morning, delivering behemoth accumulations to each of Utah's ski hills.
The long-range forecast continues to look wet. I'm not sure how long we will keep up this parade of storms, but the end doesn't appear to be coming in the next two weeks.
Quick Conditions Report
After an incredibly wet & snowy December, mountains across the state are plastered with deep snowpacks. Snotel sites (snow study sites) near the ski areas across the state show close to 150% of average to-date snow water equivalent. Every river basin across the state has fatter snowpacks than on the average year: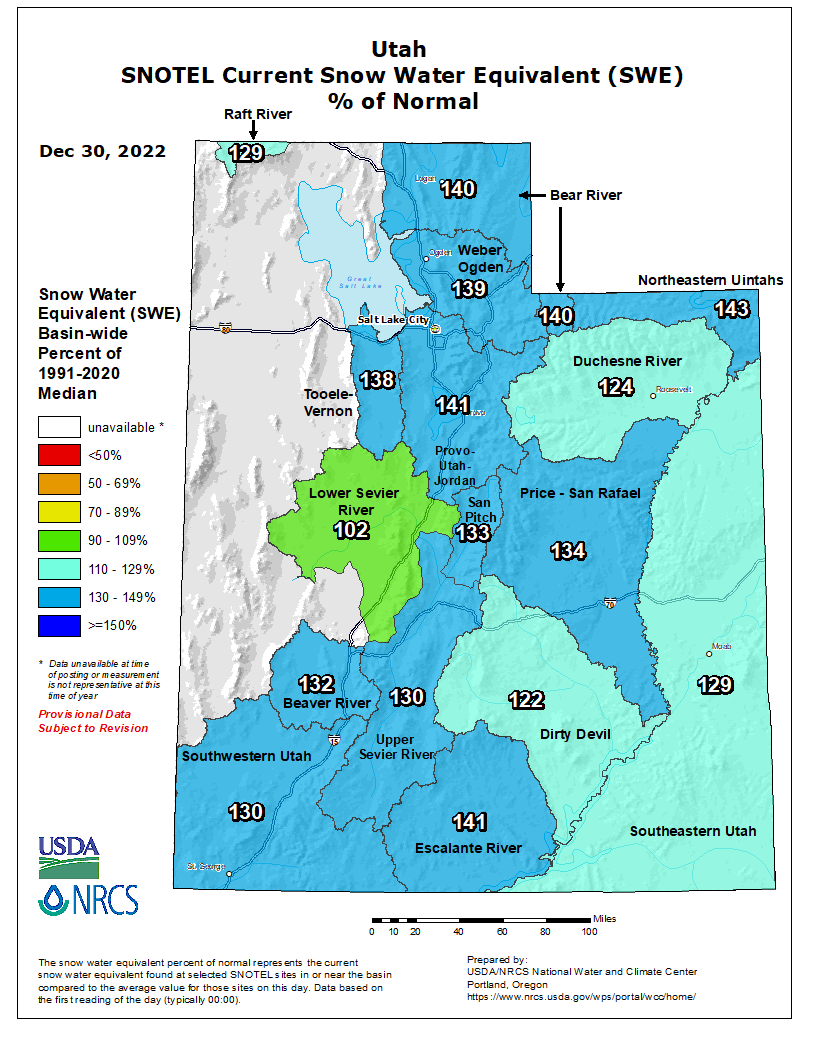 This last storm dropped 1 to 3 feet of snow over the Wasatch. Though some rain did fall as high as 7500′ for a little while, lower snow levels on the backside of the storm made for high-quality snow by the time the storm winded down. Avy conditions are, and will continue to be very sketchy, so I opted for some mellow tree skiing in Big Cottonwood. There was 17″ of new snow; the bottom 12-15″ were pretty dense, with a few inches of blower snow on top. The skiing was great.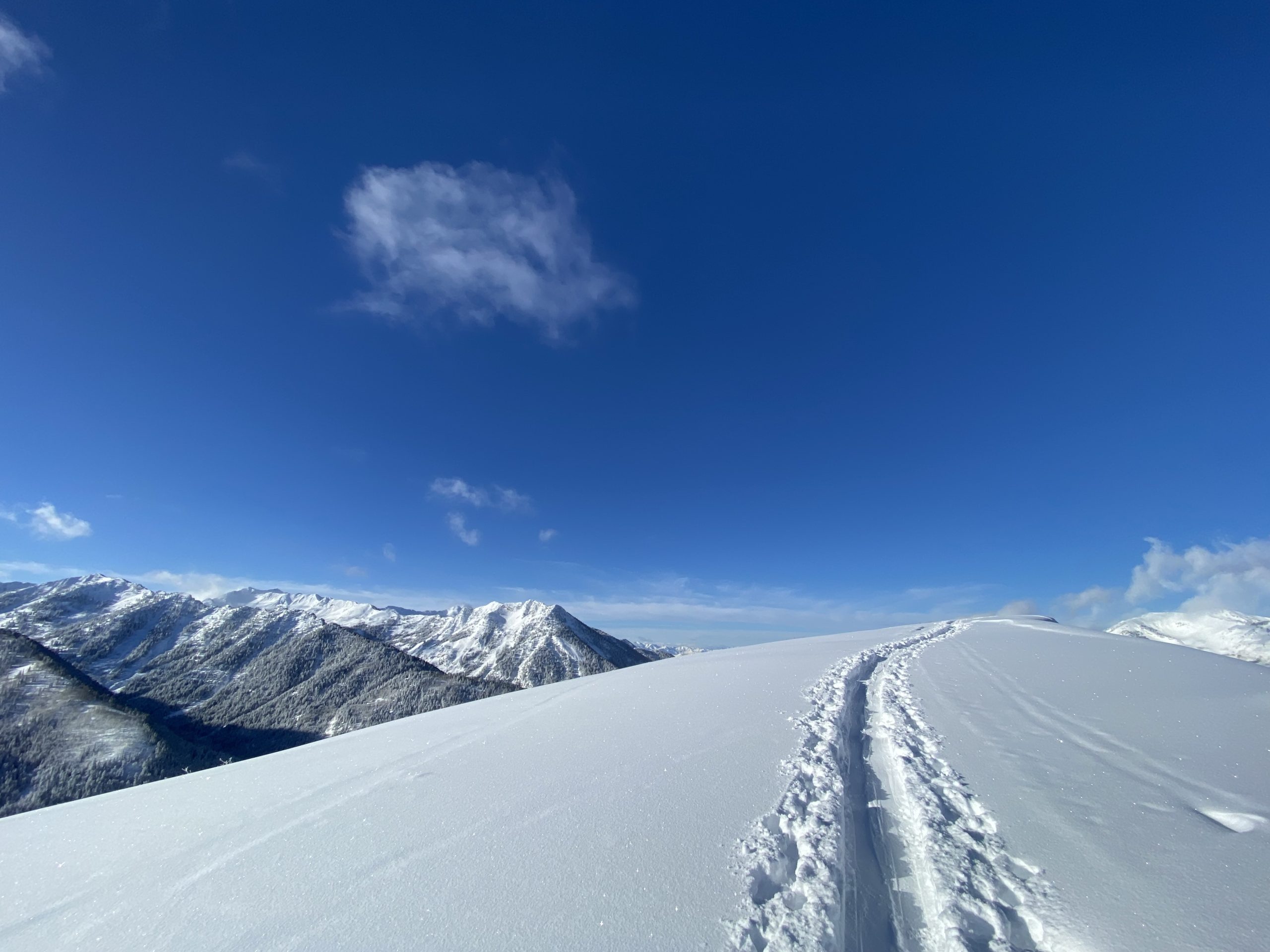 Short Term Forecast
Snow is already falling across the northern Utah mountains. A significant atmospheric river has taken aim at the Wasatch and will continue to bring nearly constant heavy snowfall to the northern resorts through early Monday morning.
Temperatures will rise tonight, Saturday, and Saturday night. Rain/snow levels will get dangerously close to some resort base elevations, flirting with 7500′ for a time on Saturday. Park City's base elevation of 6900′ is in danger of a fairly long period of rain, as are Snowbasin's (6391′), Powder Mountain's, and a few more. Be aware of your hill's base elevation before skiing Saturday, and stick to the higher elevation lifts when possible – the snow will be better up top anyway.
Temperatures and snow levels will fall sometime on Sunday. I'm not sure when this will happen, but at some point, the snow will go from dense and sloppy to fluffy and wonderful, and any potential for rain will end. Despite extremely heavy snow on Saturday and Sunday morning, I expect the best skiing from this storm to be found late Sunday and Monday morning after cooler temperatures arrive.
Southern Utah resorts will see the bulk of their snow on Sunday and Sunday night. 
By the time the storm breaks on Monday, I expect some incredible snow totals. A lot of this snow will be sloppy, wet, and dense, but higher quality snow on top by Sunday PM will make for great skiing. It's a tricky forecast, so forgive my wide forecast ranges, but here's what I'm thinking we'll see by Monday:
Cottonwood Canyons Resorts:

30-55″

Northern Wasatch Resorts:

24-36″

Park City/Deer Valley:

24-38″

Sundance:

38-60″

Southern Resorts (Eagle Point & Brian Head):

18-30″
Keep in mind that despite huge snow totals, the best skiing probably won't come until Sunday afternoon and Monday morning.
Extended Forecast: 
I feel like a broken record, but the extended forecast still looks decent. Ensembles suggest we'll continue to see a pattern dominated by a trough offshore of the Pacific Northwest and ridging over the Great Lakes, leaving Utah somewhere in between:
We may have to contend with a few warmer storms with higher snow levels, but a pattern like this is at least conducive to getting some moisture into the area. Next Friday, Jan 6th, looks like the first of a few upcoming chances for more stormy weather.
The CPC outlooks echo this sentiment: