Forecast By SnowBrains Meteorologist Rowan Sullivan
3:00 pm MST, 10/19/2021
Forecast Summary:
Three storms will bring mountain snow to the Pacific Coast over the next week. 
The first storm moves into northern California tonight into Wednesday morning, bringing 4-8″ of snow to Mt. Shasta and the high terrain nearby. An inch or two will coat the northern Sierra Nevada and Oregon Cascades. 
Storm #2 will arrive on Friday. 3-5″ of snow will fall from Mt. Bachelor southward into the Mt. Shasta area. The southern end of the Coastal Mountains in British Columbia can expect 4-8″ of snow above 5,000 ft too, while the Washington Cascades are largely missed. 
Arriving this weekend into early next week, the final system is a beast and could bring solid snow totals across most of the West. Things look particularly good for the Sierra Nevada, where storm totals might be measured in feet rather than inches. 
Short Term Forecast:
Tonight – Wednesday 
The first teaser storm will bring some appreciable snow to northern California tonight, with 4-8″ of snow falling above 5,000′. Mt. Shasta could get even more snow, perhaps as much as 12″ at the highest elevations.
1-3″ of snow will fall across the Oregon Cascades, generally south of Mt. Bachelor. A dusting is possible as far south as Tahoe.
Quiet weather will take over again by the middle of Wednesday, but not for long.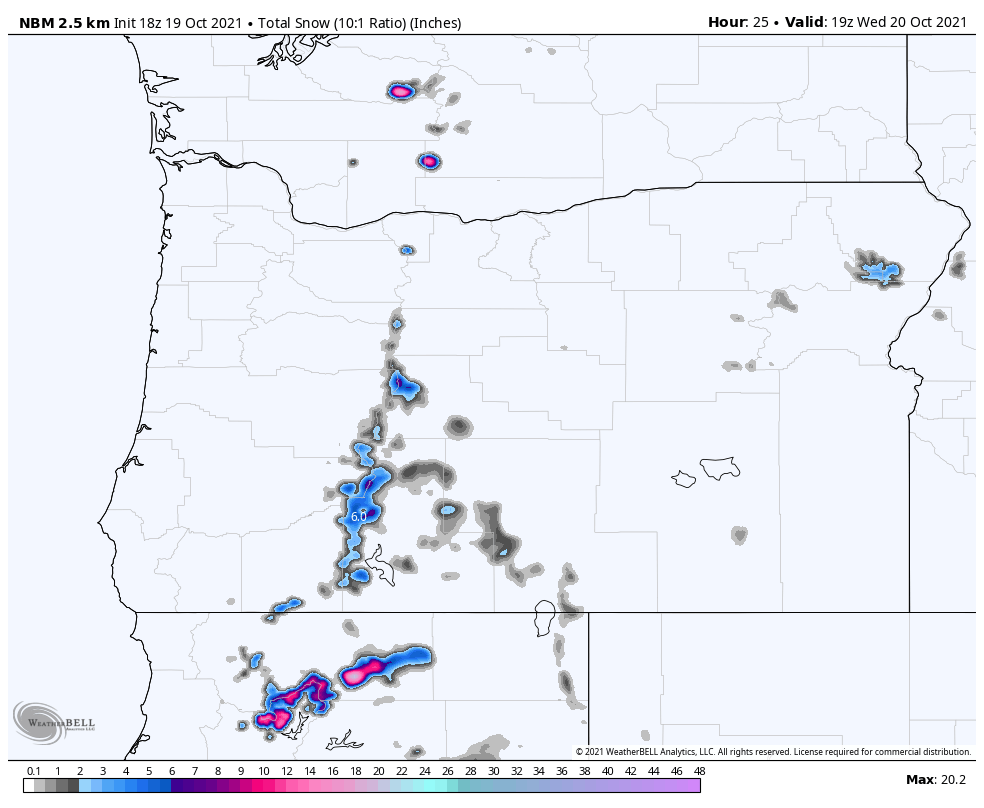 Thursday – Friday
By Thursday afternoon, the next storm will begin to bring snow from California to Canada. 
The heaviest snow will fall in the southern portions of the Coastal Range in BC, with 4-8″ of snow accumulating above 5,000′.
2-4″ are likely in the Oregon Cascades, and 3-6″ in the Sierra Nevada before things clear out by Friday night. 
Southerly flow will keep things pretty quiet in Washington for this storm, with moisture missing the Washington Cascades to the north.
Extended Forecast:
Saturday and Beyond
A big storm looks likely for the West Coast as we head into next week. Models are in decent agreement that a strong atmospheric river will bring heavy precipitation across much of the West.
It's too early to accurately predict snowfall totals but it's not too early to be stoked about this storm. The extended forecast looks snowy across the Cascades and very snowy in the Sierra Nevada.
If things pan out just right, California will be looking at feet of snow.
Included below is a model forecast for moisture transport on Sunday evening. The main takeaway here is that this storm is massive. High elevation snow will be likely across the West as we head into next week.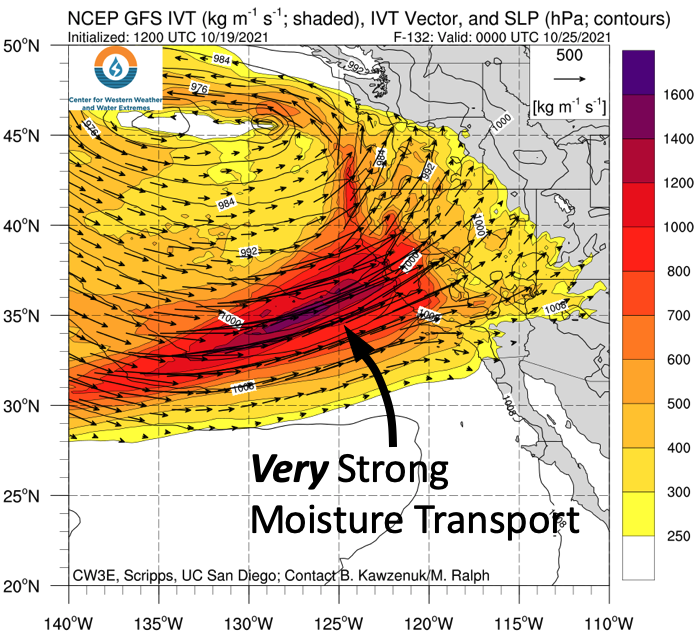 With this behemoth on the way and ensembles suggesting more behind it, the extended forecast looks really good. In response, the climate prediction center continues to advertise a stormy end to October for most of the West.