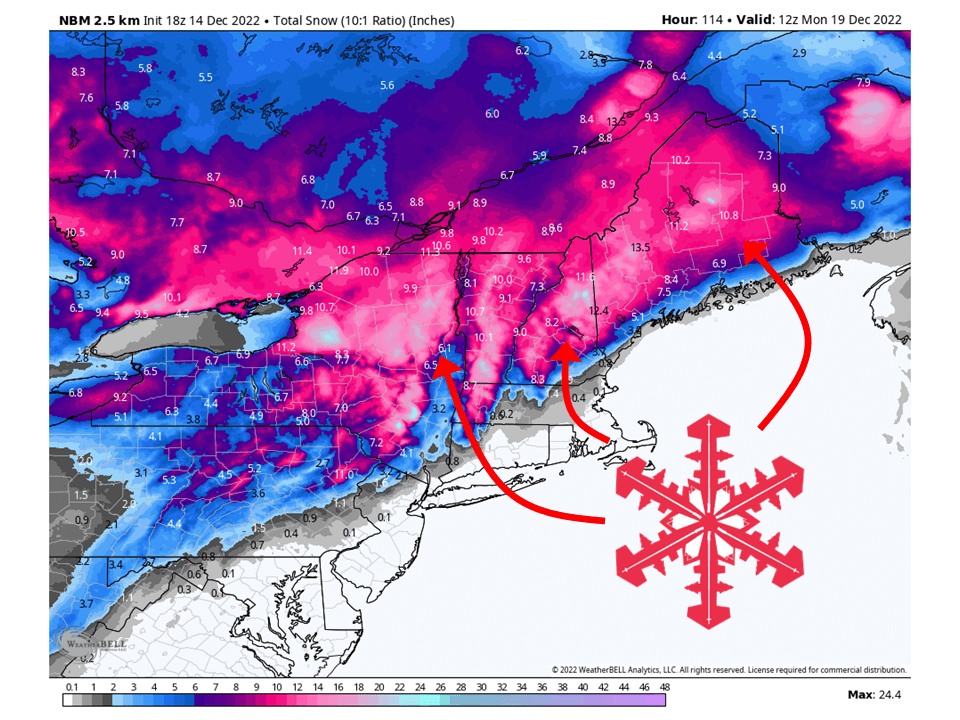 7:30 pm MST, 12/14/2022
Forecast By SnowBrains Chief Meteorologist – Eric McNamee
Forecast Summary:
A trough will move through the Northeast this weekend and bring upwards of two FEET of snow.

Snow starts midday Thursday over northern portions of Pennsylvania and will spread north.
By Friday, snow will be widespread across interior portions of the Northeast.

The main build of snow tapers off by Sunday with residual snow showers heading into Monday.
Resorts likely to see the most snow are:
Hunter
Jay Peak
Stowe
Killington
Loon
Mad River Glen
Okemo
Stratton
Sunday River
Whiteface
Short-Term Forecast:
Thursday-Sunday:
A trough will push through the Northeast Thursday-Sunday and bring upwards of two feet of snow. Precipitation will begin Thursday morning as rain/freezing rain over Pennsylvania before turning over to snow midday Thursday. This snow will then spread north into New York afternoon/evening and become widespread Thursday night. As the trough continues to move to the north and east, snow will spread into Vermont, New Hampshire, and Maine Friday into Saturday. Snow will continue into Sunday, primarily over interior New England, before tapering off Sunday afternoon/evening.
Long-Term Forecast:
Monday-Wednesday:
Residual snow showers will be possible over northern Maine with Lake effect snow possible over the Tug Hill Plateau. This will bring some additional light totals over northern Maine and more decent totals over northwest New York. Light snow showers will then continue through about Wednesday before tapering off.
Extended Forecast:
Tuesday and Beyond:
Global ensembles indicate above-average precipitation and below-average temperatures across the Northeast in the extended.