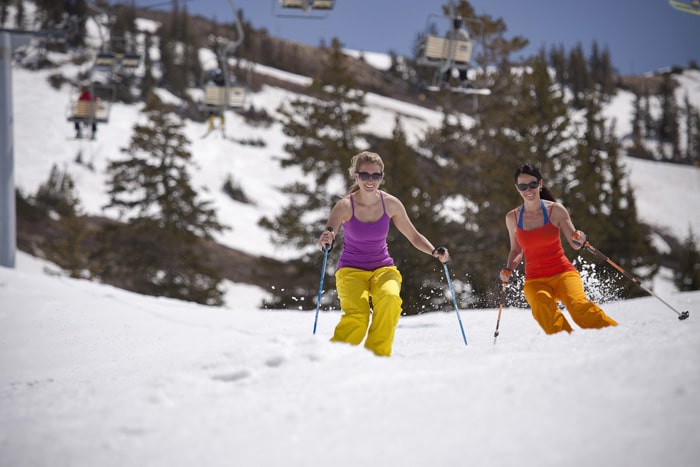 Spring skiing is a sacred activity in North America.  The seriousness of winter has gradually worn away as skiers' and riders' furrowed brows soften due to playful spring snow conditions, visuals of the skin of members of the opposite sex, and strong alcoholic beverages. In North American ski towns spring is about renewal, alternate activities, goofy costumes, snowller blades, hot tubs, warm weather, and live music.
Many ski resorts offer some sort of combination of the above-mentioned sacred springtime activities but only a few offer up the whole enchilada. These are the chosen ones:
***
THE 6 BEST SPRING SKIING RESORTS IN NORTH AMERICA:
***
Mt. Bachelor, OR

Why:   Deep spring snowpack, frequent springtime powder storms, perfect Cascade Corn, almost always open deep into May, world-class rock climbing at nearby Smith Rocks State Park, the most breweries per capita in the USA (Bend, OR is "Beer City, USA"), lakes everywhere, high desert nearby full of bizarre lava tubes, great mountain biking nearby, phenomenal fishing, & killer kayaking.
Arapahoe Basin, CO
Why:  The Beach.  'Nuff said…
(The Beach is the parking lot in the springtime that becomes an all-day, everyday tailgate party including beer bongs, costumes, dogs, loud music, dancing, BBQs, partial nudity, whiskey, and unadulterated good times.  There is no scene at any ski resort anywhere on Earth like A-Basin's Beach)
Mammoth Mountain, CA
Why:  The best spring park on Earth, hot springs everywhere, hot rivers too, world-class bouldering, world-class mountaineering, world-class backcountry skiing, great mountain biking, tons of live music at the hill, plenty of places to drink heavily in the sun and watch pro skiers hit the park and pipe, and beautiful people from SoCal.
Killington, VT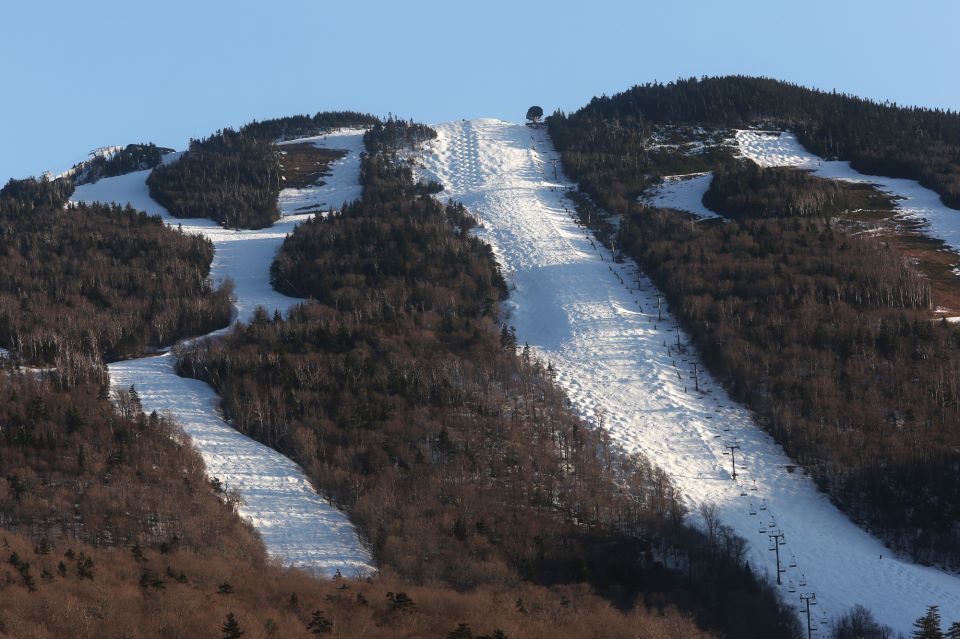 Why:  Usually the latest closing ski resort on the East Coast, almost always open into May, après at The Lookout Bar, the Mogul Madness comp, just being called The Beast of the East, and ubiquitous, ferocious partying instigated by hardcore Bostonians.
Palisades Tahoe, CA
Why:  Cushing Crossing = the original pond crossing event, pool, and hot tub at 8,200 ft, Chimney/Palisades often open in spring, great spring skiing conditions and terrain, Le Chamois bar = best après anywhere, KT Base Bar = great après as well, beautiful Bay Area people, Lake Tahoe for boating, water skiing, kayaking, and swimming, great mountain biking nearby, world-class rock climbing nearby, drunken river rafting down the Truckee River, the Ice Bar at Alpine, and oodles of good live music.
Snowbird, UT
Why:  Deep spring snowpack, late-season dumps, always open into May, rock climbing at the mouth of the canyon, all the beer you can drink, cougar hunting at the Tram Club, great mountain biking nearby, Gold Miner's Daughter Bar, long spring runs.
Whistler Blackcomb, B.C.
Why:  Spring powder storms, big parties everywhere in the village, long runs, great corn, amazing parks, tons of terrain still open, world-class mountain biking, world-class rocking climbing nearby, great mountaineering, great backcountry skiing, non-stop live music, Whistler is almost untouchable in the spring, especially if you mountain bike.