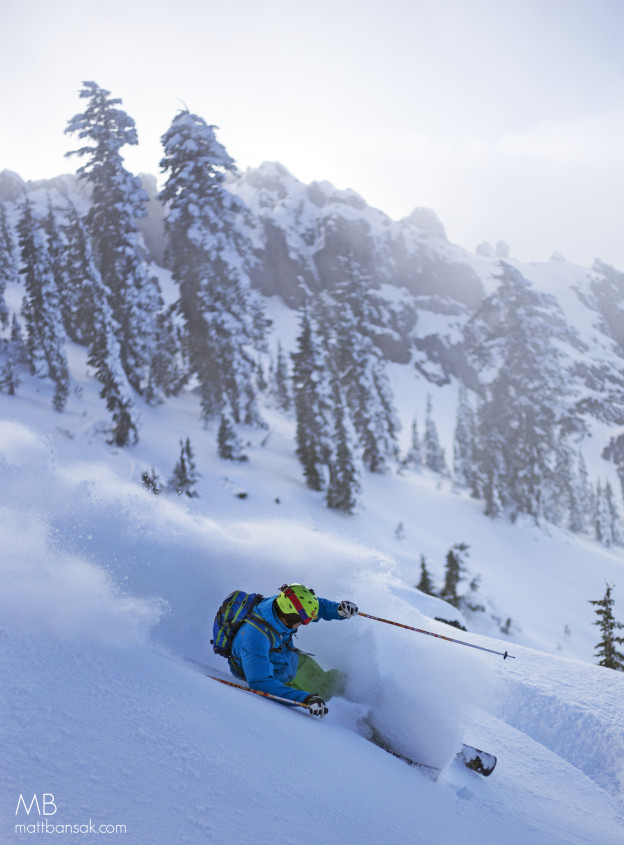 Eric getting pitted in October  Photo: Matt Bansak Photography
The previous day was good skiing, and it called for a return trip to Sugar Bowl for some more preseason turns. Eric Bryant and I didn't have high expectations for great snow, as it was much warmer, but thought it'd be great to get out anyways. After a quick skin to the Mt. Lincoln summit, we ran into friend Mark Kendrick and his doggy Milo. There were a couple glorious looking tracks that someone had already left in Fuller's Folly, and it didn't take much more than that to get us fired up for that run selection.
We had (mostly) bottomless turns all the way to the top of the Sisters. Smiles all around, the relatively light snow was a really great surprise. We cut out to the right above the Sisters to avoid a rocky choke and a dicey looking runout. The lower half of the mountain was baked out, and required a lot of careful skiing to avoid completely blowing out our skis on numerous rocks that were only an inch or two deep. It was all worth it for the turns we got higher up, and the trip was an afternoon well spent!
Lots of buried rocks… wear a helmet and ski cautiously!