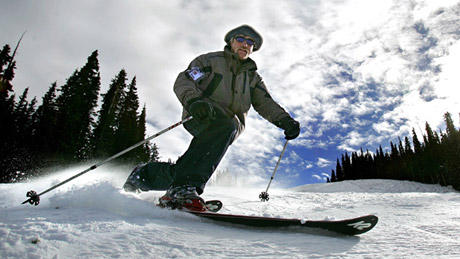 According to Summit Daily, Rainer Hertrich – a summit county local that has skied 2,993 consecutive days from November 1st, 2003 to January 10th, 2012 – has released a book after three and a half years of work with author David O'Neil. Hertrich's streak came to an end after he was placed in intensive care due to a near-fatal heart arrhythmia. Rainer's story has been reported on by many news outlets, such as ESPN to Outside Magazine. "The Longest Run: How a Colorado Ski Bum Skied Every Day For More Than 8 years" captures Hertrich's amazing story of how he skied 2,993 days in a row.
Rainer Hertrich's mission took him from Copper Mountain to Mount Hood's Timberline Lodge in Oregon in the summer, to spending a month or so in South America before heading back to Copper, which led to 44 seasons of grooming runs between Timberline Lodge and Copper Mountain. He has been a skier all of his life, growing up in Estes Park and racing on a high school team that he and his buddies created. Although they weren't an officially recognized as a sports team by their high school due to their reputation of partying, they would consistently beat the kids on formalized teams.
"They really didn't have much grooming there to speak of, so we all skied the crud, powder and wind-blown. We were just really good, stable, strong skiers for being little kids. We'd go to these races and kick ass," stated Rainer Hertrich.
Hertrich found employment at Copper Mountain as a snowmaker before moving into grooming, which allowed him to rack up some epic vertical feet each season – two million his first season, three million the next year, and all the way up to four million in a season after a week long trip to Alaska on a motorcycle. While Rainer was on a trip to Jackson Hole, he was inspired to start logging his vertical and ski everyday due to a conversation in the Mangy Moose about skiers that reached six million vertical feet in a season.
"I did the math, and I was like, 'Gee, if you skied every day, 33,000 feet a day, you'd do a million a month and, in six months, you got six million vertical feet," said Rainer Hertrich.
Rainer Hertrich was able to rack up the days and the vertical as time went on. He was able to continue his streak by working at Copper in the winter and Timberline in the summer, where skiing is basically year-round, but for the weeks that Timberline was closed, he would ventured down to South America. Rainer made sure to plan out his trips ahead of time so he could ski everyday, which included renting a car in South America to travel around to different ski resorts and even do some grooming there. He especially enjoyed skiing at La Hoya, in Argentina, where he would venture off the normal terrain to ski the steep stuff "that was really wild" stated Rainer Hertrich.
"They have stuff where you get to the gate, and there is a patroller there and he takes your passport number. They strap a Recco band — the avalanche receiver stuff — they strap one of those magnetic strips to your goggles or jacket, or somewhere on you, so it makes it easier for them to find your corpse. … I've skied all my life, so I'm really not afraid of anything, but I'm standing at the top of these runs, and I am scared," stated Rainer Hertrich.
Rainer Hertrich has logged millions of miles at many resorts, but he says that Copper Mountain still holds the top spot in his heart. While he was in pursuit of his record-breaking streak, he set two rules for himself that would force him to quit: if he was in dire financial straights or if he was injured so badly he couldn't ski. It was only after he was diagnosed with a serious case of cardiac arrhythmia that made him fall short of 3,000 consecutive days by a week that he hung up the skis. Although he was disappointed, he was ready to visit his friends in Hawaii or go sailing, both of which would withhold him from skiing. Rainer Hertrich has lived a rad life and this new book will give you an inside look at his amazing story.