Tahoe Trees are perishing at an alarming rate due to bark beetle infestation and drought, even with the wet winter.  The Tahoe Fund cites that the mortality rate has doubled from 2015 to 2016, with over 100,000 lost in those years alone.  Fortunately, UC Davis is pairing up with the fund to help replenish the area:
INCLINE VILLAGE Nev. (Tuesday, July 18, 2017) — The Tahoe Fund today announced a campaign to raise $36,000 to support a project designed by UC Davis scientists to improve forest health in the Basin.  Despite the record-breaking snowfall in Tahoe this past winter, tree mortality remains a major issue. Due to drought and bark beetle infestations, tree mortality more than doubled from 35,000 in 2015 to 72,000 in 2016. Tahoe Fund is partnering with scientists at UC Davis Tahoe Environmental Research Center to help repopulate the hardest hit areas along the north shore of Tahoe with native sugar pine trees.

"While a lot of attention goes to our beautiful lake, Tahoe would not be the same without our fabulous forests," says Amy Berry, Tahoe Fund CEO. "It is heartbreaking to see our mountains turning red with dying trees. With the support of donors, we have the opportunity to help by replanting sugar pines to provide diversity and stability to our forests."

Scientists at UC Davis Tahoe Environmental Research Center plan to collect seeds from more than 100 different sugar pine trees around Tahoe. Over the course of the next year they will grow these seeds into 10,000 seedlings that can be planted in areas with the greatest mortality rates.  The 10,000 seedlings will be distributed to public agencies to be planted along the north shore in both California and Nevada. The program also includes distribution of thousands of seedlings to private homeowners who have experienced tree loss.

"There are over 100 million dead trees in the Sierra," said UC Davis's Dr. Patricia Maloney.  "By collecting cones from 100 local and diverse sugar pine trees, we aim to cultivate 10,000 seedlings that will assist in reforestation efforts on the north shore of Lake Tahoe."

The Sugar Pine Reforestation Project is one of the Tahoe Fund's Signature Projects for 2017.  The campaign goal for this project is $36,000.  Donations in support of this and other environmental improvement projects around the Lake can be made at tahoefund.org/donate"- tahoefund.org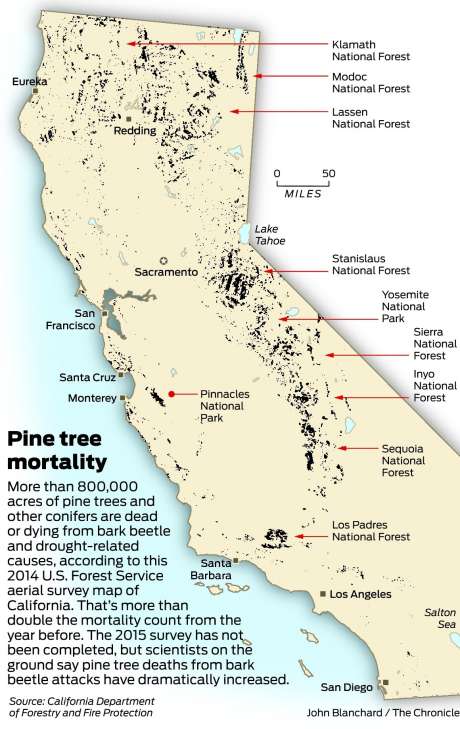 Placer County is no exception to this disaster.  Clusters of trees are dying across California, with 66 million trees dead since 2010, and more than a third of that coming from 2015 alone.  Lack of trees comes with a litany of problems, including fire, rise in CO2 levels, and ecosystem loss. Hopefully a recovery is on the horizon for the entire state.