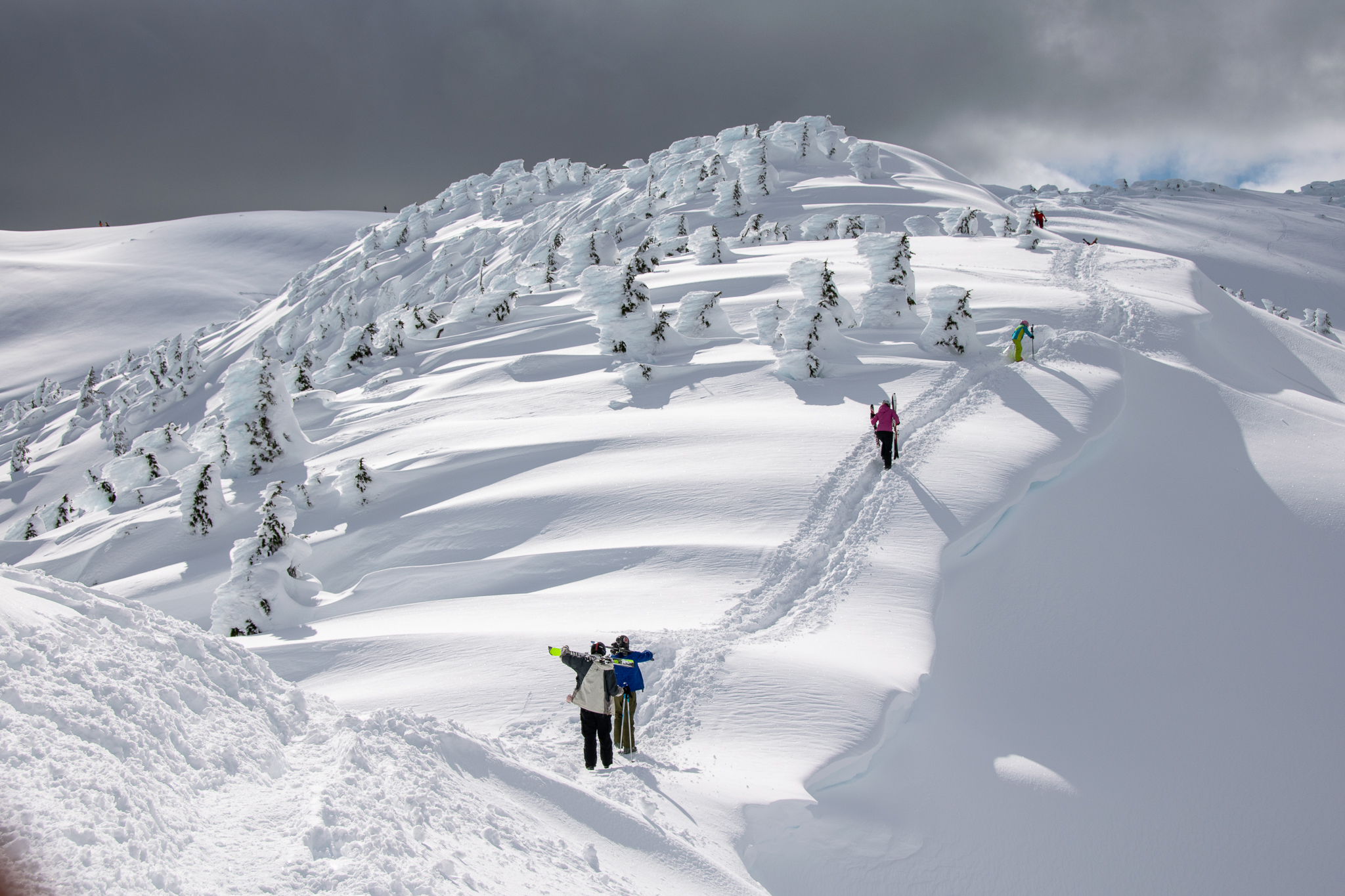 Brought to you by Travel Juneau and Eaglecrest Ski Area, AK
If you haven't heard of this small Alaskan ski area, be sure to make room for it on your 'must shred' list. A quiet, local mountain with big terrain is one of the signature features in Juneau and something that's been harder to come by in the ski industry recently.  Just in case skiing in Alaska is not enough reason to visit Eaglecrest Ski Area, we've laid out the top three must-dos while you're there! You won't regret trying these things out:
1. Hike Eaglecrest's Sidecountry
Terrain in-bounds at Eaglecrest is plentiful, but the untouched lines to the sides are just a short trek away on either side of the main lift. Not to mention, some of the best views you'll ever get at a ski area. A 5-10 minute boot pack to the right of Ptarmigan lift is Pittman's Ridge and access to the west side 'heavenly bowls'. Appropriately named, based on the ocean and glacier views from the top of the ridge, and the wide-open steep bowls to ride down.
The next peak to the right of the resort, called Hogsback Mountain, is a further journey over the ridge but grants access to challenging, steep terrain and tree lines. One of the closest lines on Hogsback is a tight couloir between two ridges, dubbed 'shit for brains'. All these will boost you back down to the base of Ptarmigan for another lap of your choice. If you're a leisure skier, you could always just traverse below the ridge until you see untouched tracks, and make a clean line! There's always an accessible powder stash at Eaglecrest.
To the left of the ski area, lies the Blackbear chair, which has access to the East Bowls. Here, there's a way to traverse high from the top of the lift and reach the bowl after less than 5 minutes. There are some trees before the first bowl that are tight, steep, and loads of fun. They also guarantee a fresh line. The first bowl past the tree line is the 'Fruit Bowl' and it's massive. A wide-open space to pick a line, and surf down. It's pretty rare to see anyone else out there, so it's the perfect place to experience uncharted terrain and fresh space without leaving the main resort. These lines bump you out back down to the base of Ptarmigan as well, with an easy chute to follow as well as local markings to show the way! 
Patrol does not monitor Eaglecrest sidecountry and everyone should be equipped with the proper gear and a rescue plan to safely navigate the outbound terrain. If you want to rely on local guides like Alaska Powder Descents, they are ready and willing to show folks around the sidecountry terrain and help you go at it with a plan. They are Juneau's best backcountry guides and always have safety in the front of mind. Not to mention, they know Eaglecrest Ski Area like the back of their hand. It's always a good idea to check the local snowpack and avalanche conditions before maneuvering out of bounds. 
2. Tap Into Eaglecrest's Boarding Pass Deal
Want to maximize ski days without breaking the bank? Of course, said every ski bum ever. Not that Eaglecrest's day pass pricing is high at all ($68/day), but you have the opportunity to tap into a free day of skiing! All you have to do is flash your same-day boarding pass at the ticket window, and they'll print your pass on the spot. 
Juneau is one of the southernmost towns in Alaska, making the travel times there, not bad at all.  It's only a short 2-hour flight from Seattle to Juneau, and if you can make it to the resort on the same day (about a 30-minute drive from the airport) then you get your day pass for free! So, yes it makes sense to take that early flight out, and if you already took the day off work, why not opt in for that same day of skiing? Purchasing a day pass to ski is always a blow to the wallet, so take advantage of every bit of savings you can! 
3. Meet the locals
To get a full-blown Eaglecrest experience, team up with a local to show you some of the hidden powder stashes. For the best lines and access to awesome terrain, it's not a bad idea to have a Juneau local show you the way. Not only is it safer in the side-country, but they can showcase the best lines and access to awesome terrain. They are also the kindest, and the best type of hype-people to have as ski buddies! It's easier than you think to make friends, anywhere from the local convenience store to putting on your boots in the parking lot. It's humbling how you can be only a couple of days into a trip and know 10+ people on the mountain. Without any coordination, it's easy to find your people and run into them as you're out shredding. 
It also doesn't hurt to get to know the locals for apres recommendations. The Island Pub on Douglas is just about 20 minutes away from the ski area and has some great Alaskan beers on tap, salmon spreads, and pizza. Although, the seafood scene in Juneau is unmatched. The Hanger, downtown offers some great seafood options, with views of the channel and Douglas Island. Closer to the valley and about 30 minutes from the resort is the Sandbar, a small local bar that has been notably dubbed 'best fish and chips in Juneau'. There are lots of places to enjoy a great atmosphere after a long day of skiing, and making some local friends will help show you the way!