[sponsored by Sun Valley Resort]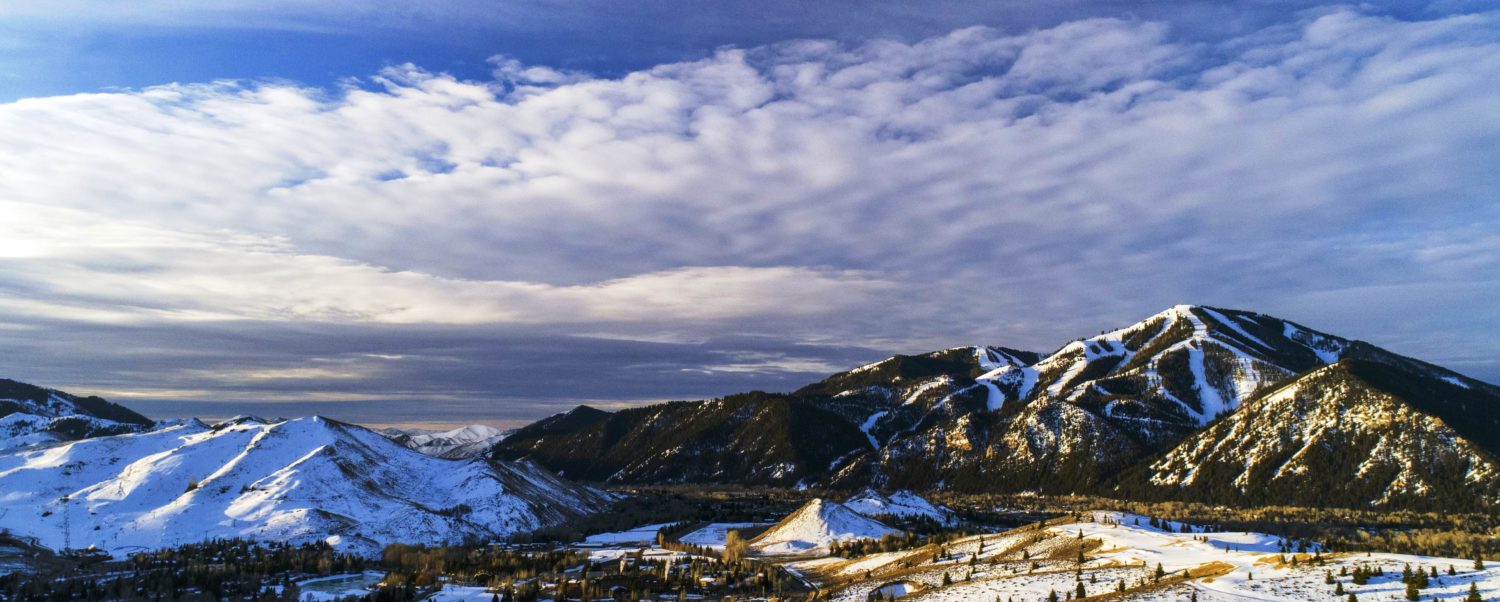 Summer is fading.
Autumn is inspiring.
Winter is approaching.
As the nights become colder and the days become fewer before those first turns on the mountain, dreams of that all-time ski holiday feel closer than ever before.
The global list of dream snow destinations is long—and packed with choices.
Sun Valley Resort is still the first destination of choice for those seeking the ultimate winter getaway. Surrounded by wilderness, enveloped in luxury, and rich in culture, it offers something for everyone – from the beginner taking their first turns to the advanced skier carving perfect turns down impeccably-groomed slopes.
Check these top-five reasons why the oft-imitated, not replicated Sun Valley Resort should be on your must-visit radar:
#1: Location, Location, Location
They call Idaho 'The Gem State' and much like precious stones, it captivates you with with quiet patience instead of self-promotion.
Tell the average person you're going to Idaho and they're likely to reply, "Why, what the heck's out there?"
This is a good sign.
It implies that the easy to reach Wood River has that much more open range to roam.
A mere shuttle run from the state capital Boise (or hop on a non-stop flight from six major cities), the Wood River nurtures Bellevue, Hailey, and Ketchum; three charming settlements to form a single wilderness community. Each is distinct, yet Bellevue's Stetsons-meets-ski boots style complements perfectly with Hailey's family-friendly local vibe and Ketchum's resort town glamour.
"With airport access direct into Hailey and it's free shuttle service, getting around the Wood River could not have been easier," said the father to a family of four who recently enjoyed a holiday to Sun Valley Resort.
Here pristine trails, five-star dining and artistic history reside easily beside cowboy bars, wagon trains, and a calendar loaded with top-tier family entertainment.
#2: Snow Guarantee
"From heaven, not from hoses," reads the sign on a wall of a Wood River workshop.
That optimism aside, the area's mountain crews are taking no chances with snow.
It's not called 'Sun' Valley for nothing, so winter wizardry 'round the Wood River is, in part, thanks to state-of-the-art snowmaking tech.
There are 500 snow gun positions on Bald Mountain alone, 80 of which can be run at once, while nearby Dollar Mountain houses an additional 100 snow guns, producing nearly 40 million cubic gallons of artificial snow, half of which is employed to sculpt snow features for Terrain that Teaches and multiple terrain parks. And standing vigilantly over all of this is a top-notch snowmaking crew, who work tirelessly all night to unfurl a white carpet while the rest of us sleep.
Snowmaker Dennis Harper called automation to snowmaking, "the industry advancement most beneficial to Sun Valley." It is hard to argue with the stats. That the mountains could be made skiable even in June is a running Sun Valley joke. Funny thing is; it might actually be true.
#3: Terrain Ala Carte
Visitor advisory: stretch well before kitting out. This place has piste for days.
Benefitting from not one, but two mountains replete with snow amenities, Sun Valley's most enrapturing element is its multi-faceted slopes.
Bald Mountain's, elevation 9,150 feet, hosts racing, club events, and the bulk of skier visits.
Little bro, Dollar Mountain, a mere stone's throw away, features an impressive snowsports school in addition to competition-level freestyle terrain.
Over 2.054 skiable acres means Sun Valley offers tons of options for all levels of skiers and boarders.
"It's a great way to start the day," said Roger 'Rog' Mankes, a long-time valley local who's tallied over 1,000 skinned ascents on Bald Mountain.  
Other ski areas might excel in specific topographical styles, Baldy and Dollar offer a full spectrum of choices, all within a few miles of each other.
Chasing a million vertical feet on precision perfect groomers? No problem. Chutes into tree lines? Look no further. Guiding the kiddo's S-turns, or gaping while they stomp a 900? Check, and check.
Sun Valley skiing is a history over 80-years in the making. Trust them to pull out all the stops.
#4: Time Capsule
Ketchum, in particular, represents both a foundation block and living monument to ski as well as arts history.
Railroad magnate Averell Harriman begins the tale because it was he, and a troop of savvy Austrian ski instructors, who in the 1930's, first saw promise in creating a destination ski resort within the Sawtooth Mountains of Idaho.
Harriman supplied the financial punch, the alpinist's an eye for a line, and their one-two combo produced the world's first chairlift with the engineers of Union-Pacific Railroad.
So overwhelmed by the area was Count Felix Schaffgotsch that he sent this wire in the 1930's: "Th Wood River combines more delightful features than any place I have ever seen in Switzerland, Austria or the U.S. for a winter resort."
Intent upon growing a U.S. ski tradition, Harriman would similarly install the now iconic Sun Valley Lodge; a location which he would make famous via true ingenuity—comp. the photogs, invite tinsel town, and the public will follow.
The parties were legendary, the artistry undeniable, and this clever equation–underscored by picture perfect POW–rightly rose Sun Valley to among the premier destinations of a new and growing population segment, recreational skiers.
#5:  Meet The Neighbors 

The polish of Sun Valley, Ketchum, indeed the whole Wood River Valley can be felt in the warmth of its welcome.
It's as if the heartfelt smile was born here.
"The key for future growth at the City of Sun Valley, as well as the other Wood River communities, lies in being transformational, not changeable," said former City of Sun Valley mayor Dewayne Briscoe. "Transformational growth preserves the character of where we live, who we are and how we live."
"That is in the best interest of everyone."
Local businesses come together to put on funky festivals in parks and town square.
Sun Valley Village, itself, is home to world-renowned Sun Valley on Ice.
Within the Sun Valley Lodge, guests can experience the "hall of memories" with rotating pictures capturing epic moments and famous persons (think Hemingway, Monroe, and more) inextricably linked to the Sun Valley heritage and culture.
Be assured, those who call the Wood River 'home' honor its storied past while working hard to support its bright future.
But don't take these simple words at face value. Pay a visit to this quaint and vibrant community and enjoy the magic for yourself.