(Sponsored By: Kicking Horse Mountain Resort)
Designed by Mother Nautre, freeride terrain is the freedom to go big – down rugged ungroomed steeps, chock-full of cliffs, crevices, and chutes. Those who seek it share a passion for adventure and an insatiable desire to stomp epic lines. There is no shortage of get-after it terrain in the Great White North, but some of the Best Freeride Terrain in Canada can be found at these resorts below.
"If you're having fun, you're doing it right."

FWT
Kicking Horse Mountain Resort
"The Champagne Powder Capital of Canada," Kicking Horse Mountain Resort sets the bar high with monster descents, 85+ inbound chutes, and deep pockets of blower-light powder. The freeride opportunities abound at Kicking Horse. From drop-offs (upwards of 30 feet) to pitch (north of 50 degrees at times) the four huge bowls here provide all the burly you can handle. With four steep peaks, four deep bowls, and plenty of rugged ridgelines, this winter playground delivers.
"This is possibly the most spectacular place I've skied."

I'veskiedeverywhereman, from Canada
The 4th biggest vertical in all of North America, the steeps here range from adventurous to madman; whatever your thrill, The Horse has got it. Further proof of its freeride domination, Kicking Horse is the only North American stop on this year's Freeride World Tour, February 3-9, 2018. Litanies of superlatives are attached to this resort: superb snow quality, big-league terrain, and eye-popping vistas are but a few. Located in the northern most reaches of the Powder Highway, just outside the ski town of Golden, British Columbia, Kicking Horse is a two-hour shuttle from Calgary International Airport.
Mountain Stats:
Snowfall: 300 in.
Acres 2,800+
Vertical: 4,133 ft.
Elevation: 3,900 – 8,033 ft. (highest in British Columbia)
Inbound Chutes: 85+
Trials: 20%| 20%| 45%|15%
Whistler Blackcomb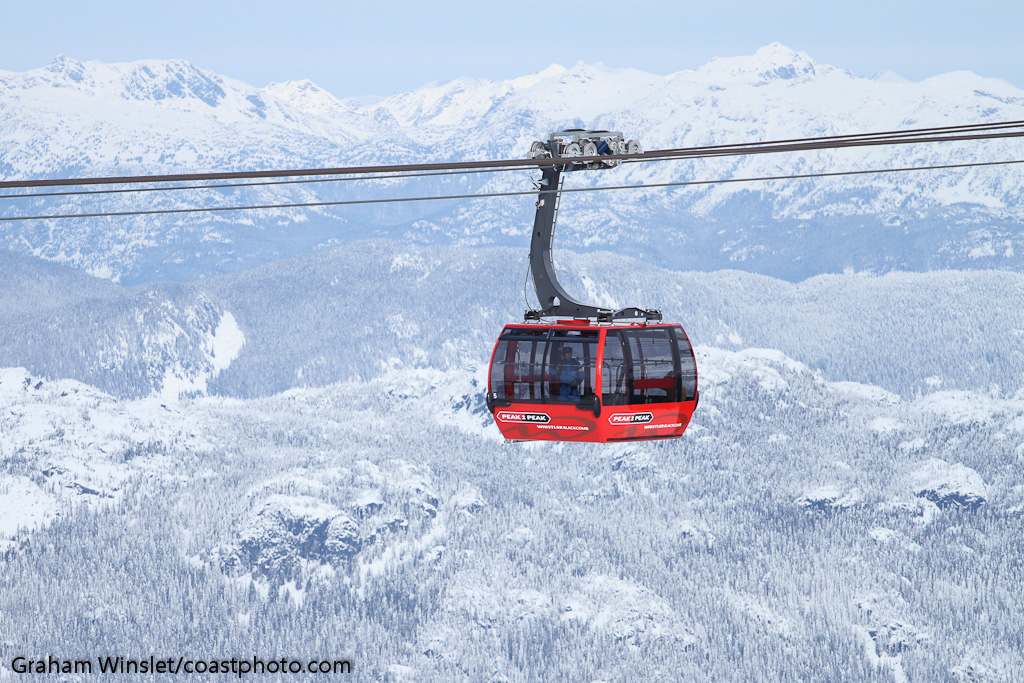 Whistler Blackcomb is a mega resort stretching out over 8,181 acres. The advanced terrain alone is 2,000+ acres, larger than the entirely of many other resorts. In other words, there is an ample supply of hard-charging gnarly goods to get your freeride on. The legendary Spanky's Ladder, on Blackcomb, is a short bootpack up off the Glacier chair and opens access to no less than four bowls: Garnet, Sapphire, Diamond, and Ruby. Couloir Extreme, also on Blackcomb, is an extreme chute that goes on for days.
If you're looking to open it up a bit, head over to Whistler and scout out the near-peak elevation action off the Peak Express chair in Whistler Bowl. Or, crank it up a notch in West Bowl, home to some of the steepest terrain at Whistler. Located on the west coast of British Columbia, Whistler Blackcomb is about a two-hour drive north from Vancouver.
Mountain Stats:
Snowfall: 415 in.
Acres: 8,171
Vertical: 5,354 ft.
Elevation: 7,494 ft.
Trails: 18%|55%|22%|5%
RED Mountain Resort
"Fight the Man, Own the mountain" is the rebel yell of RED Mountain Resort. The resort fans out over three mountains providing tons of diversity. The rowdy terrain on the north side of Granite Mountain is fully legit. Just off the aptly named Motherlode Chairlift, drop into Grey Basin, on the backside Granite, for steep pitches, drop-offs, and tight trees aplenty.
"From rank beginners to "he used to be sponsored!" everyone can rip fresh lines that test their abilities here at RED."
RED Mountain Resort
An added bonus, RED offers cat skiing off Mt. Kirkup, accessible right from the base. Located along the famed Powder Highway, RED is near the US/Canadian border near the town of Rossland, British Columbia.
Mountain Stats:
Snowfall: 274 in.
Acres: 1,686
Vertical: 2,912 ft.
Elevation: 6,800 ft.
Trails: 18%|31%|23%|28%
 Sunshine Village Ski Resort
In the heart of Banff National Park, high on the Continental Divide, sits Sunshine Village, just outside the town of Banff. It owns the title to the longest non-glacier shred season in Canada. With terrain ranging from front-side groomers to in-your-face deep powder bowls, there's a little something for everyone.
Skiing in beast mode? A short bootpack up from the lifts is Delirium Dive, the first "controlled extreme" terrain area in Canada. It's a whopping 50-degree experts only chute. Although the area is avalanche controlled by the resort, avy gear is required to access the bowl.
"There is a hype about the Dive, and people are scared of it. Your nervousness will keep you alive."

Steffan Shaw, Sunshine Village ski guide
Mountain Stats:
Snowfall: 256 in.
Acres: 3,358
Vertical: 3,514 ft.
Elevation: 8,954
Trails: 20%|55%|20%|5%
 Fernie Alpine Resort
Found along the famed Powder Highway, Fernie is a big-mountain resort fanning out across five legendary bowls. Each bowl offers it's own playground of terrain to explore. Timber Bowl has some gnarly chutes. Cedar Bowl with natural fall lines and rollers. The rope drop on Currie Bowl is an in-the-know favorite. Siberia Bowl, as the name implies, is a bit further out  and is a good bet for finding fresh pow on nicely-pitched long runs. Finally, for the thrill seekers, ride up the Great Bear Express chair to Lizard Bowl for some gut-checking on the Headwall.
In addition to some very noteworthy terrain is the snow quality and quantity. Much like Kicking Horse, Fernie has the deep, dry blower-light powder that many seek out, especially in its higher elevations. Located in the Lizard Range of the Canadian Rockies, Fernie is about 3.5 hours from Calgary. The resort is just on the outskirts of the City of Fernie, a legit, real-deal ski town offering additional après action.
Mountain Stats:
Snowfall: 371 in.
Acres: 2,504
Vertical: 3,550 ft.
Elevation: 7,050 ft.
Trails: 30%|40%|25%|5%
Revelstoke Mountain Resort
Revelstoke is home to the most lift-accessed vertical in North America at 5,620 feet. It's big-mountain gnarly-terrain that favors the fit. The terrain is dispersed out over 3,121 acres, yet only has 69 cut trails, leaving plenty of options for freeriding exploration. Hop on The Stoke Chair to drop into the North Bowl or bootpack it a bit further up the ridgeline to Greely Bowl. Both offer plenty of room to cut loose in deep powder. Think trees, cliffs, and big drops.
"There is a wildness about its inbounds terrain that gives you an adrenaline-jacked feeling that you are not skiing at a resort at all."
On of the stops along the famed Powder Highway, Revelstoke is in the Selkirk Mountains of interior British Columbia. Best bests for getting there are either a direct flight from Vancouver or a flight to Kelowna International Airport followed by a 2-hour drive.
Mountain Stats:
Snowfall: 357 in.
Acres: 3,031
Vertical: 5,620 ft.
Elevation: 7,300 ft.
Trails: 7%|45%|35%|13%
Whitewater Ski Resort
"Pure, Simple, and Real …. Deep" the mantra of Whitewater says it all. At this laid-back, crowd-free resort you won't have to work to find fresh tracks. Nestled under the majestic Ymir mountain, the lift-accessed backcountry options here are extensive. Also jamming with opportunity for adventurous freeriding, the inbounds terrain has got it going on: from open bowls, chutes, and glades to steep and deep tree skiing. The Glory Ridge glades are not to be missed.
Whitewater, aka WH20, is deep in the Kootenay region of British Columbia near the ski town of Nelson. Like several of the resorts on this list, it's also a stop on the Powder Highway.
Mountain Stats:
Snowfall: 390 in.
Acres: 1,184
Vertical: 2,044 ft.
Elevation: 6,567 ft.
Trails: 10%|32%|47%|11%
Edgar Winter Group's ode to big mountain terrain?