Readers of Condé Nast Traveler Magazine rated their favorite ski resorts. We have taken a closer look for our readers at the Top Nine European resorts, according to Condé Nast readers. Here they are in reverse order:
9. Courchevel, France (score: 84.24)
Courchevel is located in the famous Les Trois Vallees ski area in the southwest of France. The closest international airport is Geneva, about two hours north. Courchevel has a small airport but the runway is so short at 1,752 ft (547m) and the location so difficult, only small planes and helicopters can land there. Together with Meribel, Les Menuires, and Val Thorens, it makes up the ski area of Les Trois Vallees (or Three Valleys), which is the second-largest ski area in the world. The resort is known for its modern lift infrastructure and has been using 100% green electricity for more than 10 years.
Ski Area: 375 miles (600km) of groomed runs (Les Trois Vallees) 
Highest Point: 8,983ft (2,738m)
Vertical: 4,718ft (1,640m)
Ski Lifts: 1 cable car, 10 gondolas, 20 chairlifts, 29 surface lifts, 3 magic carpets
Capacity: 70,632 people per hour (Les Trois Vallees: 260,000 people per hour)
8. Innsbruck, Austria (score: 84.57)
Innsbruck is not only a picturesque town 2 hours from Salzburg or Munich, but it also is the gateway to nine ski resorts, which joined together form the 'Olympia SkiWorld Innsbruck', a nod to the fact that Innsbruck hosted the 1964 and 1976 Winter Olympics as well as the 2012 Youth Olympics. There are 13 separate ski areas on the same ski pass. The ski area includes the famous Stubai Glacier, Austria's highest ski resort Kühtai, freeriding paradise Axamer Lizum, and the family-friendly Rangger Köpfl. The pass also gives you access to night skiing, sledding, and three indoor pools as well as public transport in and around Innsbruck.
Ski Area: 213 miles (340km) of groomed runs (but not interconnected)
Highest Point: Stubai Glacier at 10,532ft (3,210m)
Vertical: 4,970ft (1,515m)
Ski Lifts: 111 lifts (including funiculars, cable cars, gondolas, and chairs as well as surface lifts)
7. Saalbach, Austria (score: 84.76)
The ski area of Skicircus Saalbach combines the resorts of Saalbach-Hinterglemm, Leogang, and Fieberbrunn. Aside from miles and miles of groomed runs, the combined ski area also has a dedicated freeride area in Leogang. Two areas offer night skiing on a total of five nights of the week, so you can maximize your time on snow. Included in your lift pass is also the use of a 3,800ft long Alpine Coaster in Fieberbrunn.
Ski Area: 168 miles (270km) of groomed slopes
Highest Point: 6,877ft (2,096m)
Vertical: 4,121ft (1,256m)
Ski Lifts: 70 skilifts and cablecars
6. Courmayeur Mont Blanc, Italy (score: 86.39)
Mont Blanc, or Monte Bianco as it is known on the Italian side, saddles the border between France and Italy. The ski resort on the Italian side is situated on the sunny side of Mont Blanc and the base of the ski area is inCourmayeur, about 100 miles from Turin airport. While the ski resort is comparably small, the infrastructure is super modern, with amazing new gondolas since its 2010 acquisition by the local Aosta community. The resort is known for its incredible backcountry skiing on Punta Helbronner which you can reach via the SkyWay Monte-Bianco gondola. The groomed ski area below the Arp peak stretches from 3,953ft (1,205m) to 9,039ft (2,755m) with lots of intermediate runs. You can get to Chamonix from Courmayeur via the 7.2 miles (11.6km) long Mont Blanc Tunnel.
Ski Area: 63 miles (100km) of groomed runs and off-piste skiing
Highest Point: 11,371ft or 3,466m (Punta Helbronner) and 9,039ft or 2,755m (main ski resort at Arp)
Vertical: 5,069ft (1,545m) from the main ski resort and a staggering 7,054ft (2,150m) of vertical from Punta Helbronner (no groomed runs from the top but back country)
Ski Lifts: 18 modern ski lifts of which 4 are gondolas, 2 are cable cars, 8 are chair lifts, 3 are surface lifts, and 1 is a magic carpet. The resort has an hourly capacity of 26,305 people.


5. Val d'Isère, France (score: 86.67)
Val d'Isère is located in the French Alps, close to the Italian border. The closest airports are either Geneva, Switzerland, or Turin, Italy, both of which are about two hours and 45 minutes away. Val d'Isère is known for its amazing snow and charming village. The ski area is interconnected with Tignes and together consists of an incredible 165 groomed runs and 10,000 hectares of off-piste area. There are two glaciers that offer summer skiing. Val d'Isère was the host of the alpine events for the Albertville Olympics. 
Ski Area: 187.5miles (300km) of groomed runs
Highest Point: 3,456m (Grand Motte)
Vertical: 6,530ft (1,900m) from Grand Motte Glacier on the Tignes side of the ski area
Ski Lifts: 72 modern lifts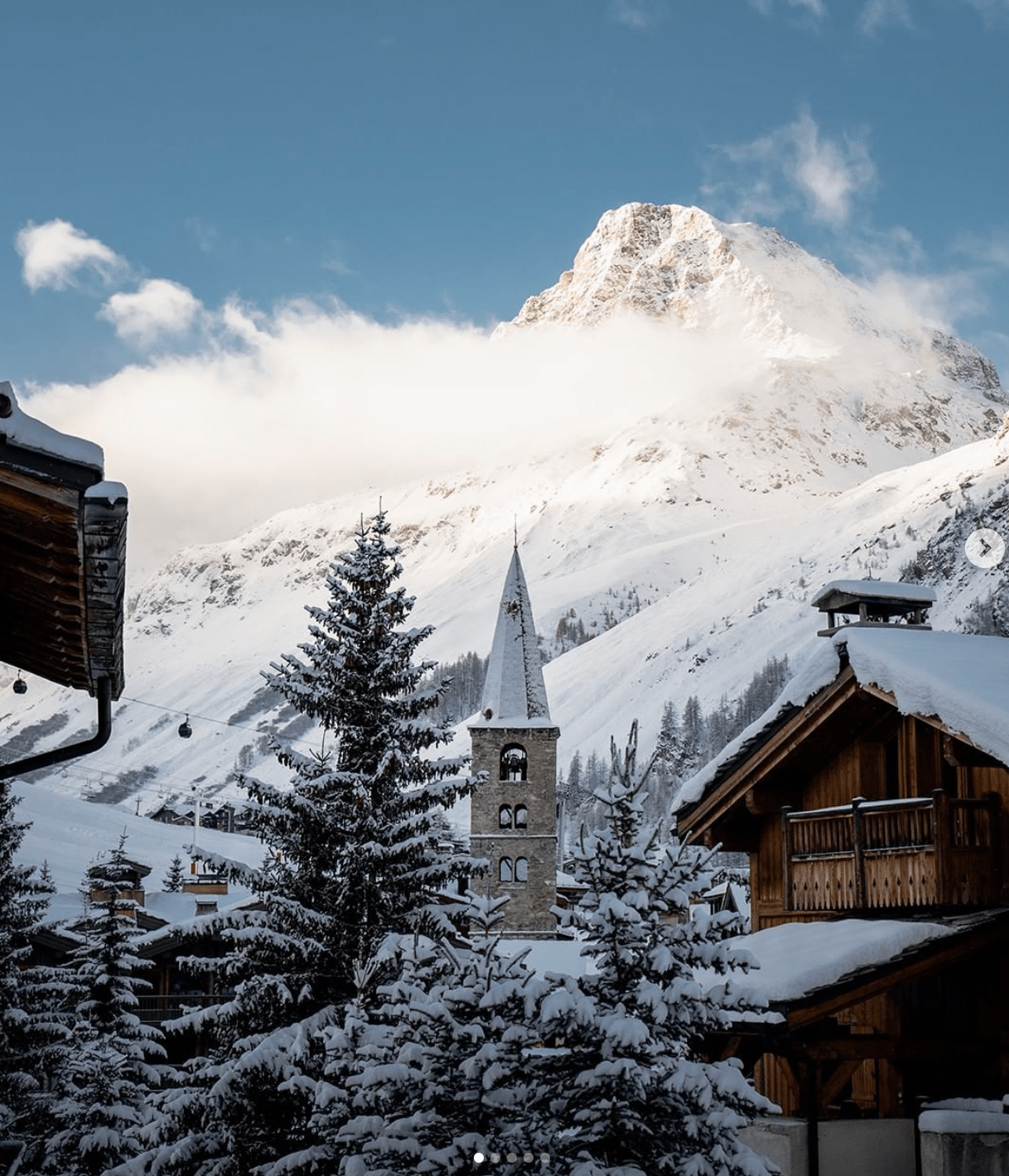 4. Cortina d'Ampezzo, Italy (score: 87.14) 
Cortina d'Ampezzo will be the host of many of the alpine events for the 2026 Milan Cortina Winter Olympics. The resort was also the host of the 1956 Winter Olympics. Cortina d'Ampezzo is about five hours from the Milan airport and two hours north of Venice airport. The picturesque town is at quite a low elevation, situated at only 4,016ft (1,224m), but it makes the Dolomite mountain range surrounding it appear even more dramatic. The ski area is part of the Dolomiti Superski area which consists of a total of 15 resorts on one ski pass which together make up the largest ski area in the world.
Ski Area: 75 miles (120km) of groomed runs in Cortina, 750 miles (1,200km) Dolomiti Superski
Highest Point: 10,643ft (3,244m) Tofana di Mezzo in Cortina, 10,725ft (3,269m) for Dolomiti Superski
Vertical: 5,285ft (1,611m) in Cortina, 5,981ft (1,823m) in the entire Dolomiti Superski area
Ski Lifts: 86 in Cortina, 450 in Dolomiti Superski 
3. Verbier, Switzerland (score: 87.22)
Verbier is in the southwest of Switzerland, which borders France and is part of the French-speaking area. It is located two hours from the Geneva airport, keeping transfer times to a minimum. Verbier together with Nendaz, Siviez, Veysonnaz, La Tzoumaz, and Thyon form the 'Quattre Vallees' or Four Valleys Ski Area, the biggest ski area in Switzerland. Aside from its massive groomed area, the Four Valleys also have an incredible lift-accessed off-piste area. Verbier hosts not only many FIS Alpine World Cup events but also competitions for the Freeride World Tour.
Ski Area: 256 miles (410km) of groomed runs (Four Valleys)
Highest Point: 10,925ft (3,330m) (Mont Fort)
Vertical: altitude difference is 8,200ft (2,500m) but skiable is only about 5,900ft (1,800m) vertical
Ski Lifts: 75 modern ski lifts
2. Zermatt, Switzerland (score: 90.05)
Zermatt with the iconic Matterhorn wins second place in the Condé Nast readers' voting. Situated on the border with Italy, the Zermatt ski area and Cervinia area seamlessly connect into the large 'Matterhorn Ski Paradise'. Together, the combined ski area covers 148 groomed runs and, thanks to its glacier, offers skiing and boarding 365 days of the year. From spring 2023 a new gondola will be open called 'Alpine Crossing', which will provide a pedestrian connection between Switzerland and Italy. The first section of the project opened in 2018.
Ski Area: 225 miles (360km) of groomed runs
Highest Point: 12,740ft (3,883m) (Klein Matterhorn)
Vertical: 7,740ft 2,359m (from Klein Matterhorn to Valtournenche)
Ski Lifts: 54 lifts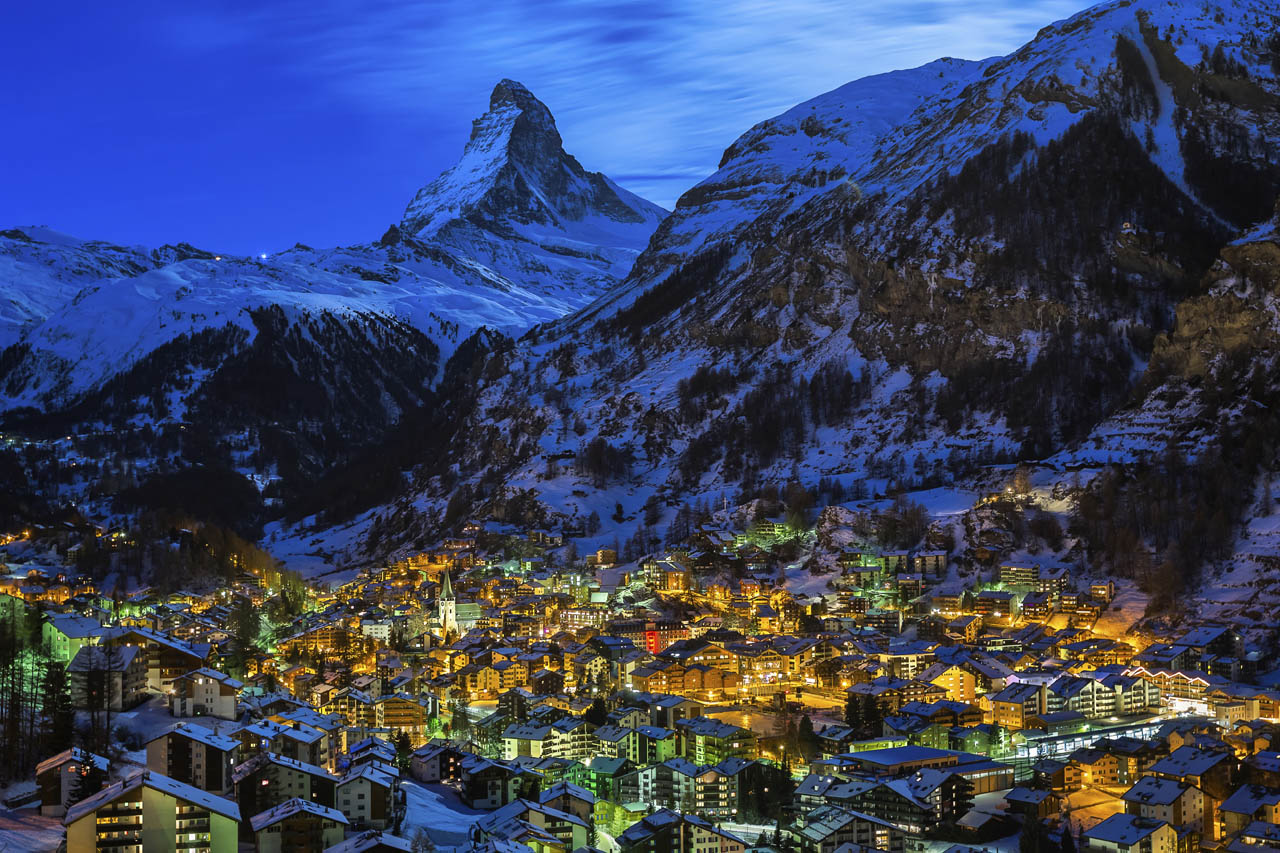 1. St. Moritz, Switzerland (score: 90.3)
Taking the proverbial crown in the Condé Nast ski-resort-beauty-contest is St. Moritz. The town of St. Moritz is located in the Engadin Valley in Switzerland, about 2.5 hours from the Milan airport and Zurich airport. If you happen to have a private jet, there is also a small airport in the area. The ski area is a combination of several resorts on the Engadin St. Moritz Ski Pass, including Corviglia, Corvatsch, and Diavolezza. Corviglia and Corvatsch have been hosts to many international races, from World Cups and World Championships to two Olympics. 
Ski Area: 223 miles (360km) of groomed runs, 
Highest Point: 3,303m (Corvatsch ski area)
Vertical: 4,052ft (1,235m) Corviglia ski area from the top of Piz Nair to St Moritz Dorf
Ski Lifts: 59 across all ski areas, including 7 gondolas/cable cars and 2 funiculars
We hope our readers have enjoyed the European Top Nine overview. Have you skied any of these resorts? Do you think the top nine positions are justified? And is it a surprise Switzerland came in the top three? We'd love to hear from you in the comments!