FKT Sierra High Route (Skiers) May 25, 2023
17 Hours, 18 minutes – Sheppard's Pass Trail Head to Wolverton (almost 2.5hrs quicker than previous FKT)
43 miles
13,730 feet climbed
Telemark Crossing 
Unsupported
This report was submitted by SnowBrains reader Ryan Soares.
My good friend Dave and I arrived at the trailhead the evening before the departure.  The plan was to get a good night's rest, wake up and scout the creek crossing and then get to bed early and depart somewhere between 10 pm and 11 pm the next day. Dave was dropping me off and continuing his own adventures, as this was a solo attempt for me.  The following day, we scouted the creek to find it was raging.  Neither of the usual two crossing spots would work.  We spent 3.5 hours building a way across by moving large boulders and rolling logs into place.  It wasn't perfect, but so long as the river didn't come up more, it would be doable.
That evening I geared up, ate some pasta for dinner and laid down staring at the sky, playing the route in my head over and over until it was time to get up and move. I had my first "real" cup of coffee in ten days, took a picture next to the trailhead sign, and started my clock.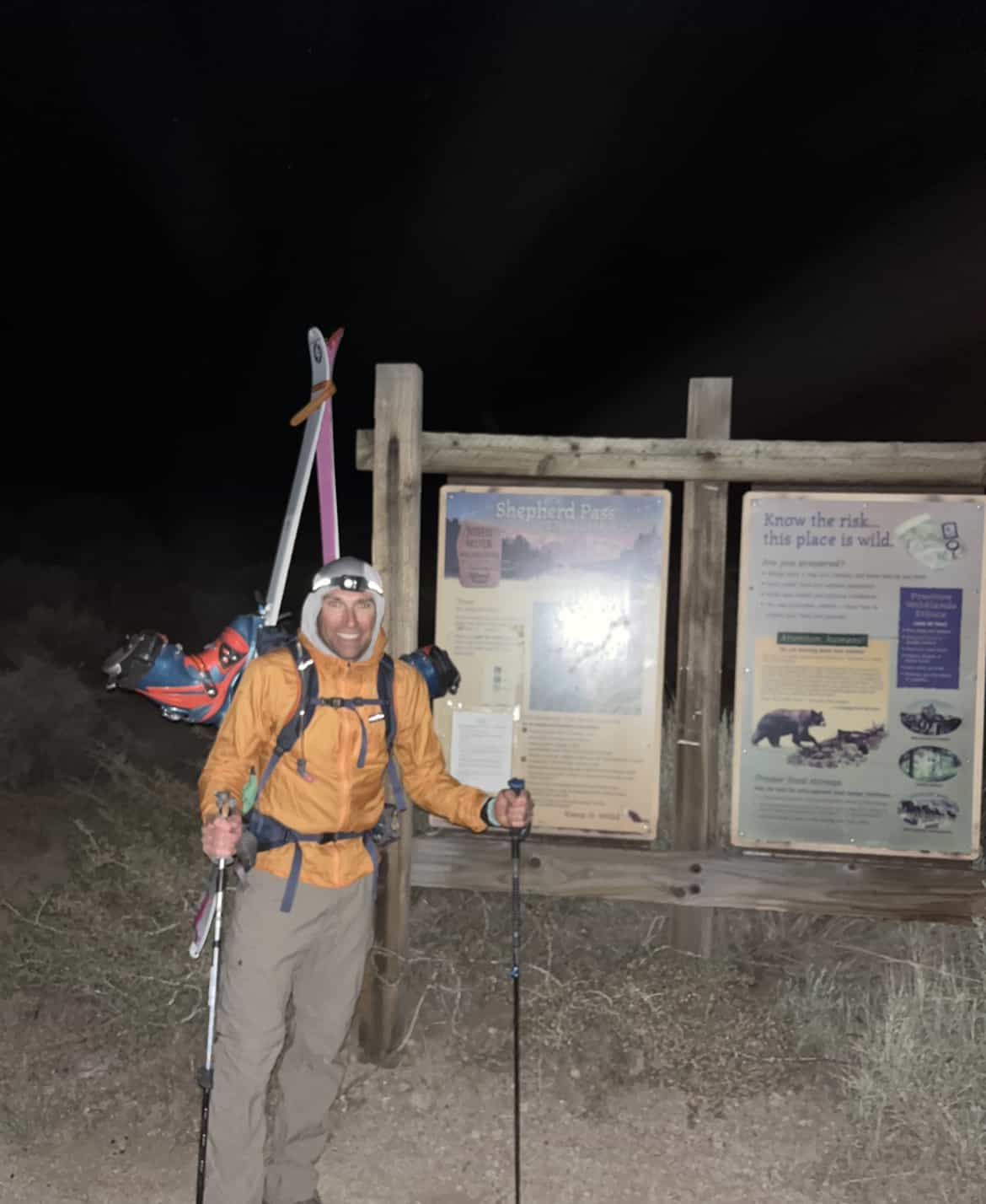 The creek had come up a bit, and jumping across the makeshift bridges and island made me nervous. The consequences of a fall here would be dire as your ski boots and gear, not to mention your body, would most certainly get swept downstream.  Fortunately, both crossings went smoothly, with only getting slightly wet.
The first 2k climb was a mix of trail and snow that was too rotten to boot pack but not consistent enough to skin. It is my least favorite climb on the route, and it was no different that night.  The only bonus is that the parts you could hike on the trail went relatively efficiently.
Once on top of this first climb, I descended the south-facing slopes to Mahogany Flats. No surprise, but this was completely dry and snow free.  The snow wasn't consistent enough to skin until Anvil camp, and from that point on, I remained on skis until the Wolverton Parking lot.
The night was cool, had a slight breeze, and was very dark. The approach to Sheppard's pass from here meandered around boulder fields until the pitch was too steep to skin.  I dawned on the crampons and made my way up to the top.  As I climbed up, I wondered how nice it would be to ski to the Kern River.  Last year, I ended up running this entire section because of the lack of snow, so when I got to the top and looked out as far as my headlamp would shine and saw endless scree and boulders, my hopes were crushed. If I am honest, I was a bit angry.  Don't get me wrong, there were some snow sections, but the first half to ¾ of a mile was skis on, skis off, skis on, skis off.  Painful at best.
Fortunately, I eventually got to where it was consistent enough to ski. The snow was sun-cupped, and runnels fanned out like strawberry fields everywhere.  I fell three times going super slow, as my skis would sink in the sun cups and get locked in.  The uneven snow made for the descent to the Kern taxing, and my quads were on fire, but I was more than happy to be sliding down instead of running.
The Kern was flowing strong, and by now, the first light of the day had reached the Milestone ridge line. I refilled my bottles and bladder with water and started to make my way up the Milestone drainage.  This was the coldest part of the trip.  I had every layer on, and my bladder hose had frozen.  It wasn't long before the sun got high enough that things changed to being darn right hot.  Being a Sierra native, this is something you come to know…if the sun is out, plan on it being hot!
The climb up Milestone was uneventful, and I probably could have boot-packed the last 100-200 feet, but being solo, I decided it was safer to put the crampons on just in case a section became firmer.  Milestone is a special place for me.  I have had some epic ski laps in the bowl, I've hunkered down at the pass during a whiteout storm where the winds were 70 to 100 mph waiting for my group to catch up, I've eaten lunch here plenty of times with amazing friends, and on this day, I was doing my first solo crossing.
I descended the bowl and hooked the corner towards No Name Pass. The snow coverage was phenomenal, all be it sun-cupped.  The day was getting hotter, and the snow was more and more rotten in the top few inches.  I had to boot-pack No Name Pass for the first time ever.  I've always been able to skin the pass, but with the extra snow this year and the current conditions, it wasn't possible.  The boot pack kicked my butt sliding down a little bit with each step.
The next pass was a long traverse down and then up into Triple Divide. A spectacular section of the Sierra with dark rock and contrasting white snow.  I've spent many years in the Sierra Skiing the backcountry and never seen as many slides, debris fields, cornices, and bergschrunds as on this trip.  Almost every aspect had something.
The descent off Triple Divide was easier than most years with the extra snow. However, the buttress you ski around near Glacier Lake had a considerable rockslide blocking your ability to carry speed around the corner and slingshotting you towards Coppermine Pass.
Coppermine looked interesting from a distance, as a shadow line across the ridge indicated a cornice. As I skinned towards it, I searched for what to do if it wasn't passable.  Fortunately, when I got to the base of it, there was an eight foot-wide section where the cornice had broken, leaving a nice gap to boot pack up and over.  Another bullet dodged…
From here, I could smell the barn. I knew I was getting out in a reasonable amount of time, and despite my lack of sleep and the long day up to this point, I was starting to feel more energized.  The snow on the western side of the Sierra was significantly better regarding sun cups and runnels, so the long traverse to Finn Pass and Lonely Lake took very little time and effort.  Like Coppermine, Finn also had a cornice, and it also had a section that had broken off and left a nice window to climb up and through.
More debris fields on the next traverse, and before I knew it, I was in the Tablelands, Pear Lake, Heather, and up the last climb to the Hump.
Last year, we only skied part way down the hump before hitting dirt and having to run with skis to finish. This year, I skied to the parking lot.  This section is always a bit of a gauntlet and was no different today.  Large broken limbs, rocks, sticks, and pine needles for days, and a section where I knew there was snow, but other things so covered it you couldn't see a shred of white.  Nonetheless, I stayed on skis and finished the route in 17 Hours and 18 minutes. Almost 2.5 hours faster than the previous FKT.
This FKT will be broken again, but not likely by another 46-year-old Telemark Skier. I predict it will be a young buck in their twenties on some ultra-lightweight AT setup that is 1/3 the weight of Tele gear and has a significantly better range of motion in their boots.  And I'll be cheering them on as it's a fantastic route and meant to be enjoyed by all forms of travel and all ages, young and old guys like me.
Just a quick shout-out to a few people behind the scenes that supported me through this effort emotionally and with logistics. My wife for being the light that gets me home.  Mike, for the words of wisdom, pickups, and unconditional support.  Dave for the drop-off and Creek Crossing construction.  Nathaniel, for being the point person on my tracking in case something went south.  Steve, I wish it could have worked out to have you by my side; we'll get the next one.  And to countless others who contributed.  It takes a tribe…
Check out the Strava activity of the record-breaking route.
PHOTOS: