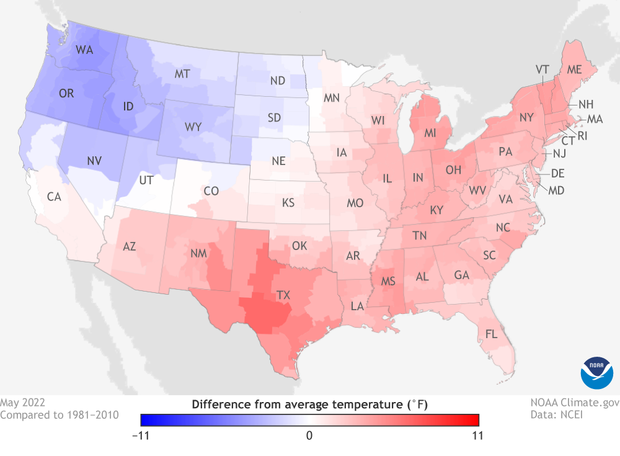 This article originally appeared on climate.gov
The average temperature of the contiguous U.S. in May was 61.9°F, which is 1.7°F above average, ranking in the warmest third of the 128-year record. Temperatures across the Northwest and northern Rockies were below average, with much of the Southwest, Deep South and locations east of the Mississippi River above average. Triple-digit heat scorched portions of the South throughout the month, setting a number of temperature records across Texas.
May precipitation for the contiguous U.S. was 3.17 inches, 0.26 inch above average, ranking in the wettest third of the historical record. Precipitation was above average across portions of the Northwest, northern and central Plains, Upper Mississippi Valley, Ohio Valley, eastern Gulf of Mexico coast and the Appalachians. Precipitation was below average from California to Texas and across portions of the Northeast. California experienced its driest January-May on record.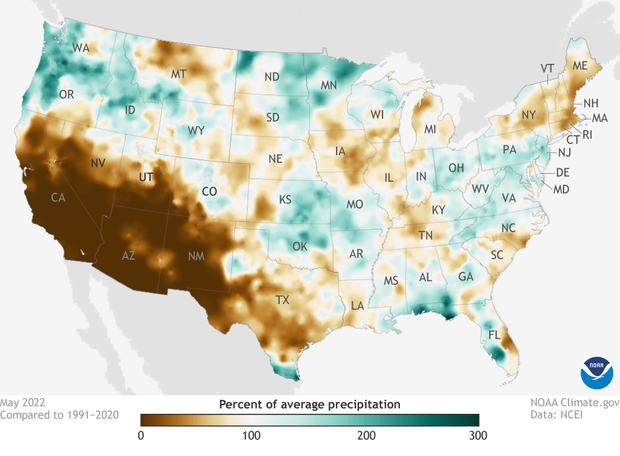 As of May 31, the largest fire on record in New Mexico, the Hermits Peak Fire, had consumed more than 315,000 acres and was 50 percent contained. Across all 50 states, 1.9 million acres have burned from January 1 through June 2 — more than two times the average for this time of year.
Several severe weather events occurred across the U.S. during May, producing 196 preliminary tornado reports. This is 71 percent of the 1991-2010 average of 276 tornadoes for the month of May.
According to the May 31 U.S. Drought Monitor report, 49.3 percent of the contiguous U.S. was in drought. Severe to extreme drought remains widespread across the western half of the contiguous U.S.