U.S. women's top downhill star Breezy Johnson sees her return to ski racing this fall.  As one of America's medal hopefuls for the Beijing Olympics and after a prominent start to the 2021-22 season, expectations were exceedingly high for Johnson before an unfortunate crash ended her season (yet again).
Her second crash in January happened during training in Cortina, Italy, and was one in which Johnson described she "…immediately felt a massive crack in her knee." Doctors later confirmed that she had torn the meniscal roots.  Surprisingly, this wasn't the only injury to Johnson's right knee that month.  She also suffered an ACL tear in that same knee just two weeks prior in another crash. When asked about her previous and unannounced ACL tear, Johnson responded,
"I actually tore my ACL earlier in January and was succeeding in skiing without it. The only reason I didn't talk about it tearing my ACL when I did is that I feel there's a lot of judgment in our sport about ACL tears and re-tears.  People may think, do you really think you can do this without an ACL? I told myself I was going to try to compete without it.  I did compete without it."
And compete she did for another two weeks of ski racing before the meniscal injury ended her season for good.
What's truly unique about Breezy Johnson is how well she responds to her injuries. When asked about her remarkable recoveries (now closing in on half a dozen) she replied, "I am a good healer.  I just wish I didn't know that quote so well." Johnson is no stranger to knee injuries or serious comebacks since first arriving on the World Cup (WC) tour in 2015; she's made a habit of them.
Johnson's Comeback Tour
2016-17 season – After finishing in several top-10s during the season, Johnson crashed in the WC finals fracturing her left tibial plateau.
2017-2018 season – Her comeback includes a 10th place finish to open the downhill season and two other top 10 places (4th, 8th) in the run-up to the 2018 Olympics, where she placed 7th in women's downhill.
2018-2019 season – While training in Chile for the coming season, she tore her right ACL. Then during the rehabilitation period in June 2019, she proceeded to tear two different ligaments in her left knee (MCL, PCL) again, ending her season.
2019-2020 season –She fights back to compete in WC downhill in January 2020 with another two top-5 finishes before the season is cut short due to the pandemic.
**'20-'21 & '21-22 seasons – Johnson achieved yet another major comeback after building momentum following a December start when Johnson reached the podium in every downhill race she entered.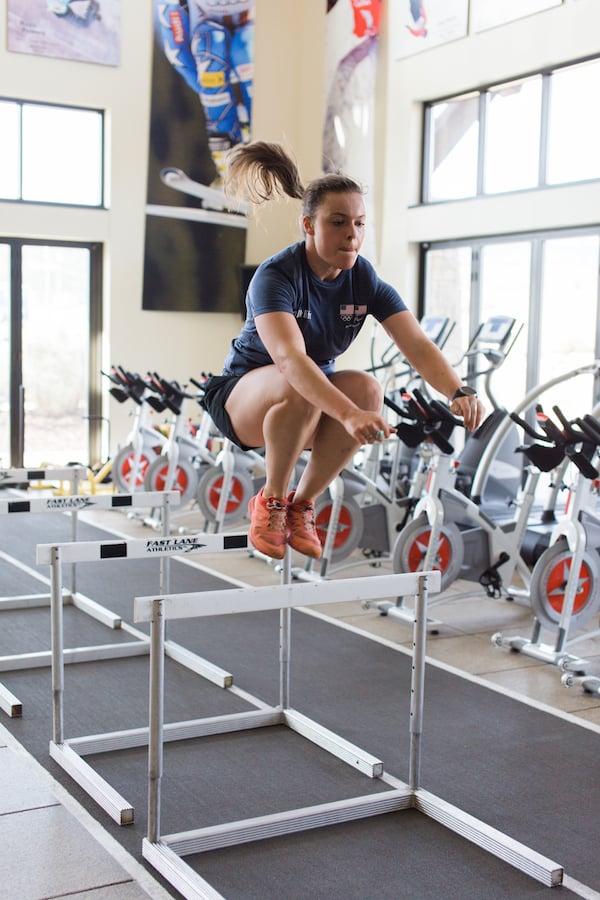 Johnson then described her "goals," which translate into a daily program with individual cardio sessions beginning at 7:30 am, physical therapy, lunch, and then another afternoon strength and conditioning workout typically lasting until 5 pm. In her preparation for the upcoming 2022-2023 season, she's working hard at it. She says, "Our goal is to get back on snow in September.  We're on track right now, working really hard in the gym all the time."
When asked about her dreams to continue skiing and the repeated adversity she faces, Johnson shares, "I love the feeling of racing. That's still worth it. It's been a lifelong dream of mine to go for the downhill globe. I'm not giving up on that."
Don't worry, Ms. Johnson; with your fantastic record of comebacks and successes, I'm sure we're not either!