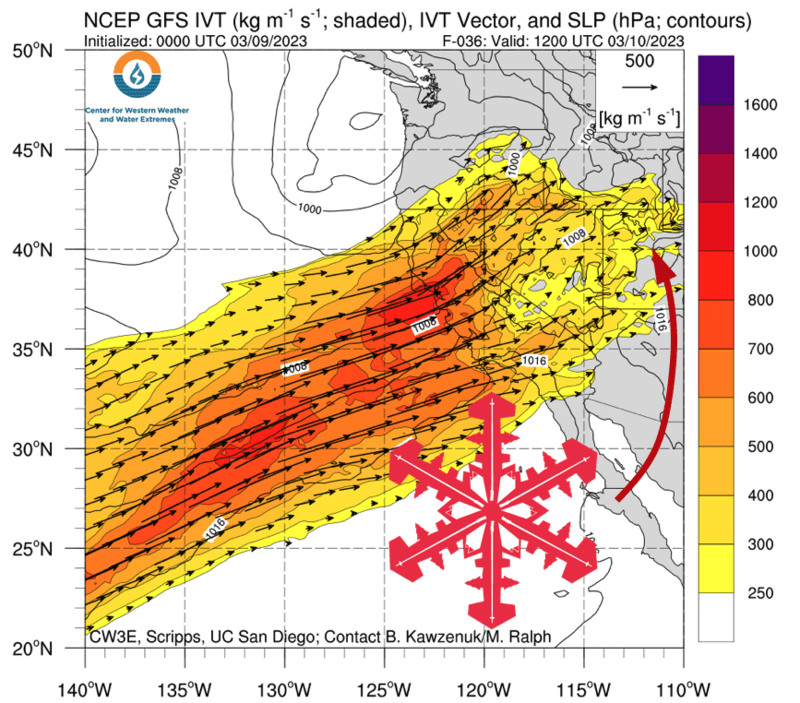 Posted 3AM (MST) Thursday, March 9th. Updated 9PM March 10th
Forecaster: Nathan Tarino
Summary
A quick-hitting storm is passing through the Wasatch now (Wednesday evening/night) delivering a nice refresh to northern UT resorts. It'll be easy to find great snow on Thursday.
An atmospheric river will pump copious moisture into the area Thursday night-Saturday. Snow levels will rise on Friday before falling again overnight. Significant high-elevation accumulations are certain.
Another series of systems have the potential to bring additional heavy snow into next week. The Upper Cottonwoods are averaging something silly like 6-8″ of snow per day (varies a little by resort) so far this March. With a forecast like this, I'm not sure we'll see those numbers fall too much as we get into the middle of March. That's nuts.
Wednesday Night's Snow
We'll start off with a quick recap of what's come down already. I got out for some ski touring in Big Cottonwood Canyon earlier and noted moderate snowfall through most of the afternoon:
Accumulations have been stacking up nicely since then.
Little Cottonwood has received 6-7″, as have the northern Wasatch Resorts.
Big Cottonwood is winning with ~8″ so far. Park City and Deer Valley seem to be losing with ~2″.
I have no clue how much snow Sundance has picked up from this system, but wouldn't be shocked to see them do alright given the favorable flow direction.
Data from the Alta-Collins station suggests this is some nice blower pow with snow ratios close to 20:1.
Snow showers will linger into Thursday morning, but the majority of the snow has already fallen. An inch or two more will be possible in spots. Regardless, with new snow on top of an already soft surface from this last week of storms, conditions will be top-notch on Thursday.
Weekend Storm Discussion
A powerful atmospheric river will take aim at California this weekend. Though the spotlight will remain on the Sierra Nevada, Utah is just downstream from California and will see impressive impacts as well.
Valley rain/snow and mountain snow look to begin across Utah late Thursday evening. Snow levels initially somewhere in the ballpark of 5500′ will creep upwards, briefly peaking as high as ~8,500′ on Friday afternoon. Snow levels will eventually fall back down close to valley floors by Saturday morning, but with warmer temperatures aloft expect the majority of the snow from this storm to be on the denser side. Snow showers won't shut off all the way until Sunday afternoon.
As for snow totals, I expect:
10-16″ for Brighton & Solitude. Likely to only see snow.
8-14″ for Alta & the Bird. Rain is possible for lower elevations at Snowbird Friday afternoon.
8-12″ for Pow Mow, Snowbasin, and Beaver Mountain. Periods of rain should be expected Friday afternoon.
6-10″ for Park City and Deer Valley. Rain will be possible near the resort bases Friday afternoon.
6-14″ for Sundance. Uncertain how much rain mixes in, hence the wide range in the forecast.
My road closure/interlodge/traffic jam spidey senses are tingling for this storm. Heavy, wet snow combined with expected strong winds will stir up problematic avalanche conditions. Friday and Saturday are usually the busier days up at the resorts already. Hopefully, the higher snow levels will keep some skiers/riders home.
Big Potential Next Week
Another atmospheric river event looks to bring additional snowfall to Utah around the middle of next week. It's not yet clear how this one will compare to the Friday/Saturday event, but additional heavy to very heavy snowfall will be possible. Once again, expect snow levels to be a bit higher with this system and snow to ride a little surfier/denser.
Ensembles hint at another potentially significant storm (or series of storms) sometime around the 20th, too. This is out close to the edge of how far out I would typically try to forecast, but I felt the signal was strong enough to warrant inclusion in this forecast. You can see what I'm talking about below – if the dates on the bottom are tough to read just know the increase in QPF you see near the right side of the plots is generally happening between the 19th and 25th of March:
Over the same period, ensembles advertise some troughing over the Western US. This is intriguing in that it would suggest a trend back to cooler storms and fluffier snow is in the cards.
In conclusion, snow continues.