There have been many announcements over the last few years of enhancements and improvements at ski resorts throughout the country. Resorts are adding more lifts, skiable terrain, and additional services which are aimed at improving guests' overall experience while visiting. These improvements can cost resorts millions of dollars, however, one expansion is going to cost a Utah resort billions.
Alterra Mountain Co. announced plans last weekend to expand its Deer Valley Resort near Park City, Utah, which will cost $3.2 billion. The expansion plan entails adding 16 new chairlifts, 135 more trails, 3,700 acres of terrain, and a new and improved Snow Park Village. When completed, it will be larger than Vail Mountain in Colorado and it will be the largest U.S. resort expansion in more than 40 years. However, there has been opposition to the new expansion which is focused on transportation concerns.
The Park City Council would need to give Deer Valley a portion of Deer Valley Drive for the Snow Park Village to move forward with its plans. There have been questions and opposition to how the new village would affect the traffic congestion around Deer Valley. Residents have expressed concerns about the new village and asked questions about building heights, construction issues, and how it would affect busing around Deer Valley.
At a planning commission meeting, John Lindell, a 20-year resident and member of the Lower Deer Valley Coalition said, "We are worried about traffic and parking like everybody, and we're looking forward to more clarity on that." He added, "I'm worried about one thing that has not come up. The current proposal is going to reduce the bus service that services the residents on the east side, and I'd like to know that a little better. I just know there are going to be fewer buses going that way."
Allison Keenan is a co-founder of Protect the Loop, an organization that is critical of the development of the new Deer Valley expansion. In a City Council and Planning Commission Meeting, she said she does not believe the new base area in Wasatch County will curb Park City's traffic.
There has been a history of mistrust by residents with the relationship between the city planning staff and the developer of the project, Extell Development Co. In a City Planning meeting, several individuals suggested a "camaraderie" between the city planning staff and Extell. There was one comment that suggested the planning staff was "in bed with Alterra."
John Phillips, Park City Planning Commission Chair, said,
"We don't even have the information to make a decision. We're waiting. We're still working through that information. But when we get those kinds of comments, it makes me sick to my stomach because these people up here, we are giving our lives to this, we care, and that is why we are here."
Deer Valley published a transportation study in April 2023 that found the development would bring an additional 3,500 cars to the Snow Park Village daily. The 88-page transportation study was conducted by Fehrs & Peers and its conclusion and recommendation stated that the transit infrastructure, intersections, parking, and traffic signals will make the current system safer and more efficient for all modes of travel. The study did mention that along with the addition of these new measures, the proposal still encourages traveling to the Snow Park Village by other means than just driving alone.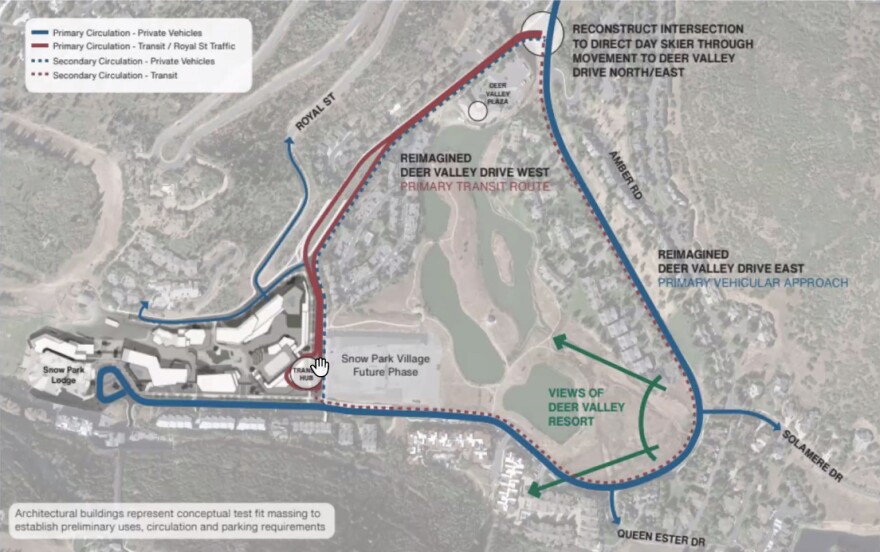 When completed, the Snow Park Village will include an 800-room hotel, 1,700 residential units, 250,000 square feet of commercial space, and a 68,000-square-foot recreation center. Extell Development Co. is a luxury real estate developer and the company developing the new village at Deer Valley. Deer Valley stated on its website its intention for the new village at its resort:
"The final piece of a founder's dream – welcome to your new home base. Deer Valley's Snow Park Village development marks the fulfillment of the 1977 master plan aimed at transforming the Snow Park base area into a versatile base village. The vision will take the current 15 acres of surface parking lots at Snow Park Lodge and reimagine them into a modern and accessible, world-class base with a state-of-the-art transit hub, expansive slope-side access, sophisticated accommodations, and new après ski experiences."
Deer Valley has had development rights to the land since the 1970s but this is the first time it has acted on it. Park City residents have voiced that they are primarily against the roads, traffic congestion, and safety that the new Snow Park Village will add. The traffic congestion in the area of Deer Valley and other resorts that are located east of Salt Lake City has been a concern for many for a long time. In a March 2022 Park City Municipal Corporation Planning Commission meeting, the topic of safety on the roads was mentioned. Residents within the area of Deer Valley suggested the road systems were not safe and would only get worse with the proposed expansion.
At that Commission Meeting, several residents reiterated their concerns about traveling on the roads around Deer Valley, specifically, Twisted Branch Road, and parking capacity during peak times. During the meeting, it was stated, "[Brighton Estates Homeowners Association] made a deal in 1999 that specified that people of Brighton Estates would not object to Deer Valley's expansion into what was now known as Empire Pass and construction problems and delays associated with the multi-year construction of Twisted Branch Road. In return, those residents were permitted to use that road."
On Tuesday, August 29, in a Park City Council meeting, Vice President of Development at Alterra Rich Wagner said, "We've heard the lower Deer Valley community loud and clear." Deer Valley spokesperson, Christine Spinkston, said the resort and the city agreed to extend the timeline an additional month to get the project right.
The vote to approve the proposal has been postponed several times since Deer Valley submitted its Transportation Study in April. Spinkston added, "They are committed to enhancing the guest experience while aligning with community interests." The next council meeting is scheduled on Sept. 28th and is supposed to take action on the proposal then. Park City Planning Commissioner John Kenworthy made clear at the meeting that Deer Valley has some existing land entitlements, making development at the site inevitable.