Report from February 1, 2023
Falling was forbidden.
A 40′ cliff split the line in half; above and below was a 45º steep couloir with decent powder and constricting rock walls on either side.
I'm talking about 'Y-Not': a Chuting Gallery line visible from Highway 210 that's as fun to ski as it is aesthetic.
It requires a rappel halfway down, so be sure to bring a rope (it's also suggested to bring verts, crampons, an ice ax, and radios).
We started hiking at 5:30. The sky was clear and it was cold.
Stars glimmered above in full. 
We followed an existing bootpack up the Y Couloir and with our verts on we could bootpack at a fast rate of 1,700′ vertical-feet an hour. 
When it came time to make the right hand turn toward Y-Not, there was no booter and we started blazing our own trail. 
The snow was deep and blower, slowing us down.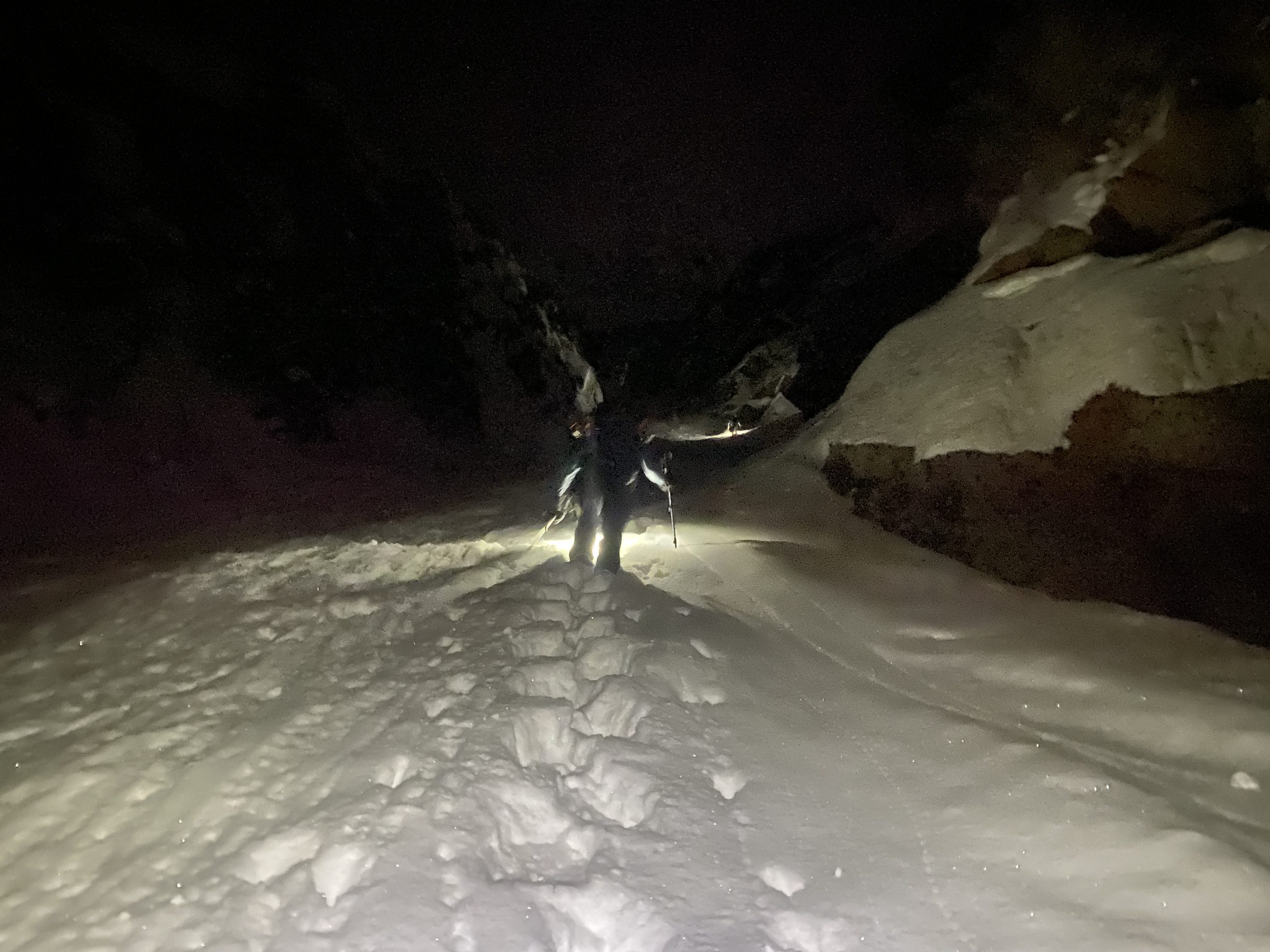 Not far up the way to Y-Not we noticed the snow becoming punchy as a result of cross loading by the wind. 
We stopped, evaluated the snow, talked about it, and decided we should keep trudging upward. 
As we climbed higher the rising sun's rays did as well, illuminating Twin Peaks behind us.
They shined in a brilliant display of fiery orange before turning golden.
We made it to the top by sunrise.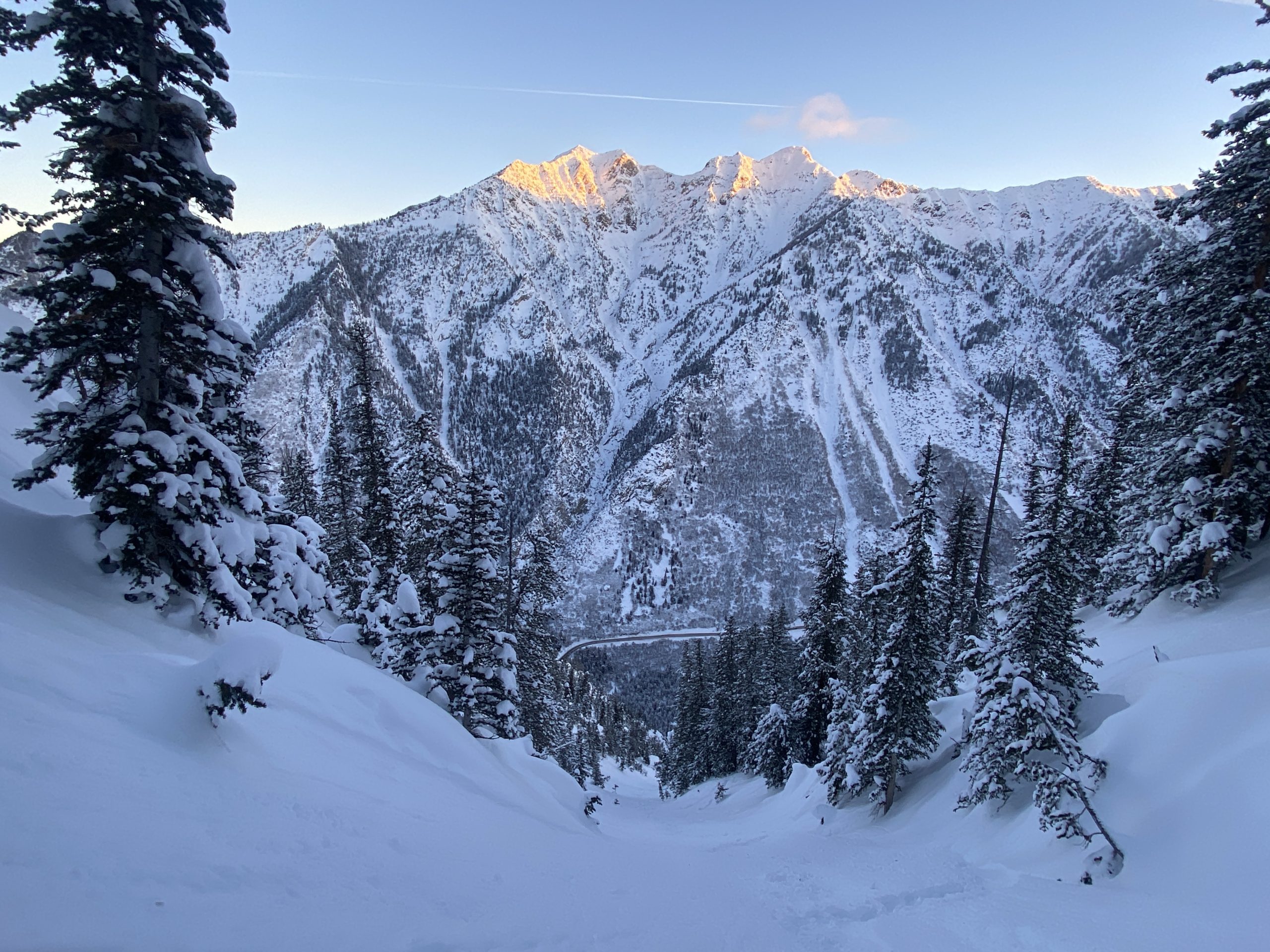 From there we contemplated the best entry into the Y-Not and entered from a sub-ridge a little ways below where we were standing. 
Up top of the line the snow looked deep and good. 
Juan dropped in first, keeping an eye out for wind slab. 
There was none.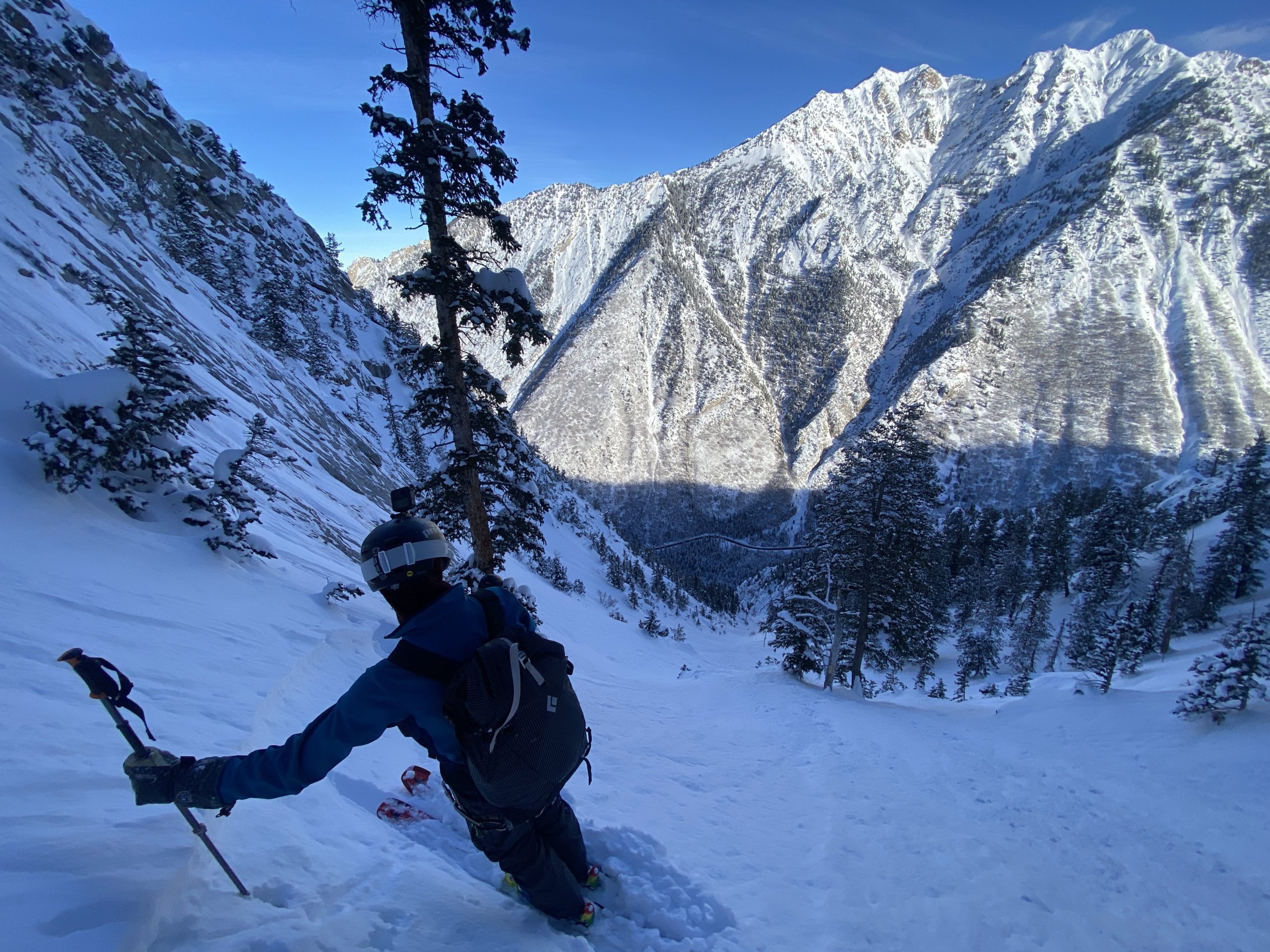 Ethan went next and ripped it, followed by me.
The snow was slightly punchy powder that got better the further down you skied. 
About 100 feet above the rappel I cooled down the pace and skied conservatively to the anchor. 
It wasn't as scary as I thought it would be.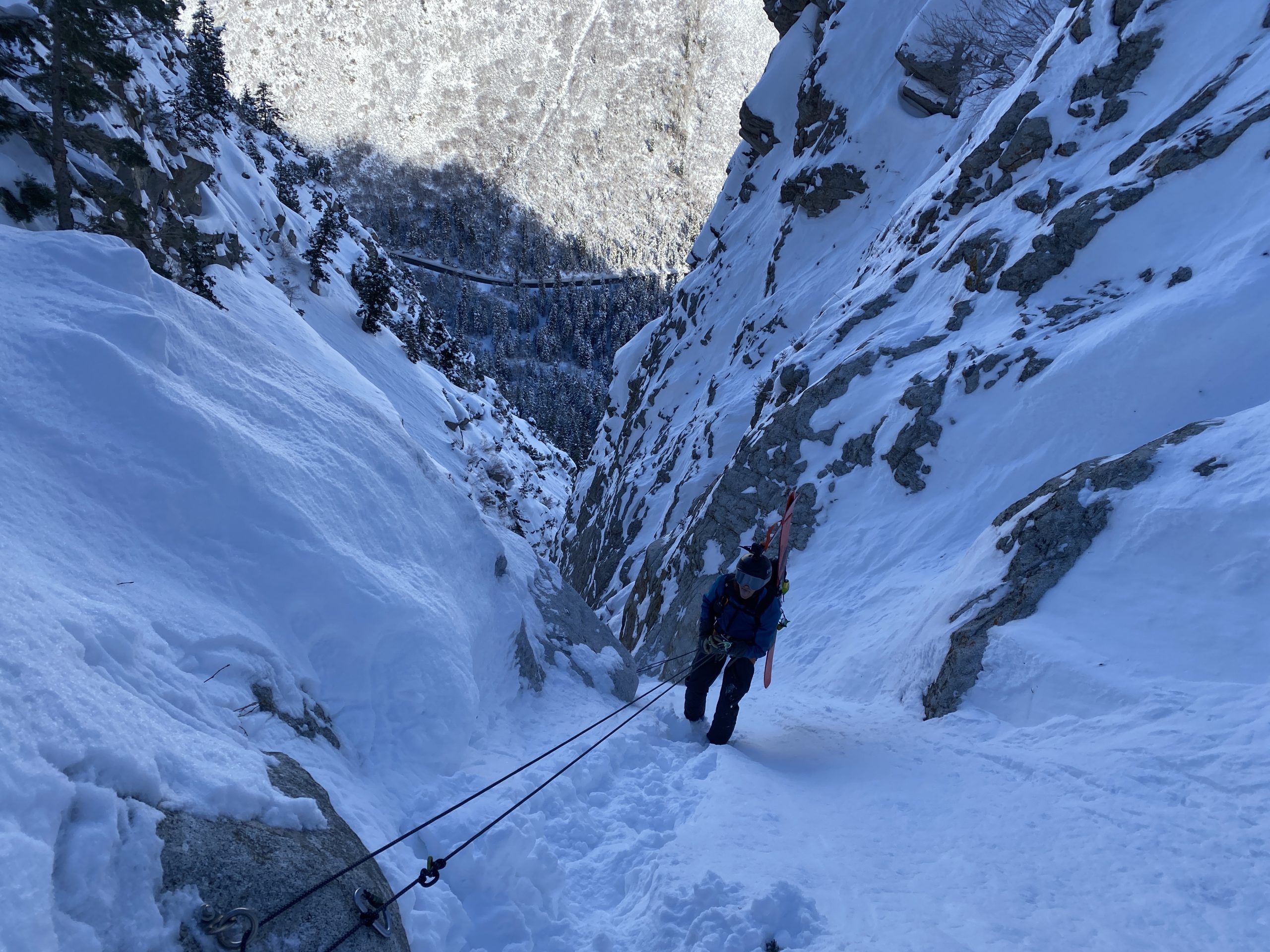 At the anchor we discovered that our rope had become tangled so we spent the next 20 minutes trying to unwravel it. 
After a long, chilly waiting period we managed and rappelled the cliff one-by-one.
This was my first time ever rappelling a cliff on skis and it was invigorating.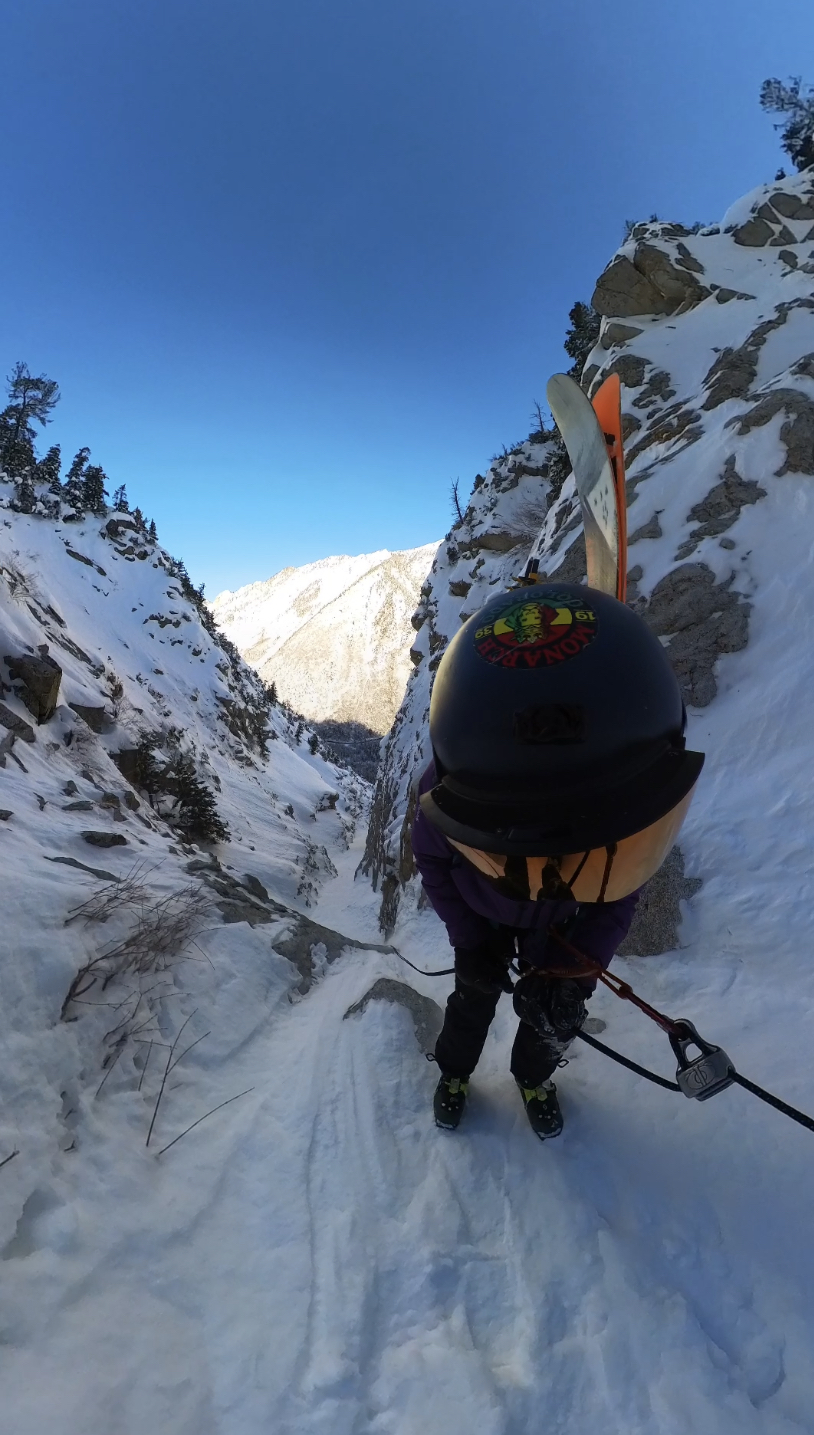 After the rappel we skied the remaining 1,500-vertical-feet-or-so down to the Little Cottonwood Canyon Creek.
The snow was much better on this pitch—fluffy, confidence-inspiring powder all the way down.
I charged a lot harder here with a shit-eating-grin plastered across my face. 
All in all we walked nearly four miles and climbed/skied roughly 3,000 vertical-feet in just under five-and-a-half hours.
Good day.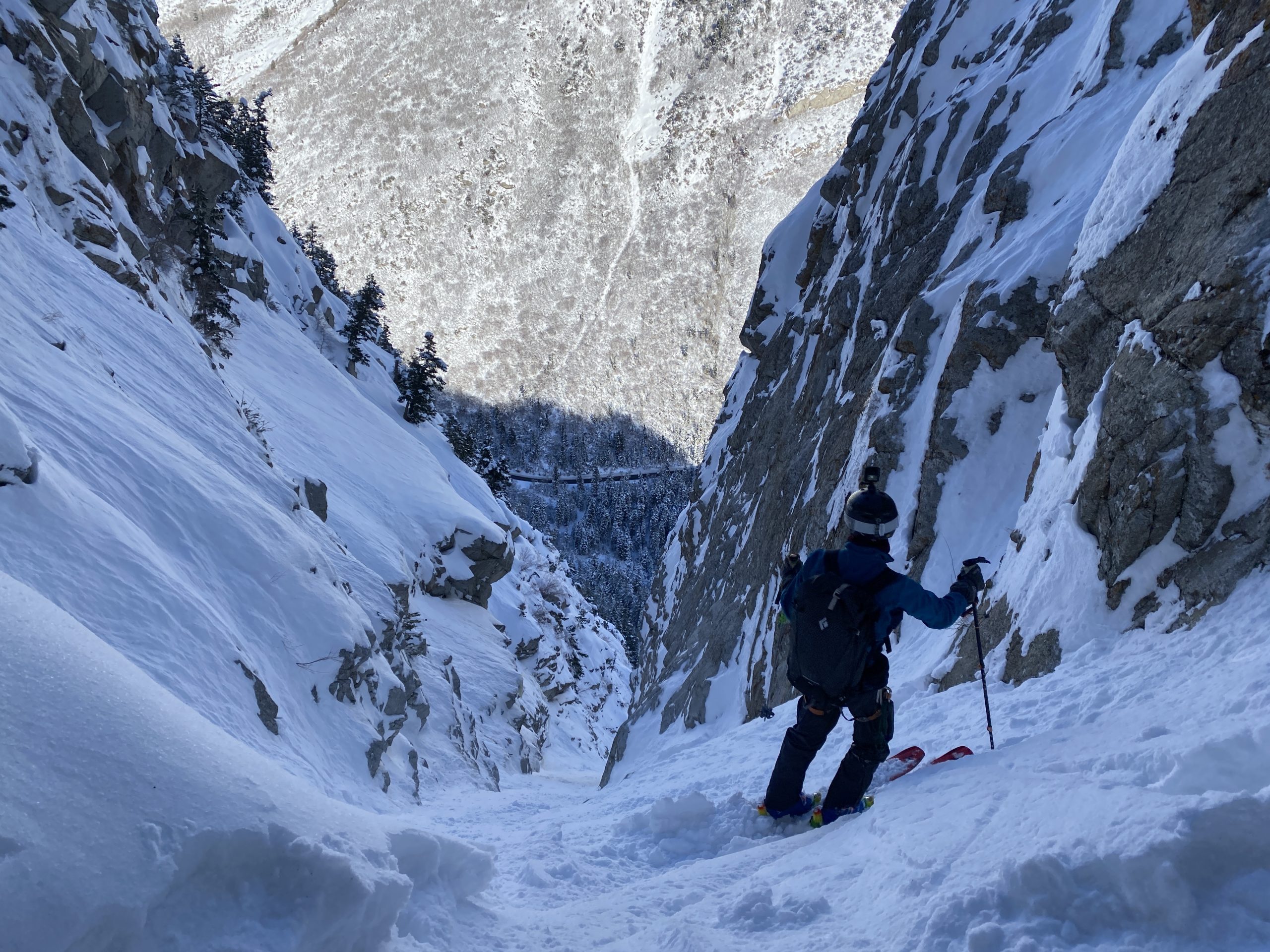 I was thrilled at the bottom; two years ago when I had skied the Y Couloir I took a look at Y-Not and said "probably never." 
Yet, here I was, at the bottom of the line, having successfully skied it. 
I know that no day is guaranteed yet I still wonder what else this life of adventure and chasing powder snow will have in store?
I guess there's only one way to find out…
Avalanche Forecast 
Weather 
Photos