Report from Wednesday, March 15, 2023
A wet, soggy snowstorm brought in a nice set of smooth white waves to Big Cottonwood Canyon yesterday.
I got up at about 2 pm after the freezing line dropped to a satisfactory level.
It rained all morning up to about 8,000′ and the winds were hammering from the northwest in the Wasatch. 
By the time I got there to ski a low-elevation line starting at about 7,900′, it was no longer raining but snowing and the winds had settled.
It was going to be a lovely afternoon. 
I broke trail through forest along a road, passing by houses buried in dozens of feet of snow. 
How some of the older, more dilapidated ones hadn't caved in yet I don't know.
The pillows on them were literally 20 feet tall in spots.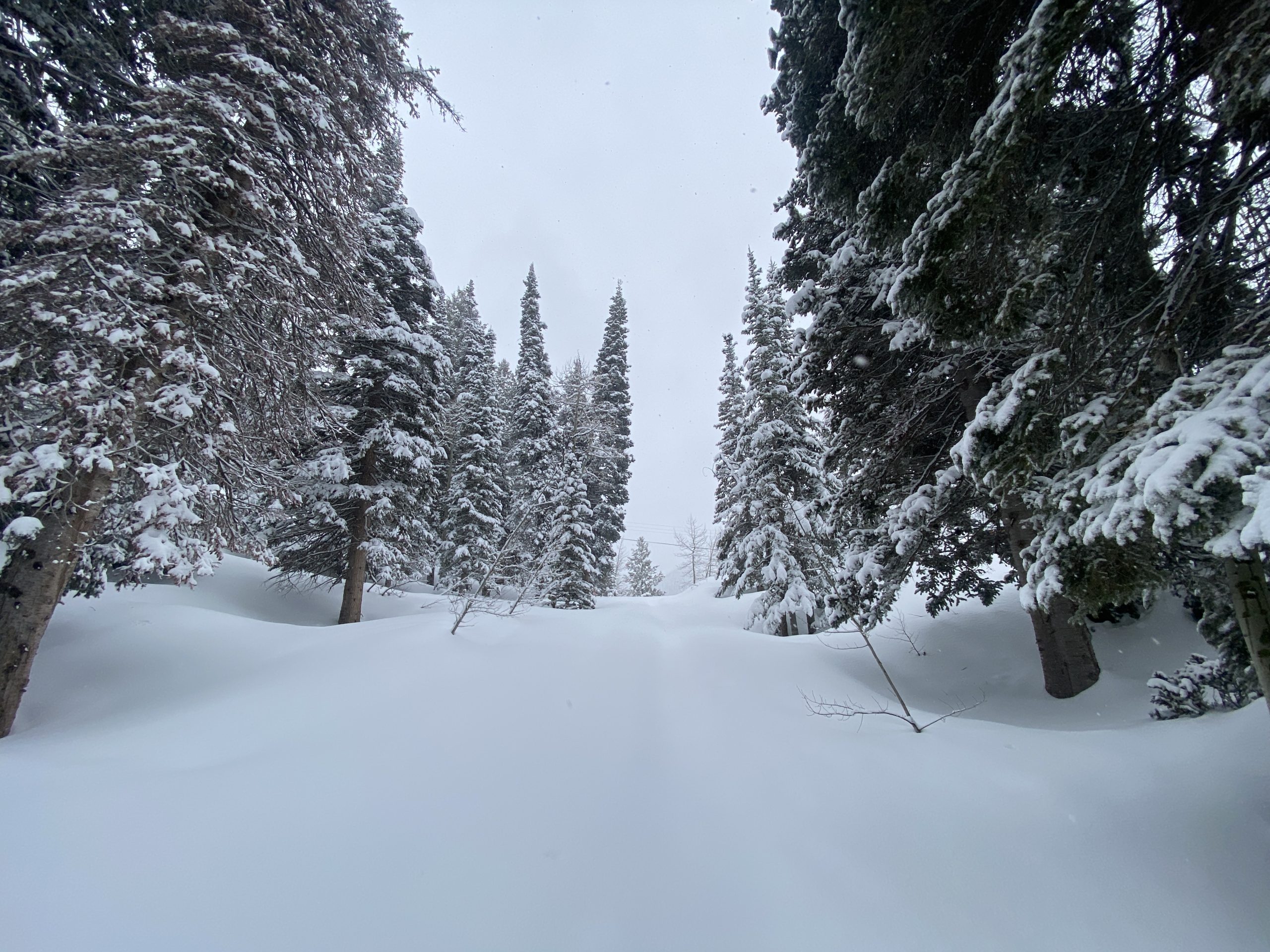 When I got to the top of the line there wasn't a track in it yet. 
I strapped my approach skis to my pack, took a deep breath, and dropped in on my Grassroots powsurfer. 
The mountains around me looked gray and powerful and alive. 
The snow on my line was wet and creamy but not sticky in the slightest. 
It surfed like a dream.
I flowed through snowy juniper bushes, swinging my torso right and left to make banking powder turns on the surfer. 
I found that having a stance further back on the board than I might initially think as well as having my hands wide out to my sides helps me make easier, smoother turns on the board. 
I'm learning. 
I managed to surf down back to the road without falling even once and I felt proud. 
It's the little things. 
The snow was surfy and good as ever, and I didn't encounter a single other track the entire way down.
It was delicious and I had to hike back up to hit another. 
This time, I went a little bit more surfer's left.
I kept my speed and darted through the bushes which led to a large, untouched field of pristine powder snow. 
It was heaven if I've ever seen it. 
I surfed it and just relaxed as much on my board as I possibly could.
At the bottom, an involuntary "holy shit" escaped my mouth.
That was the most fun I'd had on my powsurfer to date and some of the most fun I've ever had in the mountains. 
I think I'm addicted. 
I got into my car with the biggest smile on my face. 
Immediately I started planning my next powsurfing session. 
There's just something about those white waves on a powsurfer that keeps you coming back for more…
Avalanche Forecast 
Weather