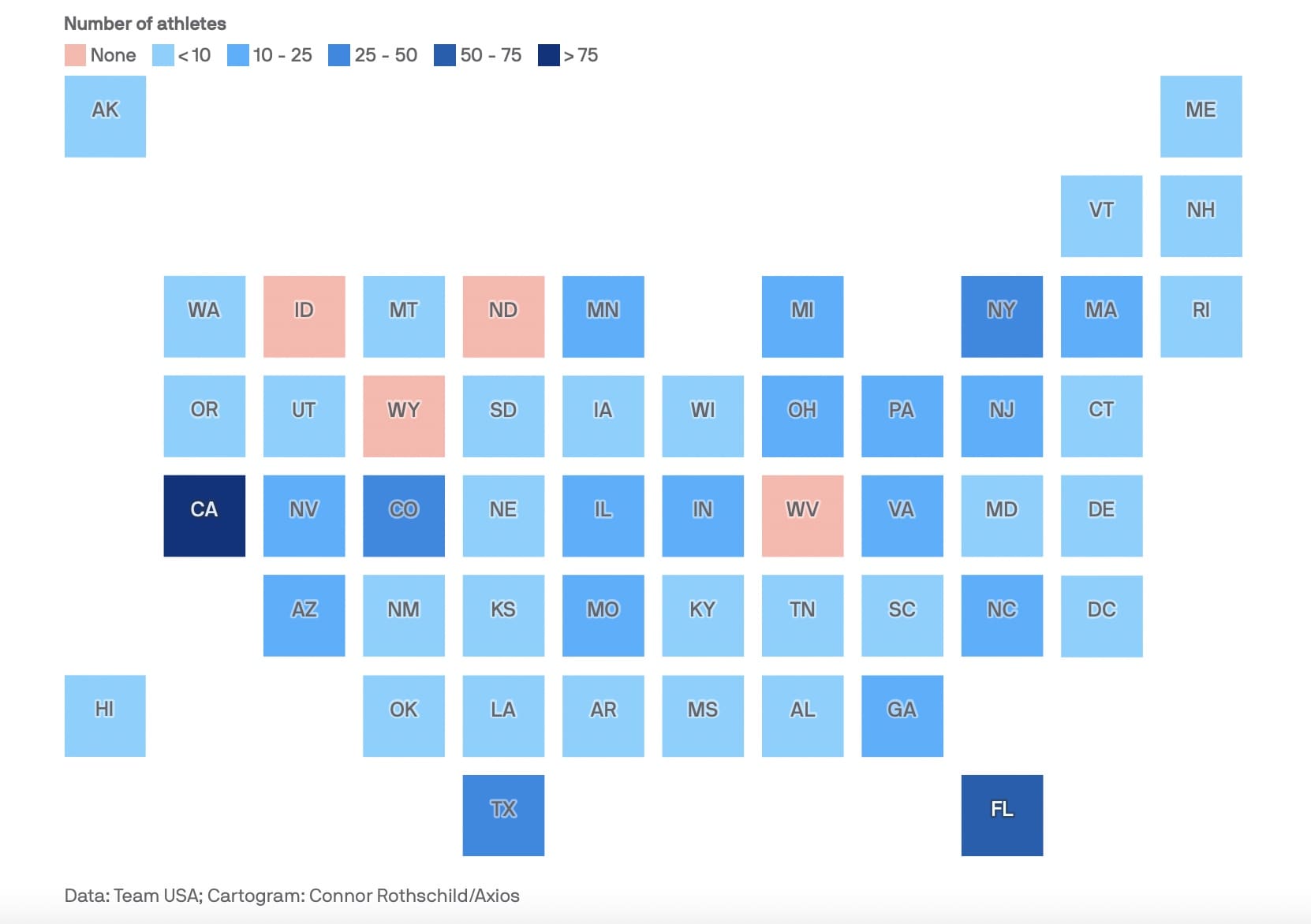 A total of 613 athletes are competing for the United States Olympic Team at the Tokyo 2020 Olympics and Paralympic Games. 46 out of the 50 states are represented by at least one athlete, but some states produce more elite athletes than others.
California leads the way with 126 Olympians, according to one analysis. This is more than double the number of athletes produced by any other state, making up over 20% of the U.S. Team. Florida has produced the second-highest number of Olympians (51 athletes), and Colorado third (34). Athletes from California include footballer Megan Rapinoe, track and field star Allyson Felix, and Nyjah Huston, one of Team USA's first Olympic skateboarders.
Things look a little different when you take population into account. In terms of athletes per capita, Colorado comes out on top, with 6 athletes per million of the population. This is followed by Hawaii (5 per million), and Nevada (4 per million). Coloradan Olympians include Amber English, who won a gold medal in skeet shooting last week, and runner Emma Coburn, who will be one to watch in the 3000m steeplechase.
Colorado is also the top state for producing the most Winter Olympic athletes. Out of the 242 athletes competing for Team USA in the 2018 Winter Olympics, 31 came from Colorado.
Which state has the most successful athletes? California tops the list again here, producing the most Olympians who have won their discipline. Since 1924, athletes from California have won 122 gold medals (Summer and Winter Olympics combined). In second place is New York (61), followed by Illinois (37), Ohio (32), and Texas (32).