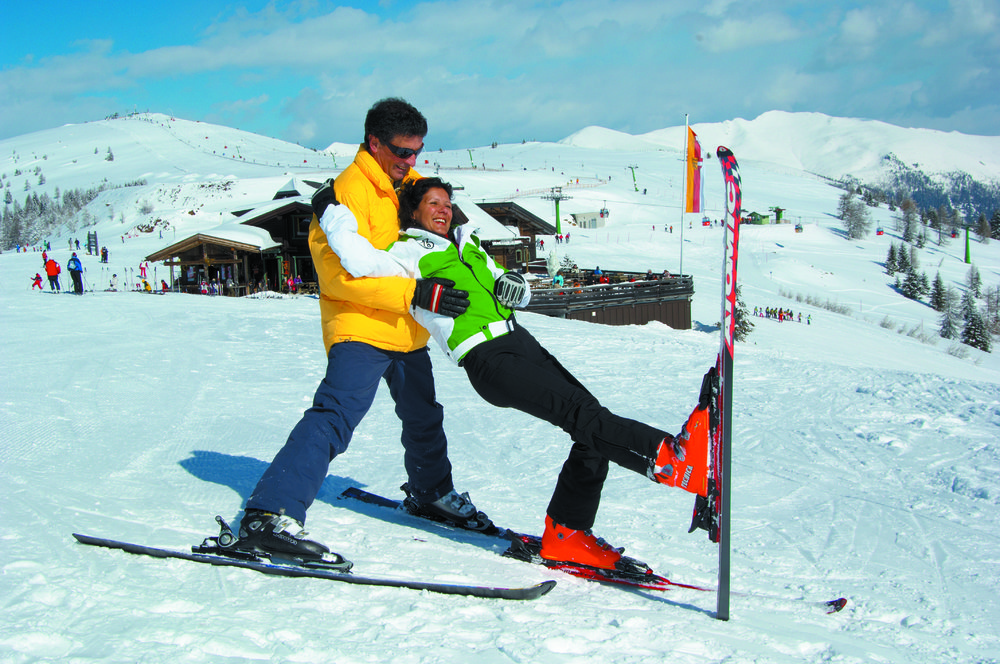 I think my sister said it best, "I can't date him because he can't ski!" One run down the mountain sealed this guy's fate, and just like that he was ghosted. I know this sounds harsh, but all the lady skiers out there know what I'm talking about… You meet a nice boy, he takes you out on a date, and everything is going great until you ask him the all-important question: Do you ski? If he says yes, you can consider a second date. If he says no, make a B-line to the nearest exit. So, here are the 15 Reasons Why I Won't Date A Guy Who Can't Ski:
1. He could never come on my family's ski vacations. All good relationships must pass the family ski vacation test, earning the parental's seal of approval.
2. My dad would make fun of him. Any guy you bring home better be able to shred as hard as your dad, or else he might get the third degree from the fam.
3. We could never go on a night-skiing date. Dinner and a movie don't compare to a night out on the slopes.
4. He wouldn't drive through a blizzard just to make first tracks in the morning. Even though there are no friends on pow days, it might be nice to have someone to keep you warm on the lift when the wind kicks in.
5. We couldn't take cute pictures together at the top of the mountain. Your Instagram feed would look pretty sad without a few couple pics at the summit.
6. He wouldn't appreciate my post-slope-sesh helmet hair. Every girl looks better with a nice head of helmet hair, according to a skier dude.
7. He wouldn't understand why I would rather head to the mountains for spring break instead of going to Cabo.  Who wants to waste away on a beach when you could be getting after it at Whistler, Alta, Telluride, or [insert your ski area of choice].
8. He wouldn't be there to buy me a drink in the lodge after the lifts stop running. Let's face it, a good skier boyfriend will be there to buy you a beer and put your skis on the rack after an exhausting day on the hill.
9. We could never indulge in a little après ski jacuzzi time together. How else are you supposed to unwind after a long day on the slopes?
10. We could never have a staged family Christmas card at the top of our favorite mountain. Every ski fam has to have the obligatory forced-pose Christmas card hanging on their fridge.
11. He would be annoyed when I woke up extra early on a pow day. Who has time for early morning canoodling when the mountains are calling?
12. He wouldn't understand why I need multiple pairs of skis. He'd also think spending $500 on a pair of skis is absurd.
13. We would never be able to partake in gaper day fun together. What's the fun in gaper day if you can't wear a matching outfit with your man?
14. I could never show off my shredding skills to him. If you can't upstage your guy with your moves, then how else are you supposed to show him who wears the pants in the relationship?
15. He simply could never fully understand me. No guy could ever make my heart pound as hard as shredding the perfect line does, and no normal boyfriend could possibly understand that.
That's it, ladies… Your guy better know how to ski (and be damn good at it too!) because, in the end, skiing is part of what makes you you. So, skiing might make you the chill girl or the crazy girl but aren't all of us chill, crazy gals just looking for a chill, crazy guy to keep up with us.