2020 is turning out to be the summer of camping. With the travel industry reeling in the aftermath of state-wide lockdowns and travel restrictions, many concerned travelers are looking for adventures closer to home. Camping is a natural fit for socially distanced vacations, and indeed, Forbes claims that "RV's are the new toilet paper." Here are the things you need for a socially distanced camping trip.
Dyrt is self-described as "Yelp for camping," and has seen a meteoric increase in downloads as it experiences the fastest revenue growth in its seven-year existence as a company. App users are encouraged to rate and review campsites, which other users can then access. Dyrt has many trip-planning tools and allows users to filter results based on type of camping: RV, tent, etc. Dyrt also offers a pro app for $29.99/year, which has seen an increase in sales.
For planning an exclusive private camping trip, there's Tentrr. Tentrr connects campers with private landowners. Nearly all campsites on Tentrr guarantee campers access to 10 or more private acres at the site. Users can choose Tentrr Signature sites, which are fully set up glamps; no personal camping equipment required. These run anywhere from $500/night to $50/night. Alternatively, Tentrr Backcountry offers primitive sites where users need to bring their own tents and camping equipment. 
Hipcamp is similar to Dyrt and Tentrr but places a greater emphasis on users seeking a particular experience: "Need a campsite by the beach next weekend where you can bring your dog? We got you!" Users can also find camps that offer "animal experiences" with goats, camels, horses, and other animals. Other filters include "wine country glamping," "pet-friendly camping" and sites available tonight, this weekend, and next weekend, making it easy to create a summer of camping suited to unique needs and interests.
For those looking to take their glamping game to the next level, or perhaps become a camp host on one of the above apps, there's LiT, or Life in Tents. LiT has two models of tent for sale: the 16-foot Fernweh tent for $1,590, and the Stell'a tent, which boasts 360° roof panels for $1,690 and is currently sold out.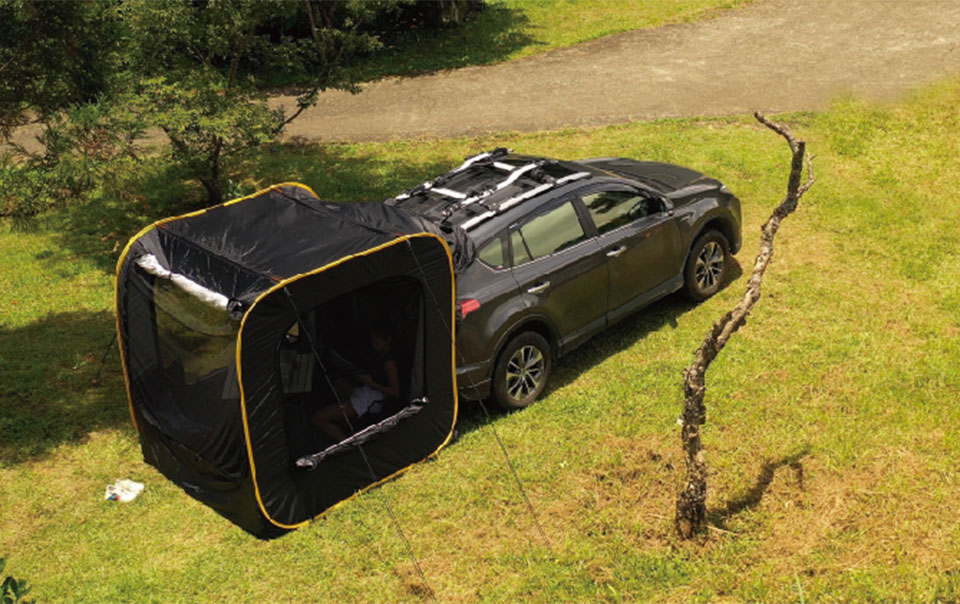 The CARSULE is a foldable pop-up tent that integrates with the trunk of an SUV, crossover, or minivan. When collapsed, the module is stored in a bag just 34 inches in diameter, yet it unfolds into a cube 6.5 feet tall and six feet wide. CARSULE can be quickly set up in as little as three minutes and offers bug netting as well as UV protection. Billed as a living room for the outdoors, it retails for $299.99.