Warmer temperatures, beautiful views, clear skies, and dry trails make summer the best time to be on a bike.  After ripping a few evening hot laps, I was reminded of some things we could all do to be better trail users before things get out of hand…
Be a good pet owner. I love biking with dogs, but they do require a little extra work. Pay attention, so when your "trail dog" inevitably takes a dump in the middle of the trail, you can stop and pick it up (or at least move it out of the way). If you've ever run over a steaming pile, only to have it fling off your front wheel and explode on your downtube, you know it's a terrible experience. Also, don't let Fido run off after passing bikes. It's annoying and a safety hazard for both rider and dog.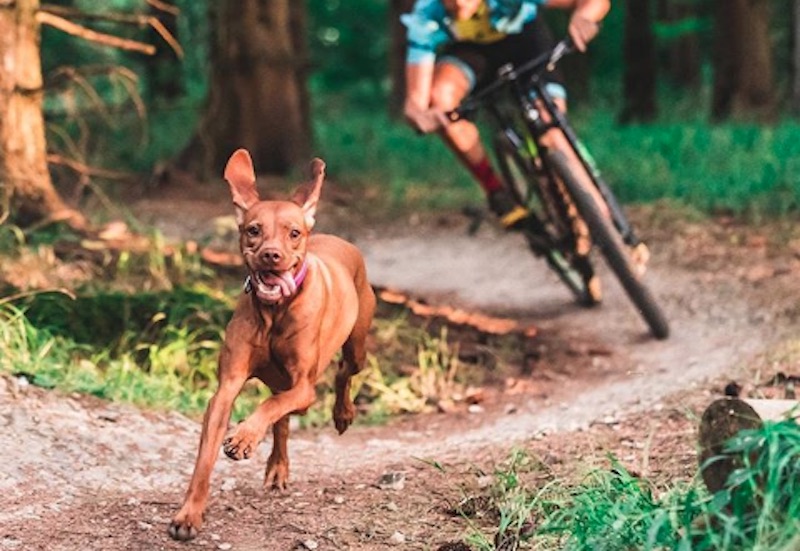 Be aware of other riders. Whether you're on the "locals only" group ride, have the headphones in, or are chasing Strava glory, be mindful of other riders on the trail. Let faster riders through, be polite when passing (i.e., don't ride two inches behind someone until they get out of your way), and generally don't act like you own the trail. Also, as a general rule of thumb, uphill traffic has the right of way (I forget that one a lot myself).
Ride in the right direction. If you have directional mountain bike trails in your neck of the woods, make sure you ride in the right direction, even if it's only a recommendation. Going the wrong way can be dangerous. If you need to swim upstream for some emergency reason, be super cautious, as most riders won't be expecting you.
Don't ride in the mud. Sometimes you don't know until you go, but if it's rained for two days straight, give things a day to dry out before you ride. Riding in the mud is the fastest way to destroy your local trails. So if you're out there and encounter unexpected wet conditions, do what you can to minimize damage.
Give back a little. I like to take a few seconds on every ride and think about what I could do to make the trail better. It can be as simple as moving a stick out of the way or alerting other riders of hazards. If we all take a moment to do something positive on our ride, it makes the trail experience better for everyone. Don't forget; it's not a competition, we're out there to have fun!