Lake Tahoe area locals and business owners have been beyond frustrated for the past several months as tourists have inundated the popular summer (and winter) recreation spot that is home to many individual communities. Holiday weekends have always been busy during the summer but with people being forced outside in order to remain socially distanced, there was been some conflict between homeowners, local residents, and tourists in the Tahoe Basin. There have even been protests and Facebook groups created to confront the legions of tourists that locals claims have brought increased crowds, trash, and traffic this summer. Local Tahoe area residents are so fed up that the membership in the Truckee Tahoe Litter Group Facebook page had gone up by 30% to 1,400, while posts and comments skyrocketed 662% to 10,600.
Due to the increased crowds and trash, there has been an outpour of discussion and outrage from local celebrities, residents, and homeowners. An outpour of discussion about the issue of increasing traffic as well as busy and dirty trailheads and camping areas have erupted throughout this spring and summer. Local residents from South Lake Tahoe to Incline Village, have been protesting and raising awareness due to the amount of trash and traffic that locals say has increased.
Locals are worried about the impact invading visitors may have, given the threat of COVID-19. There are many rural and smaller communities surrounding the lake that could be exposed by an increased number of visitors from metropolitan areas. Locals venturing outdoors have complained the hiking and biking trails, as well as the Truckee River and beaches of Tahoe, have been inundated with people. Conflict is obviously going to arise when those from urban areas flocked to the casual communities of Kings Beach, Tahoma, Incline Village, or any of the smaller communities dotting the coast of the lake. The majority of us are seeking some space and solitude in the outdoor areas — whether its in Central Park or the Sierra.
"It's like the Fourth of July every day," Jim Mapes, of Incline Village resident, told Moonshine Ink, a news publication and one of the many great parts of the Tahoe community. Moonshine Ink took a close look at some of the hard numbers to analyze the impact this summer's chaos has had on what most view as an uptick in visitation during pandemic and 2020. 
When trying to come up with a hard number of visitors, Moonshine Ink first looked into the Transient Occupancy Tax, paid by guests in short-term rentals. These numbers are recorded on a quarterly basis. According to the most recent quarter, encompassing April 1 to June 30, Truckee reportedly received $276,358 for this quarter, down 59% from the same quarter in 2019 ($669,932). Apparently, Eastern Placer saw its own tax revenues plunge in the most recent quarter's TOT collection: dropping to $1.1 million from 2019's $3.6 million.
The Moonshine Ink article, written by Alex Hoeft, also compared the numbers from April through June 2019 to April through June 2020 and found that the number of units being occupied each night decreased by 73%, from 105,649 to 28,517. ("Note that those numbers are not the total number of units available for rent, but a total of nights booked. For example, if one house offers 50 nights available for rent during one quarter, and people stay at that location 100% of that availability, the unit contributes 50 to the total occupancy count. Those counts come from individuals registered through Placer County's short-term rental system — aka the holders of TOT certificates, which is currently 4,351 in Eastern Placer, Hoeft, said."
Delving into the down and dirty, other data reflective of how many people are in and around Tahoe can be determined using the sewage and flushing data. According to the influent flow data (toilets/ shower use) from the Tahoe-Truckee Sanitation Agency's water reclamation plant, there have been actually fewer people here this year, as compared to last. According to the numbers provided Moonshine Ink:
"For June and July of 2019, an average of 4.45 million gallons per day (MGD) flowed into the plant. In 2020, the average dropped to 3.88 MGD. To put it more simply, the TTSA wastewater treatment facility is seeing roughly 570,000 gallons of sewage flow per day less than seen last year; that number is equivalent to about 7,000 less people on a daily basis."
"Hoeft also points out that traffic counts have dipped: "On State Route 89, at the junction of Pole Creek Road, there was a 38% decrease in car counts between March 2019 and 2020. Between the Julys of the two years, it was a 6% decrease (from approximately 49,000 to 46,000) On State Route 267, at Brockway Summit, March to March saw a 30% decrease, while July to July saw a 7% dip."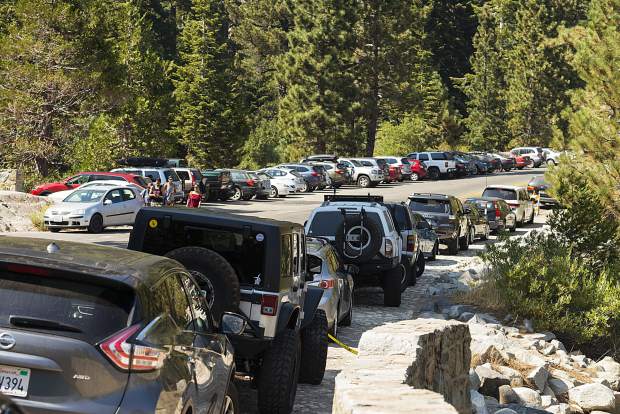 Contrary to decreased traffic on the roads, traffic on trails has gone up. The Dollar Creek bike path has seen its user number increase by 129% — from 333 last year to 762 this year during the last two weeks in July, according to the Tahoe Regional Planning Agency.
Yet, here is the bottom line, based on local observation and the news: The Truckee Meadows and Tahoe Basin have obviously seen an influx of people coming from other parts of California, Nevada, and the surrounding states. But it started around March when California shut down. Since then, it appears people have moved in and out during various periods of lockdown and re-opening. People are looking for more space, or a good time in the casinos, which have remained open for the most part, since they closed for approximately two months. Nevada and other states have been more lenient, which brings its own complications.