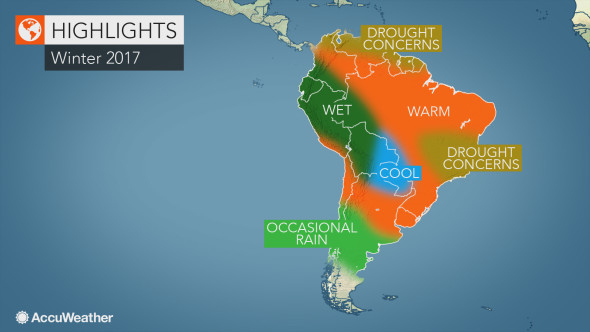 Accuweather has released a Southern Winter 2017 forecast and it's looking good for Chile and Argentina.
Central Chile is already having a stellar year with big early snowfalls allowing ski resorts like Valle Nevado to open as early as May, which is very rare.
Ski resorts all over Chile and Argentina are currently open with only a few still waiting to begin operations.
"Argentina to face more rain, mountain snow than last winter

Rounds of rain will frequent Argentina this winter as storm systems move across the country on a regular basis.

"More storms are expected across central Argentina this year versus last year with near- to slightly above-normal rainfall in cities such as Buenos Aires," AccuWeather Lead International Meteorologist Jason Nicholls said.

These storm systems will also bring plentiful snowfall to the Andes which could allow some ski resorts to open earlier than normal.

The early and middle part of the winter will be the most active with rain and mountain snow before drier and warmer conditions build over the region.

This active period could also bring shots of cold air, resulting in some frost and freezes in northern Argentina, Paraguay, Uruguay and eastern Bolivia.

"These cold shots should tend to be short-lived, and as a result, many of these areas will be warmer than normal, but perhaps near to slightly cooler than in Paraguay," Nicholls said." – Accuweather, yesterday