Brought to you by Kyle Elliott, AccuWeather meteorologist
A fast-moving storm system will slide down the Front Range of the Rockies this week, bringing a burst of snow and tumbling temperatures from Montana to New Mexico. For the second time in recent weeks, Denver will see snow and a dramatic temperature swing in a short period of time.
Although accumulating snow will be confined to the Bitterroot Mountains of western Montana and the higher terrain of northwestern Idaho through Tuesday night, a few wet snowflakes could mix in with rain showers in cities such as Great Falls and Billings, Montana.
A slew of winter storm watches were issued and are in effect from Wednesday evening through Thursday morning in Colorado for Denver and down through the southern front range foothills and the Palmer Divide near Colorado Springs all the way to the state border with New Mexico.
Tourists venturing to Yellowstone National Park should be prepared for slippery travel into Wednesday and pack coats and gloves with 1 or 2 inches of snow and subfreezing temperatures in the forecast. The low temperature on Wednesday night is expected to plunge into the single digits.
As the storm system dives farther south into the middle and latter part of the week, it will gather strength and tap into moisture being drawn northward from the western Gulf of Mexico.
The Mile High City will see highs reach the 60s on Tuesday and the 50s on Wednesday, but temperatures in Denver will plummet into the 20s later Wednesday night and support a rapid changeover in precipitation type from rain to snow.
Thursday morning's commute could prove to be quite treacherous for residents, as several inches of snow are expected in and around the city. In the foothills and areas of higher terrain just west of Denver, as much as half a foot or more of snow is possible in just a 12-hour time period spanning late Wednesday evening to late Thursday morning.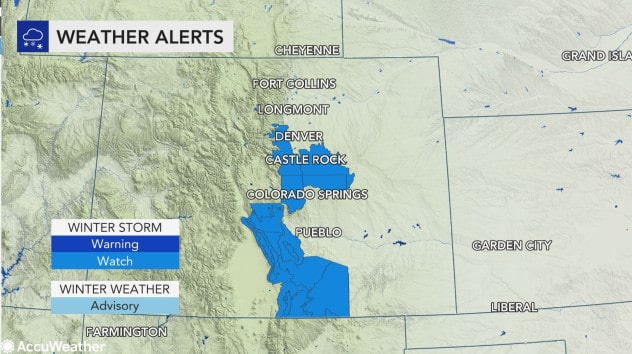 Although the snow will be a boon to the ski industry, it will create slow to potentially dangerous travel conditions on portions of interstates 25, 70 and 80 before temperatures climb above freezing Thursday afternoon.
There is also the potential for flight delays both in and out of Denver International Airport that could trickle down to other hubs across the nation. In addition, some may find it difficult to acclimate to the rapidly changing temperatures and may be sent scrambling for scarfs, hats and heavy coats before heading out the door on Thursday.
With another rapid freeze-up in store again Thursday night, people should be prepared for black ice, especially on secondary roadways, as any slush can quickly refreeze.
After the storm whitens Denver into Thursday morning, it may continue to slide southward and temporarily stall out over eastern New Mexico into Friday night or transfer its energy to a larger storm taking shape over the southern United States.
In the case of a slow-moving storm, then a prolonged period of heavy, wet snow could bury cities such as Las Vegas, Santa Rosa, and Roswell, New Mexico. No more than a brief period of rain or snow showers would occur in these cities if the storm kicks out of the region quickly.
AccuWeather meteorologists will continue to monitor the progress of this system as the week progresses and iron out the details on where and how much snow is likely to fall.
Regardless of snowfall, overnight lows in many cities will be 40 to 50 degrees Fahrenheit lower by week's end than high temperatures on Tuesday and Wednesday.
Drier and warmer air should return in the wake of the system by the start of the weekend, helping to melt the snow and dry out roadways and interstates across the region.