[Sponsored by: Crystal Mountain Resort]
If you haven't skied at Crystal Mountain Resort, Washington, it's a place you need to visit. It's the biggest ski area in the state, boasting 2,600 acres of glades, steeps, chutes, and bowls, along with plenty of beginner and intermediate terrain.  On top of that, there are tons of great backcountry lines just outside the resort boundary. I know a few die-hard skiers that call Crystal their home mountain and rarely find a reason to ski anywhere else.
In the last 10 years, over 30 million dollars has been invested in the resort. That means you're in for super fast lifts, great lodges, and top-notch food choices.  There's also those complimentary views of Mt. Rainer you're treated to all day.
This season, Crystal Mountain Resort is on the Ikon Pass. Even if you only bought the base pass, you still get unlimited access, with no blackout dates. With almost 500″ of snow a year, your chances of a powder day are always high.
Another thing I love about Crystal is just how easy it is to get to. You don't have to live in the middle of nowhere to be close to great skiing. If you're in the Seattle area, day trip all you want because Crystal is less than 2 hours from home. There's even a variety of bus groups that head to the mountain throughout the season. Portland, Oregon is an easy 3.5-hour drive which makes Crystal the perfect weekend getaway. If you're up in Vancouver, BC and looking for some variety, you're only 4.5 hours away.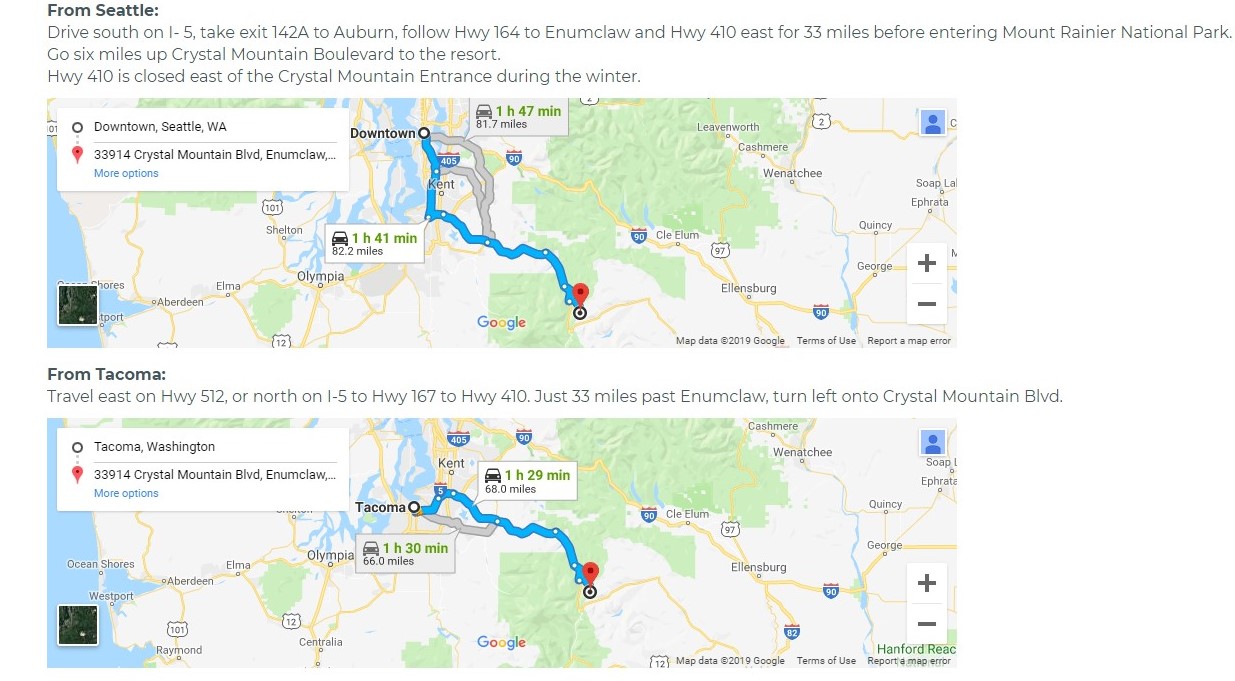 If you bought the Ikon Pass this winter to chase snow around the country, Crystal should most certainly be on your hit list. It's only a 90-minute drive from the Seattle-Tacoma International Airport. That's as close as you'll find a major airport to great skiing, anywhere. Regardless of where you live, you can probably hop on a plane Friday afternoon, ski Crystal the whole weekend, and be back at work Monday morning.
Alaska Airlines is based in Seattle and flies non-stop into Seatac from all over the country. I spent a little time checking out their website, and they've got some great deals on flights right now. If you're on the east coast in places like New York City, Philadelphia, or even down south in Tampa or Charleston, you can fly one way for less than $199. Midwesterners can fly out of places like Chicago, Detroit, St. Louis. or Kansas City, among others, for less than $169. Nowadays, that's pretty cheap.
If you're down in California, you can hop on flights out of San Fransisco, Los Angles, Burbank, Oakland, Santa Barabara, Reno….just about anywhere in the state, for $99 or less. Heck, that could end up being cheaper and easier than a weekend in Tahoe. Next time California has a low snow year, you know where to head.
Crystal Mountain Resort has already received over 330″ of snow this season already. Now is a great time to head to Washington for a ski trip!