Report from Monday, February 14, 2022
Brought to you by Ski Idaho and Visit Idaho
Bogus Basin is not bogus. The non-profit ski area boasts 2,600 skiable acres and big terrain consisting of steeps, high-class tree skiing, excellent groomed trails, and the most night skiing in Idaho. The skiing here is large and the skiing here is cheap.
Bogus Basin got its name from a fake gold epidemic in the late 19th century. Swindlers living in the mountains here used to manufacture fake gold and sell it as the real deal. Those wild west con artists turned a profit for quite some time before getting busted as fraudsters, and it wasn't long until the area's name became known as Bogus Basin.
Fast forward to the late 1930s and Alf Engen, founder of Utah's Alta Ski Area, decided that Bogus Basin was a lovely spot for a ski area. It was close to the state capital of Boise and had steep, playful terrain that received great, consistent snowfall. So in December 1942, Bogus opened to the public with a 500 foot (150 m) rope tow. The rest is history.
I've never heard much about Bogus Basin and to be frank I expected it to be a relatively small, anti-climatic ski hill prior to my arrival. But oh how wrong I was.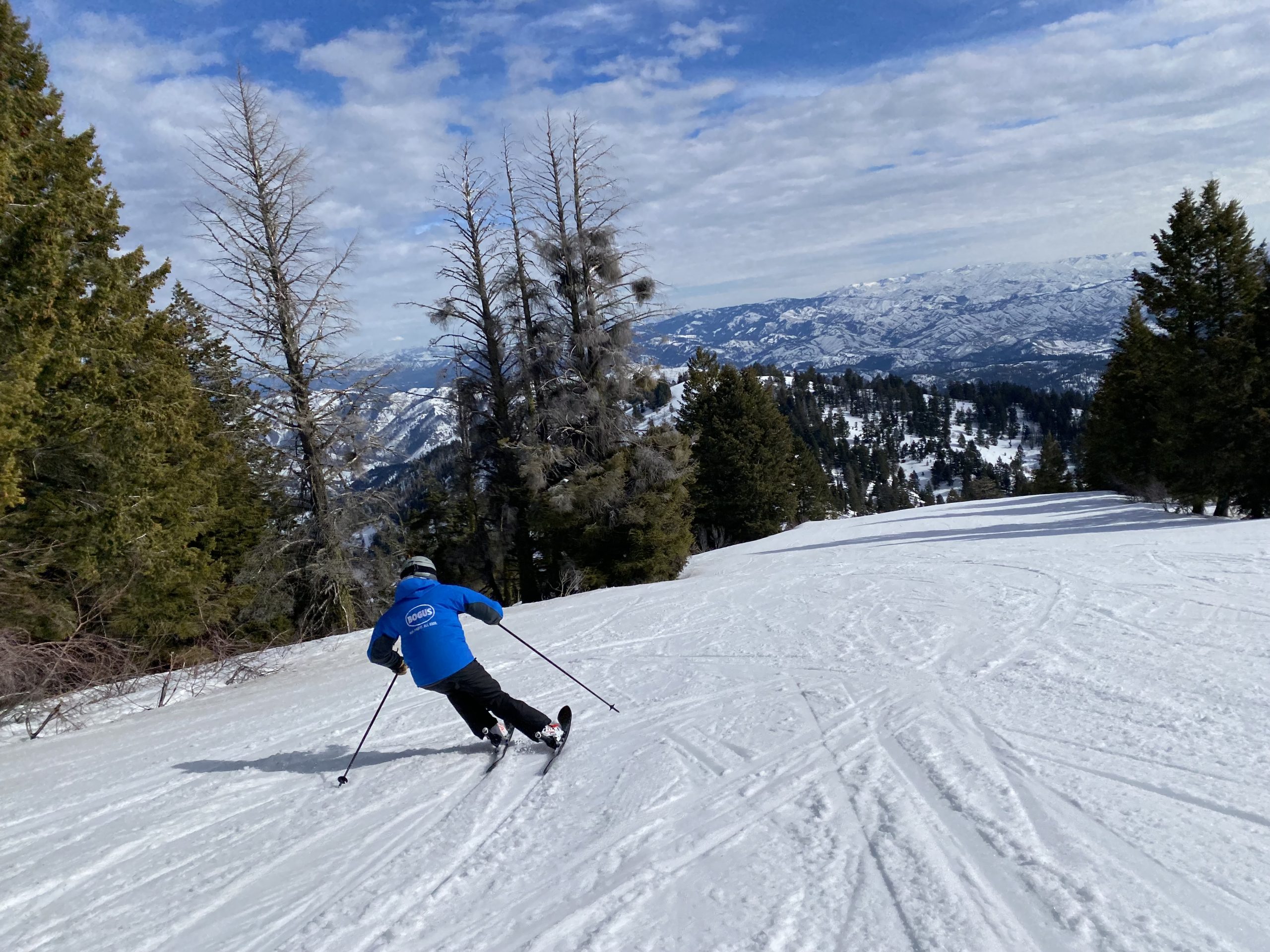 Upon my arrival, I came to learn that this place was big and steep—and inexpensive. A full season pass goes for $399 here, an unlimited night skiing pass goes for $139, and a Spring pass runs for $109, allowing unlimited skiing from March 14th through the end of the 2021/22 Winter Season. Prices like those are unheard of these days where most day tickets at bigger, more well-known mountains are priced higher than an unlimited night skiing pass at Bogus.
I got to the mountain around noon on Valentine's Day after spending the night at the Courtyard Marriott in Boise, which is a great hotel with luxurious rooms and a great location in downtown Boise for a very fair price. It was sunny, warm, and bluebird. The snow was soft—it felt almost springtime. When I got there I was greeted by Bogus' extremely friendly staff who were eager to show me around their humble but powerful ski area.
I was blown away. This mountain was huge. It had it all; technical steeps, giant groomed runs, great tree skiing, cliffs, moguls, terrain parks, high-speed quads—the list could go on forever. For a non-profit mountain, this place is easily comparable to any other 'big' ski area.
General Manager Brad Wilson and Director of Community and Customer Relations Susie Saad took Ski Idaho representative Tony and me up Chair 1 to start, where at the top you have a view of downtown Boise. Brad informed me that there were mountain bike trails that snaked all the way from Bogus to Downtown Boise in the summer.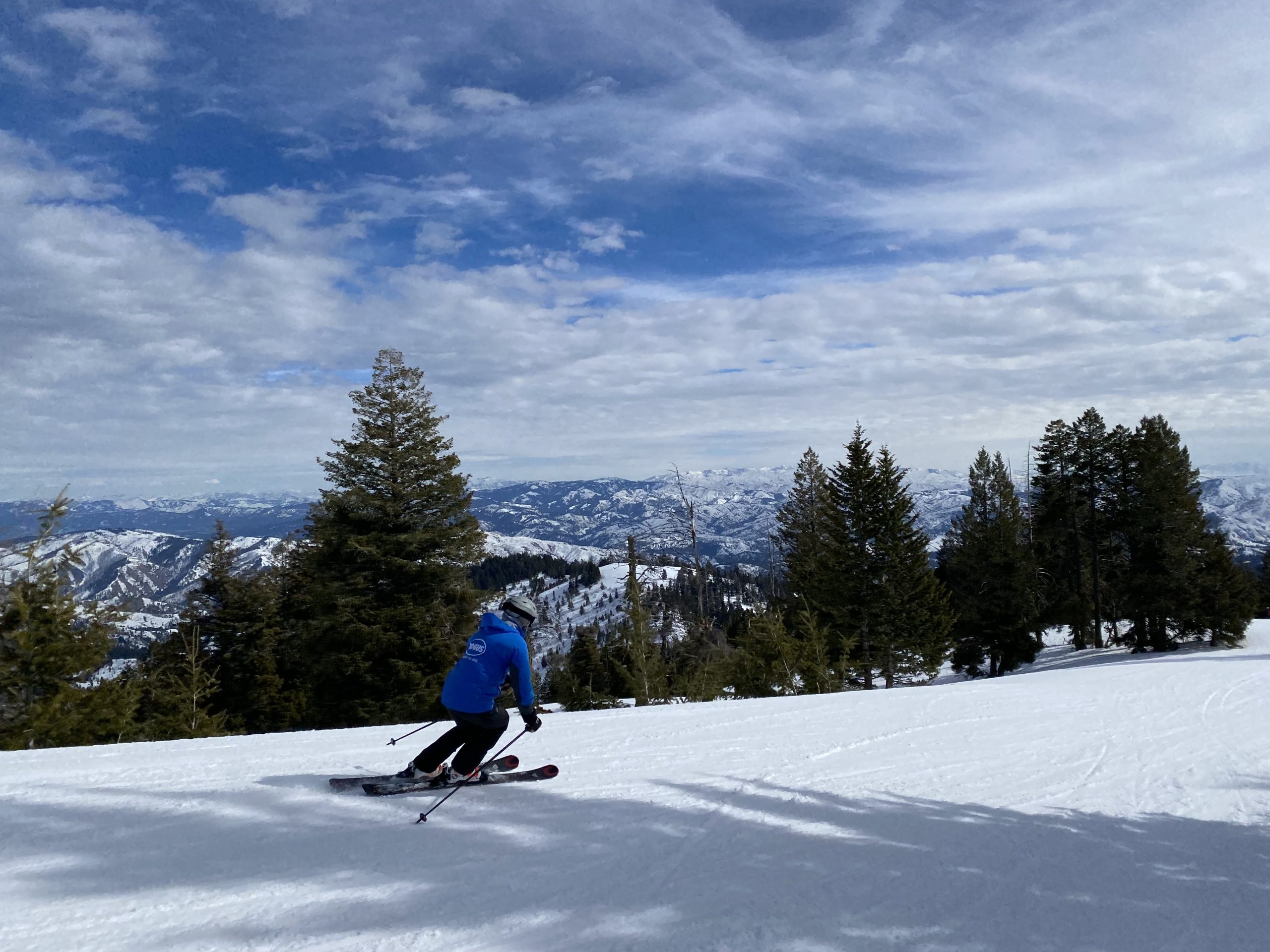 After a couple of laps on Chair 1, I was shown Bogus' backside—this is where you really get the bang for your buck at Bogus in my opinion. Super long groomed runs, steep trees and gullies, long and challenging mogul fields—all were to be found back here, and all of that terrain was paired with a magnificent view of surrounding, mountainous Idaho. It was hard to get bored here, especially on a sunny day like this where the conditions were friendly with warm temps and softening but fast snow.
Brad and I talked much about Bogus' mission as a non-profit, which is quite noble. From what I took out of the conversation, Bogus' primary goal is for skiing to be as accessible as possible for as many people as possible. Day tickets and season passes here are insultingly cheap. They have tons of affordable ski programs for children and frequently shuttle up buses full of children from Boise's school districts. They host lots of junior races. According to Customer Relations Susie Saad:
"Every dollar made at Bogus Basin stays at Bogus Basin and is either spent on capital improvements to the area, programmatic support, or banked in savings for the future. At its core, it's about the community's support and supporting the community in return."
The ski area also has a ton of illuminated terrain at night. Lots of their slopes have light posts on the sides of them that stay lit and open until 10 pm at night—and I'm not talking about a couple of short groomers at the base; some of their longest, most fun groomed trails are the ones open for night skiing. For the working man or lady, Bogus is an excellent option for post-work ski laps. You could get off at 5 pm in Boise and easily ski Bogus from 6-10 pm and feel tired at the end of it.
Bogus: you certainly surpassed my expectations. Your terrain is awesome and you stick true to the passionate yet humble vision that skiing and snowboarding are something that should be accessible for all. You understand that they are a way of life. And all we can say is thank you.
Snow Numbers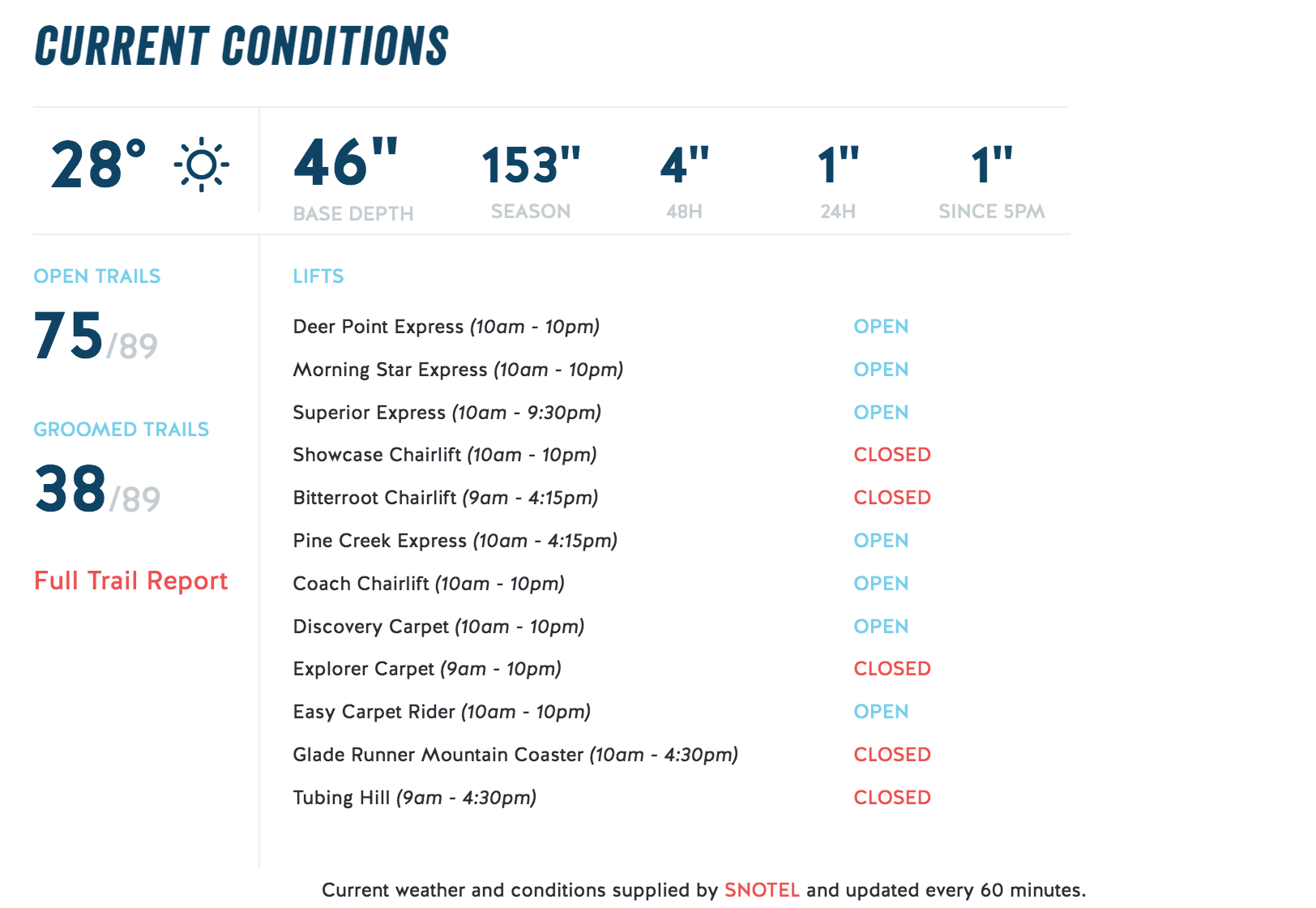 Weather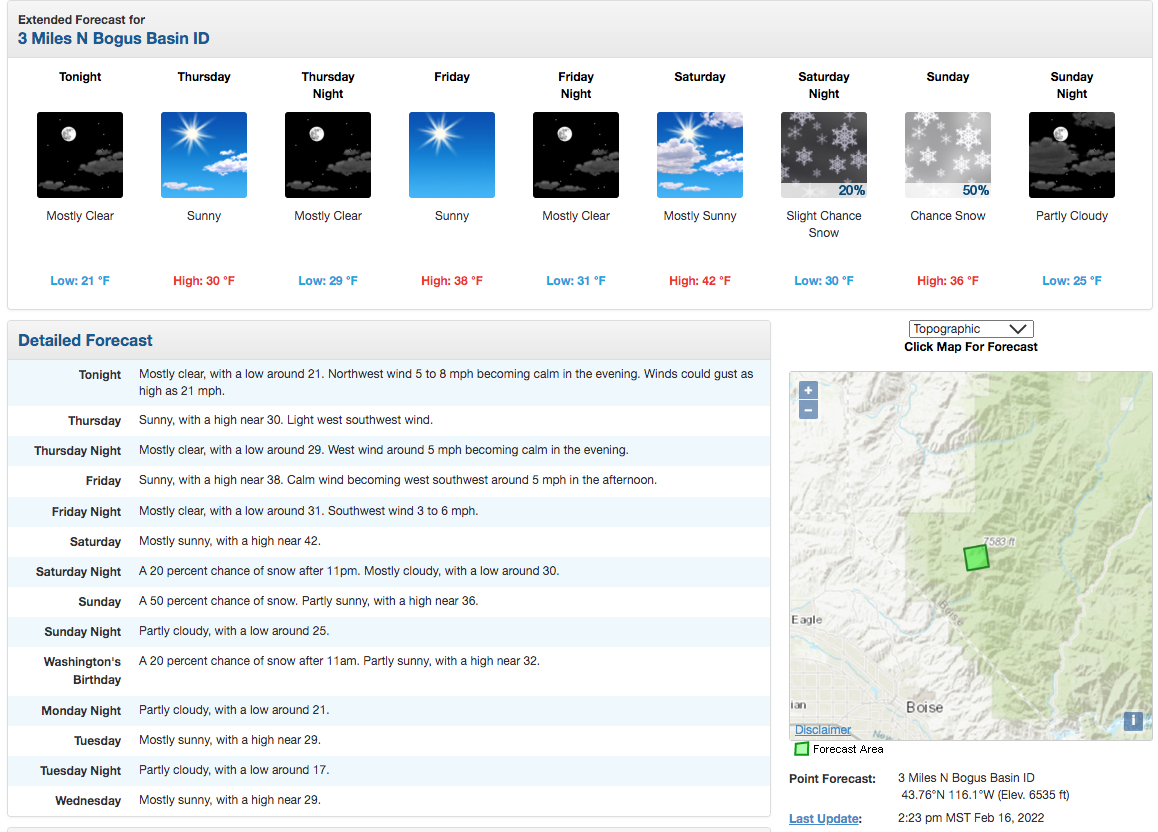 Trail Map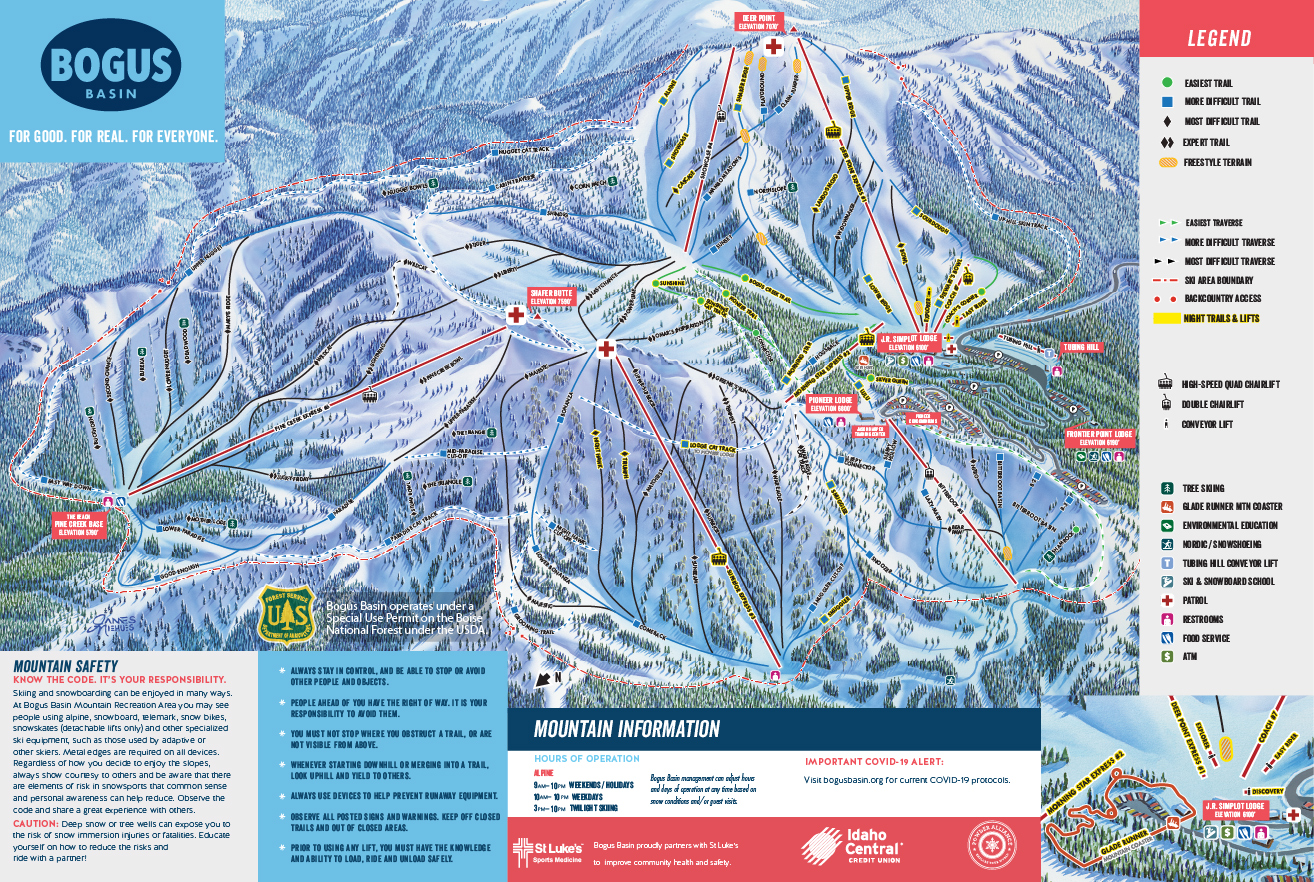 Photos