Brought to you by CARV
I've been skiing for 15 years and started racing about eight years ago. As a racer based in the Midwest, I always try to improve my ability as fast as possible, as my season is only two months long.
Of course, I try to take advantage of as much coaching as possible, but as a racer, hearing "get on your outside ski" and "be more aggressive" can be ambiguous and frustrating. To improve the most I could, I needed to receive information on how to "get on my outside ski" and be more aggressive. That's where CARV came in.
CARV is a "digital ski coach" which you place into your boot under your liner. Once you download the convenient mobile app, you can receive feedback and information on your skiing. I decided to try CARV this winter when training in Copper. Not only was the impact on my skiing exceptional, but the product was straightforward to set up and work with.
The package came with everything I needed: The CARV liners, chargers, battery packs, and tape and stickers for placing the product in my boot. After quickly setting up CARV, I downloaded the app and calibrated my boots by stepping into them and raising each foot off the ground. There were thorough tutorials on the app for any steps in the process on how to set up CARV. CARV is an advanced product, yet the set-up process was straightforward.
Similarly, the CARV app was incredibly convenient and informative. Users can record their sessions and receive immediate feedback through their earbuds while coasting down a hill or riding up a lift. Afterward, users can look at a summary of their ski day, including all the specific lift rides and runs they completed; their max speed and time on each run; a Ski IQ measuring their skiing ability on that specific run and day; and balance, edging, pressure, and rotary, all graded out of 100 (the closer the number you get for each category is to 100, the better you are at it).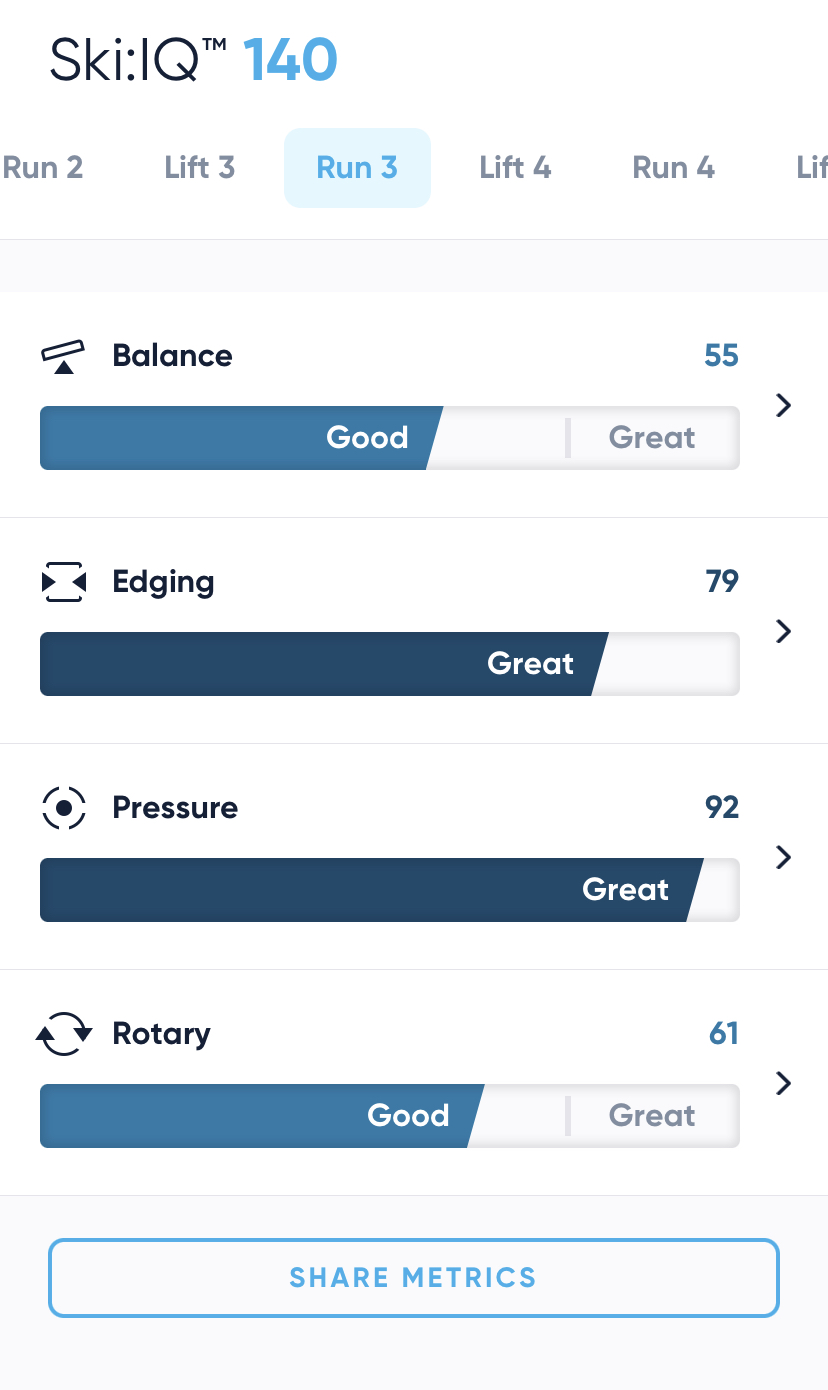 Now, I was ready to test the philosophy of the product: could CARV coach me to improve my skiing? I decided to observe the feedback I was receiving from my coaches and the feedback I was receiving from CARV.
The first part of the training consisted of Giant Slalom (GS). GS courses consist of wide, round turns. In GS, especially, the best racing always comes down to having the best technique, including the most aggressive edging within turns. So, as always, I tried to embody those strategies. The feedback I received most from my coaches consisted of "more pressure on your outside ski," "separate your lower and upper body," and "hands up and lean forward." Their critiques were valid, as I could feel that I lacked some balance and strong outside pressure in the course.
I started my CARV session on my phone with earbuds and allowed the program to guide me as I skied. Luckily, as I turned on CARV, it gave me comprehensible analogies that made these previously difficult fixes into significant improvements. CARV noticed the same thing my coaches did; my edge similarity wasn't equal between my inner and outer skis. So, CARV told me to "imagine the back half of my ski was cut off" to initiate the turn with the tip of my ski. I had heard before that initiating the tip of my ski would help me gain outside ski pressure, but the comparison CARV used quickly helped me initiate my turn much earlier and gain more downhill ski pressure. CARV also instructed that I "move my outside foot forward through the second half of the turn," CARV further explained, "it will feel like you are making a low sweeping kick." I began to do this, and CARV noticed a difference. Between just one run, the CARV app showed that I had improved my pressure score from 81 to 92.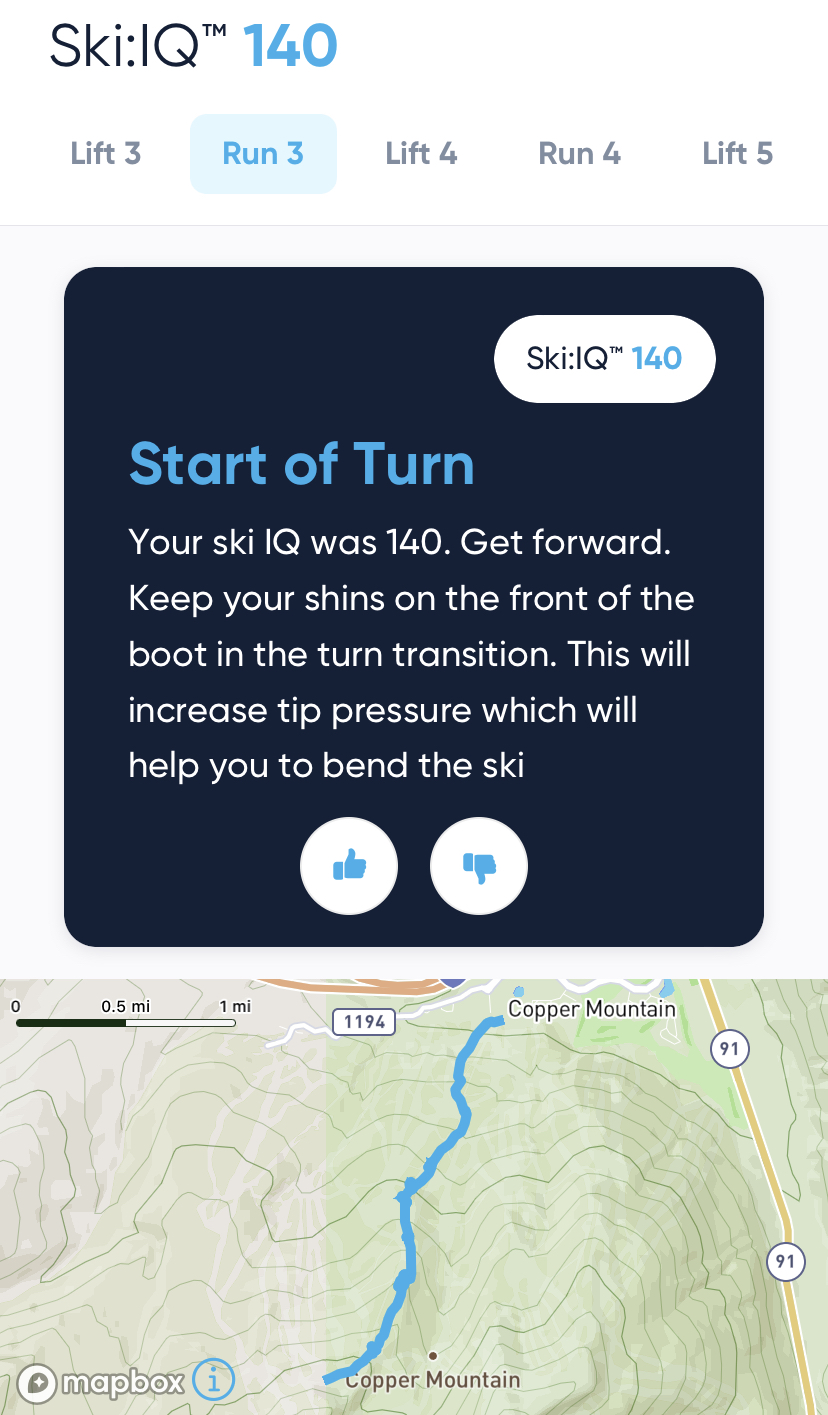 After reviewing videos of my GS racing between two days of training, I could notice a noticeable difference in angulation and balance within my skis that I had not seen in my prior racing videos. CARV allowed me to truly break down the factors that were leading to me impeding my outside ski pressure and therefore improved my GS racing.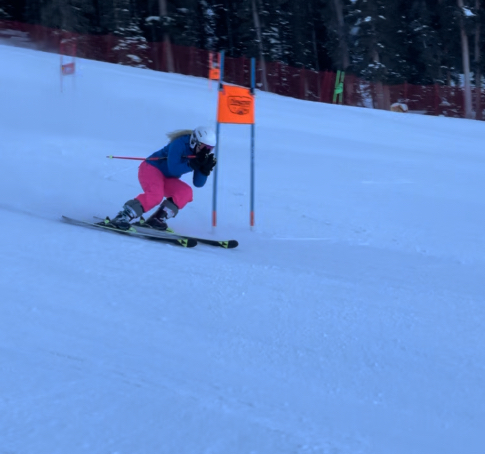 Next, my training camp moved to slalom training. Slalom doesn't focus on edge angle quite as much as GS but is more based on movement and aggressiveness. Since I had already trained GS and absorbed the critiques CARV has provided me with, my turns were strong and angulated within the course; I just needed to activate my energy. Again, I turned on CARV, hoping it could give me a straightforward explanation of how to fly out of my turns and into the next. Thankfully, after just one run, CARV had feedback. CARV told me to imagine an accelerator on my outside ski and that it would push me forward at the end of every turn. This comment helped me be more conscious of my body positioning within my turn. On my next run, after the end of my turn, I imagined an accelerator that forced my outside ski to finish my turn. As I finished my turn, my skis popped me out of my turn, forcing me to stand up before transitioning to my next turn and causing more movement and energy. Additionally, this improved my edge angle even further, increasing from a score of 92 to 94.
Within the slalom training, my coaches were impressed with my control and aggressiveness in the course. The Colorado terrain can be difficult, but my stance remained strong by remembering the specific feedback given to me by CARV. Like GS, I observed my improvement through videos and noticed an improvement in my transitions between my turns, which helped me complete the course faster by gaining proactive movement.
The feedback and coaching CARV provides are endless and are sure to pertain to any skier or racer passionate about improving and learning about themselves as an athlete. It's tough even to begin to cover the impact CARV can make through the advice it provides. Still, through my time using it, I feel I have improved immensely as a racer and a skier.