Day 31
I got on the road around 7 am and started south down Highway 1. I was in for a treat today; beautiful cliffs and quiet roads lay ahead of me.
From Half Moon Bay to Santa Cruz, most of that coastline seemed to be state beaches. Time passed in a hurry, I had no significant hills to climb, and I spent most of the time staring into the ocean. Eventually, I made it to Pigeon Point Light Station State Historical Park, where the lighthouse is rented out as a hostel. I checked for availability just to be curious, but there weren't any spots open; definitely a cool idea for another trip.
A few miles from the lighthouse, I saw a place called the "Pie Ranch," so I had to stop by and check it out. I got a cookie and chatted with another cyclist who was going through the area. He said he started in Portland, and his wife followed him down the coast while driving their RV. I have to admit, he has it figured out, biking down the coast, carrying no gear, and cranking out miles.
It seemed to be stop after stop, I came across Año Nuevo State Park, which is known for its massive elephant seal population. It was a beautiful stop, and I am glad I got to hike around for a while, but like how much of this trip has gone, I had to get back on the road (40 miles to go).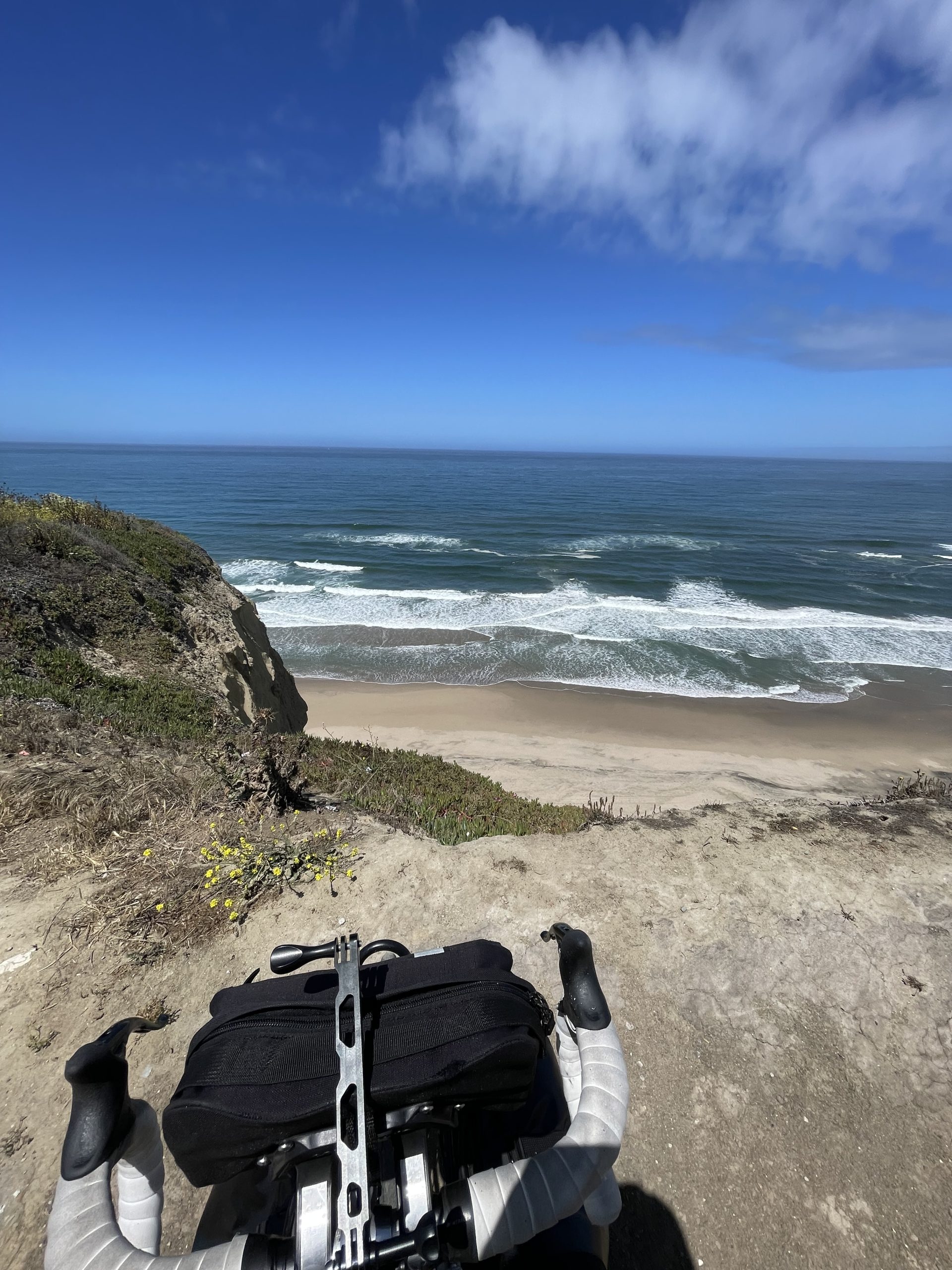 I finished my way into Santa Cruz in what seemed like a perfect time. It was one of the few times I felt that "runners high" kicking in, and I didn't want to hop off the bike. I biked through Santa Cruz via Cliff Dr, right along the coast. It was a beautiful ride, and I hung out to watch the surfers. The Capitol Beach area was probably my favorite stop to chill.
The day was getting late, so I set off for camp. I was initially going to camp at New Brighton State Beach but decided to keep moving to make my day a bit shorter tomorrow. I went another 12 miles to Sunset State Beach Campground, surrounded by rural farmland. There couldn't have been a better spot to stay the night; I had another gorgeous sunset and more time to take in the moment. It started to hit me that this journey was almost over. Tomorrow will be my last night camping, and honestly, I feel like I could keep going for another month or two if I had the time.
The plan is to get as far as possible through the Big Sur area! 
Stats from today:
70 miles biked
2,200 vertical feet climbed
One delicious cookie
Way too many seals to count