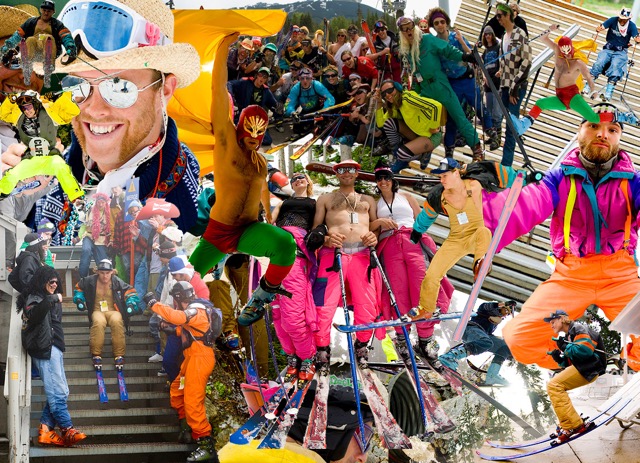 The online publication doglotion.com out of Whistler calls game over after 18 years, but skiing in jeans and having fun while skiing will continue as the legacy they leave behind. They made light of freeskiing culture and brought skiing in jeans to the mainstream. They coined Skiing In Jeans Day which later turned into Gaper Day to allow for more expression. It all started as a silly end of season thing and just evolved with the internet.
We have Doglotion to thank for the fun-filled spring days of radical outfits, and good times, known as Gaper Day. 
"Gaper Day and Doglotion had the same mission: Get stoked and don't take skiing too seriously."

– Jamie Bond, Founder of Doglotion.
The brains behind Doglotion.com, Jamie Bond told Pinque in an interview about the website struggling for funding;
"It almost did say "Insert coins to continue" or something, but that might have been a bit deceiving. The farewell post wasn't meant to be a callout for emergency sponsorship. I didn't receive any calls from sponsors saying, "Hey, we can't afford you." It was more of an imminent realization that people and companies are going to need to be pretty creative with their dollars this year and Doglotion didn't need more of them. Rather than drawing it out by asking people to insert more coins, I added some flavor and drama to it and just ended it, hard stop."
Bond and some others were the unofficial ringleaders of Gaper day.
"When it grew really big, I would start to get calls from Whistler Blackcomb Operations making requests as to how Gapers should behave. It was a bit of a lost cause because there's no way that one person with a megaphone has any sway over thousands of partying skiers, but it was a nice pat on the back to think we were the best chance of arresting control."
Bond talked about the controversy of some content with ex-pro-skiers calling him years after being featured on the website. They didn't want to be looking like an unemployable loose cannon, so they would ask to have things taken down. He also mentioned that may have been their style 15 years ago but is probably not appropriate anymore.
"But what I do know is that Gaper Day won't die, even if Doglotion is chilling behind a "game over" sign."

– Jamie Bond
The website will still be live with archives. Doglotion is going back to its roots, offline keeping it real.