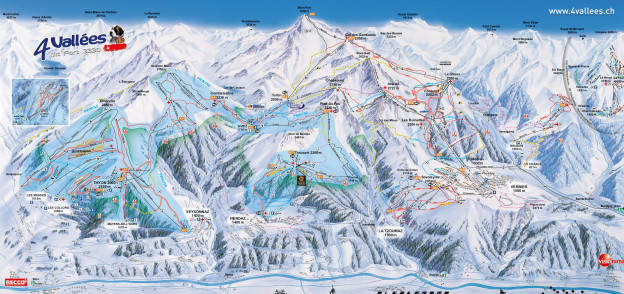 Verbeir and Switzerland's 4-Vallees ski area will no longer be connected by a single ticket.  
The famous 4-Vallee system in Verbier used to consist of 82 ski lifts and 101,807 acres of skiable terrain.  This system encompassed the 5 ski resorts of La Tzoumaz, Nendaz, Veysonnaz, Thyon, and Verbier.
"We wish to pass on the information that we have feared for some time already: the end of the 4 Valleys agreements.  Despite this separation we have an area of great quality, a quality team and a modern way that will allow us to continue to attract many tourists and fans to GRAND SKI. Remain confident and above all welcome our guests in the best possible condition" – Verber Tourist Office
This is no surprise as back in December 2012 the TeleVeysonnaz lift company announced that it would no longer the current revenue-sharing deal after June 30th, 2014.
This is a definite blow to the ski and snowboard world.
Next year, skiers and riders will no longer be able to ride between the 5 ski resorts on the same ticket.
Verbier has come up with a new ticket for 2014/15 that they're calling the "Verbier Grand Ski."  This ticket will link the Mont-Fort, Medran Savoleyres, and Bruson areas with a day ticket costing 71 francs ($80usd).  This is 1 franc more than the former 4-Vallee pass with a helluva lot less terrain available.
TeleVerbier's Jean-Pierra Morand has been quote saying that he is:
"disheartened by this situation but we no longer have the choice".
Verbier has stated that they'll be trying to reestablish the 4-Vallee agreement in the future.  For now, it looks like it's the skiers and riders who will have to pay.