In today's world of wide-spanning gear options, it's a brand's genuine investment that sets them apart.
In that regard, DAS Optics is a start-up with a welcome view: put people first, period.
Born and tested in the Teton Mountains, DAS is basically a family hobby—led by a father and young son––with a plan to enrich the community by systematically donating to a rotation of non-profits, nationally as well at home.
Chris Jensen is 'Dad' at DAS, with a fully established career plus two kiddos. He's laughing while questioning what on earth ever made him decide to start an optics project with his 13yr-old son, Grady.
Well, the pair were shopping for sunglasses for mountain biking and skiing when Chris made the off-hand remark they could probably make their own. Grady turned to his Dad and said, 'OK.'
Through a livelihood in marketing and e-commerce, Chris was able to connect with several manufacturers, ask some questions, and receive samples for testing.
"We picked a few frame styles we liked and launched the DAS Optics website in February 2020," Chris said.
Location plays a large role in the DAS Optics vision. The family values where they live so naturally, the wish is to give back to help keep the place great.
"We moved to Teton Valley for the outdoor lifestyle," Chris said. "Raising a family here, you have opportunities every day to do something fun outside."
"We keep telling our kids how lucky they are to grow up Nordic skiing, downhill skiing, camping, fishing, and hiking. There are so many great opportunities here," he said.
And there are even more opportunities to give back. A prime example came last summer, when DAS got the nod from local non-profit, Teton Valley Trails and Pathways [TVTAP] to set a booth at the Wyadaho Rendezvous Mountain Bike Festival.
Thanks to their charitable business model, DAS used those festival sales to quickly accumulate a sizeable early stocking-stuffer for TVTAP, who will then convert that investment into an enriched recreation environment for everyone visiting the region.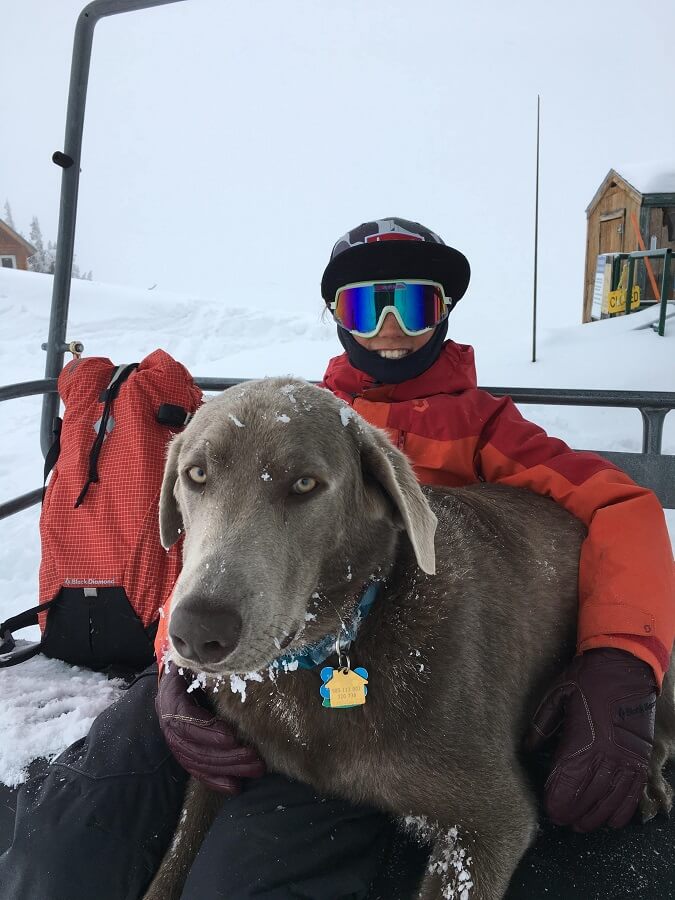 According to Chris, the outreach is the best part of the gig; a win-win, straight and plain.
"DAS sits down to send checks to non-profit organizations every month," Chris shared. "It's definitely the best part of the job, and we've raised thousands for non-profit organizations all over the country, from trail building organizations to conservation initiatives, to animal shelters."
Not too shabby for a two-year-old family firm begun in a basement.
PRODUCT ANALYSIS:
Materials of both sunglass and goggle lines are lightweight as well as form-fitting.
Models emphasize expanded frame size to accommodate wide, polarized lenses and a standout, stylish flare.
Sunglass products feature molded rubber bridge, a quiver of interchangeable lenses, and include a re-usable sticker pack for a customized 'look' to each lens.
Glasses Model: SENDEES – noted for a comfortable fit across the face and over the ears. The ample eye coverage works well to block everything from spitfire grit and kick-up to fine dust (or snowflakes). And venting is cleverly worked into the design to mitigate pesky lens fog.
Glasses Model: GROM – Designed with the youth athlete in mind (or adults with a smaller dome) the GROM connects the dots between performance, comfort, and character. They are especially effective among the youngest age demographic, which seems to forget the model is even on their tiny faces and instead just focuses on having fun.
Goggle Model: S and S – produced at the request of the customers themselves, DAS' sole snow-centric frame features UV protection, and a wide range of vision in a solid no-nonsense package. Plus its lens, happily, is equally well-suited to either bluebird or whiteout conditions; Handy.  
"DAS product lines are 100% influenced by Grady and his friends," Chris said. The kids dedicate their time and effort to selecting designs that not only fit with sports and activities but will hopefully benefit a cause as well.
"While the "shop for a cause" movement isn't new, I think we are the only optics company that donates to ANY non-profit organization," Chris said. "We have a box at checkout where our shoppers choose the non-profit of their choice."
"Grady and I send that organization a check in the mail with a nice note. And it's so rewarding to hear back from our customers or the nonprofits who receive donations."
"That's what DAS Optics is all about," Chris said.
As for what might lay ahead, DAS Optics is defining its success as: family working together for the fun of it, and helping others along the way. By following those core goals, the sky's the limit as to how the DAS concept may grow and continue to give back.
"I knew it would be a great learning experience," Chris said. "After all how many 13 year-olds can say they started and run a company?"
"We've done so much in such a short period of time. I'm excited to see where we can take things."
To hear Chris tell it, the wish list at DAS is to grow the line of products that kids and parents view as quality as well as "cool." It's a moving target, and challenging to hit, because the DAS project puts people and experience over profits.
"We got into this to have fun and to give back," Chris laughed, "so long as we're doing both, we'll keep at it."