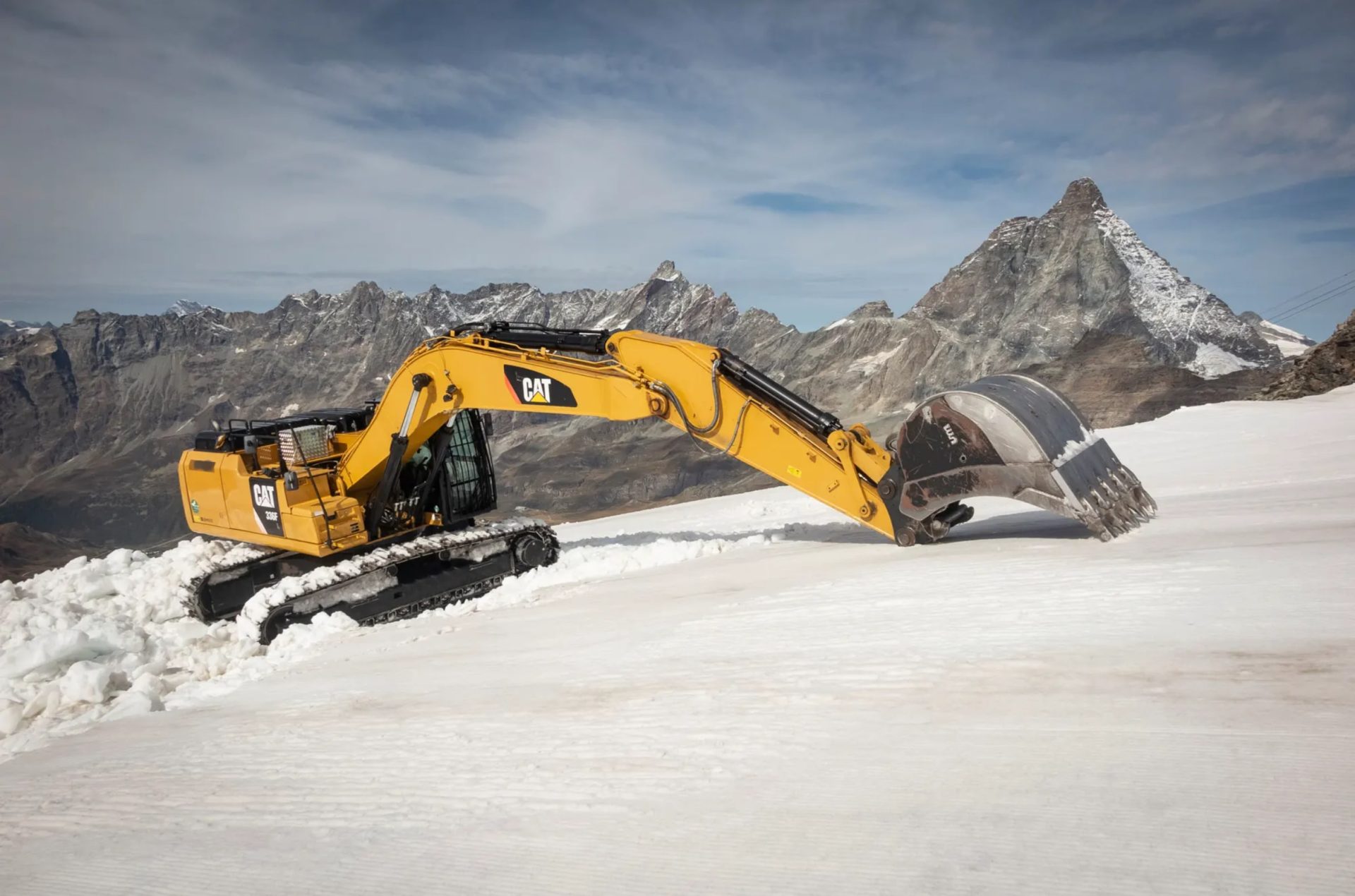 Protect Our Winters ('POW') started a petition last week to put pressure on the International Ski & Snowboard Federation ('FIS') to better align wintersport with environmental sustainability. The initiative was prompted by the emergence of pictures from both preparations for the World Cup at Sölden, Austria, as well as the cross-border event at Zermatt, Switzerland & Cervino, Italy, that saw heavy machinery such as diggers on the respective glaciers, which resulted in a lot of public outrage.
POW shared confronting images on their social media channels of diggers on a glacier, which, as SnowBrains pointed out last week, were not from those glaciers or even this year but rather from work on the Pitz Glacier in Austria from 2019.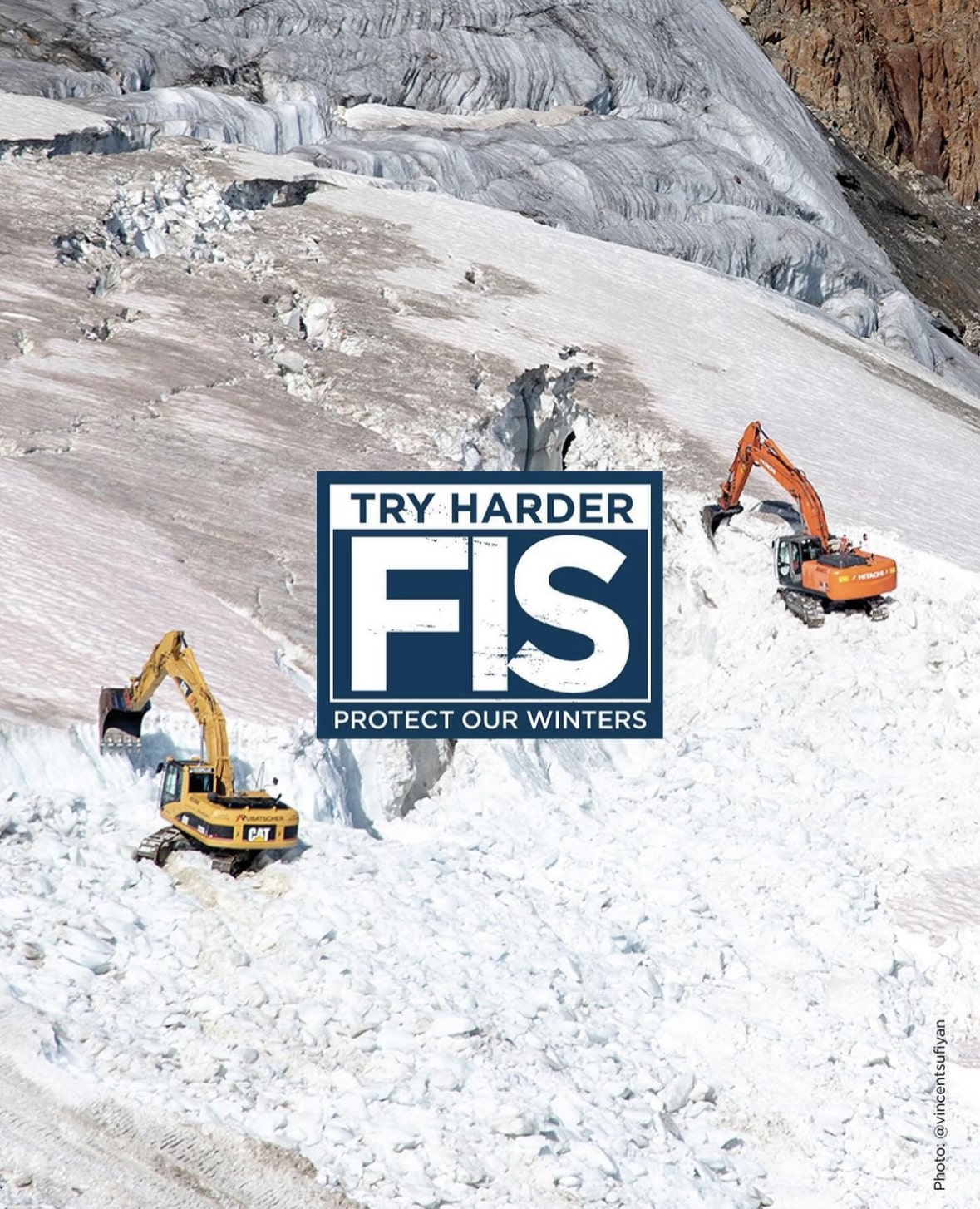 FIS has now come out with a public reply to POW's petition and SnowBrains is sharing this statement without any further comments or alterations: 
FIS has put sustainability at the forefront of all its actions, with the FIS Strategic Plan very clear on our commitment towards climate action. Instead of shallow and attention-grabbing campaigns, we support long-term, practical projects that will make a meaningful difference both to the future of our planet and to our athletes.

To list a selection:

As a signatory of the UN Sports for Climate Action Framework (UNFCCC), FIS has committed to reduce its carbon emissions by 50% by 2030. We are working on a sustainability plan that will see us collecting as much data during the upcoming winter season as possible to provide the most accurate estimate of our CO2 footprint.
We have shifted our focus in order to calculate the emissions of FIS as an organization, where we have full operational control and management (unlike with externally-organized events). Once that is completed, FIS can strive to make reductions directly within our control through a CO2 reduction plan.
We have delayed the start of the season for one week and will continue to closely monitor whether we need to start the season even later, in line with our Strategic Plan.
We are spreading awareness among our National Associations about how best they can cut emissions and reduce their environmental impact, along with developing guidelines for all event organizers.
We are working to strengthen partnerships with other Sport Federations and NGOs working internationally on sustainability issues, following SDGS goal 17 which aims to revitalize the global partnership for sustainable development.
We have hired a Sustainability Director, Susanna Sieff, who is one of the most recognized experts in the field.
It is universally recognized that offsets are an impactful and necessary tool in the fight against climate change and that without them the 1.5-degree target cannot be achieved by 2050. With the FIS Rainforest Initiative, FIS supports indigenous communities and avoided deforestation projects and thereby follows several declarations of the United Nations Climate Change conference.

These are some of the actions we are taking, based on a sincere desire – indeed a determination – to make a difference. We had hoped that Protect our Winters (POW) could be our allies in this challenge. Instead, you seem to be choosing a different path:

You didn't mention, for instance, that you had a meeting with Susanna Sieff on October 13, 2023, in which you were informed of the remarkable progress that FIS is making.
Despite the spirit of cooperation FIS tried to foster at this meeting, POW has engaged in a public campaign with a petition that serves only to splinter the winter sports community rather than unite it.
For your petition you used a picture that was not taken in recent times but in the year 2019 from WWF Austria. This picture doesn't even show the Rettenbach Glacier/Sölden or the Theodul Glacier/Zermatt but the Pitztal Glacier and therefore has absolutely no connection to the FIS Alpine World Cup. In this case there is no doubt that you are trying to incite hostility towards FIS by deliberately misleading the public using false information. We must inform you that such conduct is unethical and we ask you to correct that with immediate effect.

Your campaign is highly unattractive. Your actions do not only harm the reputation of FIS but the future of skiing and snowboarding and the credibility of everyone who is genuinely trying to fight for climate action.

Given the urgency of the challenge we face, anyone in the snow sports world who cares about the perils of climate change should not focus on attention-seeking stunts but on finding real long-term solutions. FIS, at least, will continue to act in this spirit.