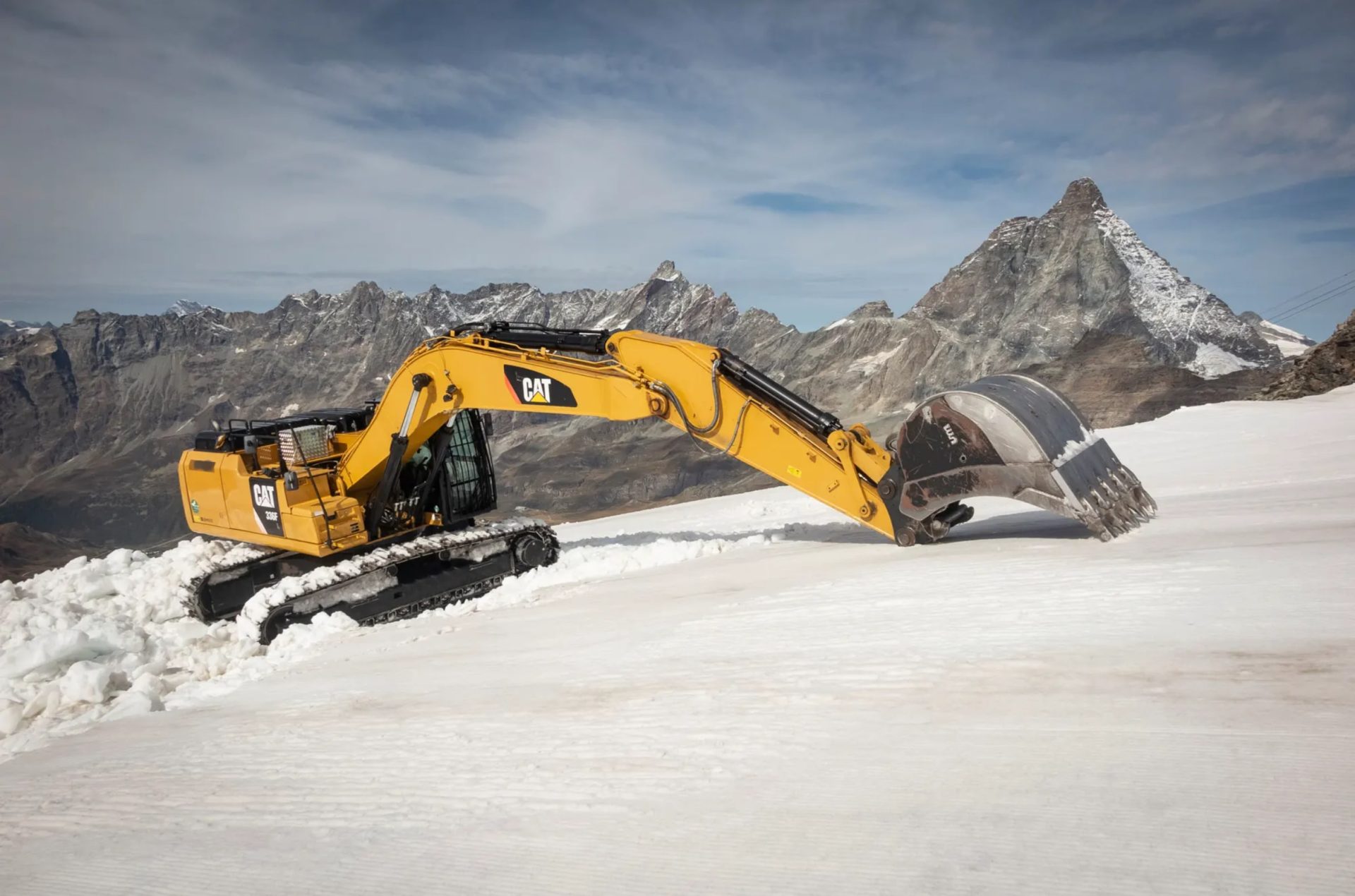 Disturbing pictures emerged in the last week of heavy machinery digging on the Theodul Glacier in the Matterhorn Ski Paradise, the cross-border ski resort between Zermatt, Switzerland, and Cervino, Italy. The diggers appear to be filling in crevasses on the glacier in order to get the 'Gran Becca' course ready for the first-ever FIS World Cup cross-border race. The race will be the 'Speed Opening' of the FIS Alpine World Cup calendar and is set to take place on November 11-12, 2023.
Athletes and climate activists, including Greenpeace, have petitioned the International Ski & Snowboard Federation 'FIS' to amend the race calendar and hold races later in the season. An open letter to FIS signed by more than 500 athletes and activists appears to have put some pressure on the federation, as the speed opening for 23/24 for Zermatt/Cervinia is now set for three weeks later in the year than last year.
Greenpeace Austria posted pictures this week on their social media accounts, accusing the International Ski & Snowboard Federation ('FIS') of "greenwashing", an accusation which is not new. FIS claims to be climate-positive by means of using climate offsets, a practice Greenpeace has criticized for a while. These offsets are purchased from a company called Cool Earth, which coincidentally was founded and co-chaired by FIS president Johan Eliasch. There is no publicly available information on the specifics of these offsets or the amount FIS invests in Cool Earth's rainforest program. Greenpeace questions in their posts the legitimacy of FIS' claim to be climate-positive in light of the use of diggers on European glaciers.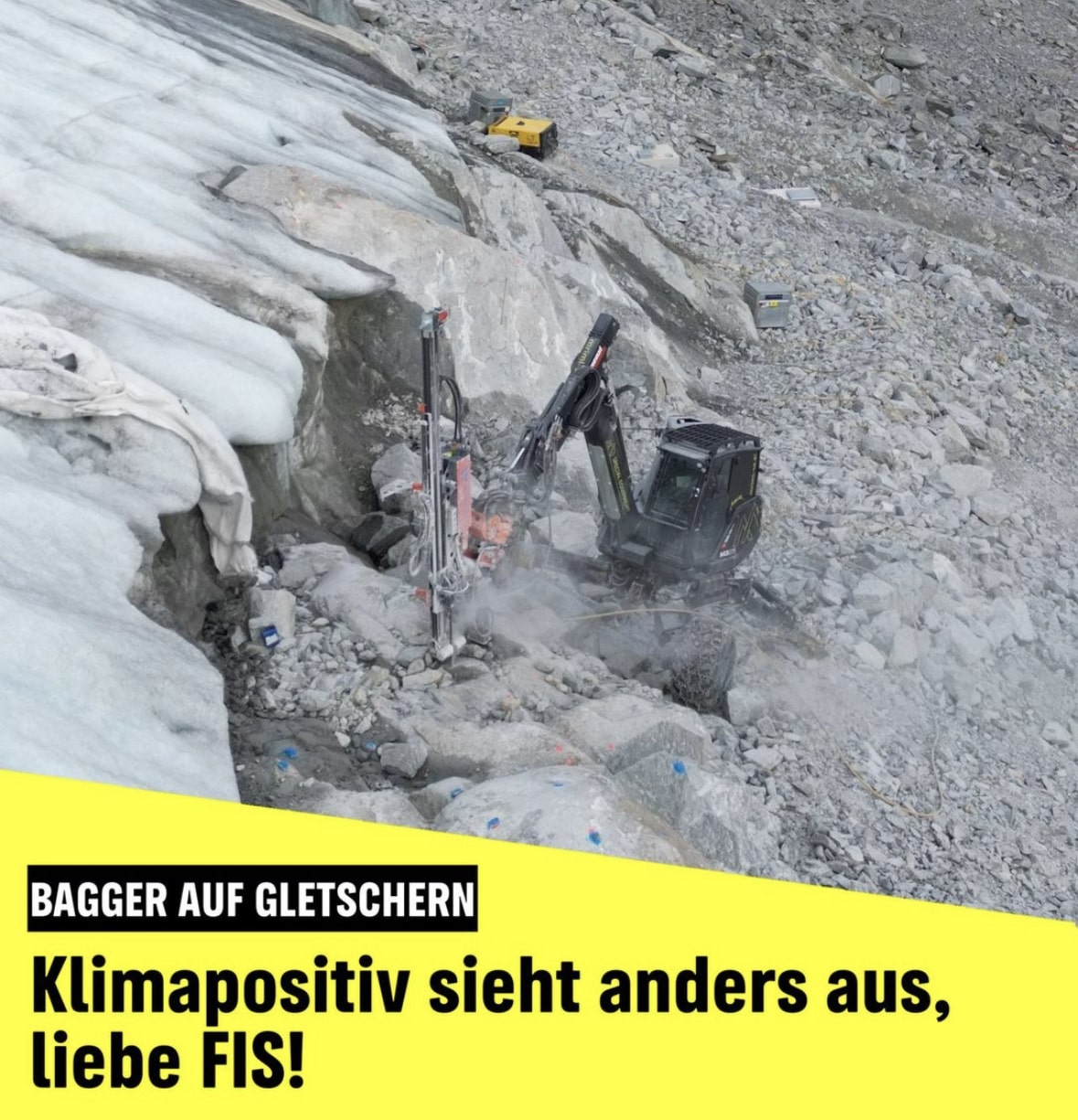 Protect Our Winters ('POW') also shared images on their social media channels yesterday, urging FIS to act now to align the sport with best practices in environmental sustainability. POW says that the diggers are destroying the glacier and has launched a petition to put pressure on FIS to "become the climate leader our sport needs." The petition calls for FIS to:
Implement a target-based sustainability strategy – including a roadmap to achieve a 50% emissions reduction by 2030.
Publish FIS's environmental impact with full transparency.
Adapt the competition calendar to reduce the impact of travel and respect the changing climate.
And use FIS's political influence to advocate for climate action at a governmental level.
It is important to point out that the image POW shared on this petition as well as social media was not from Zermatt or from this year but rather from diggers on the Pitz glacier in Tyrol, Austria, in 2019, which some critics have called extremely misleading. It does highlight, however, that the practice of diggers on glaciers to prepare ski slopes is not new or unusual.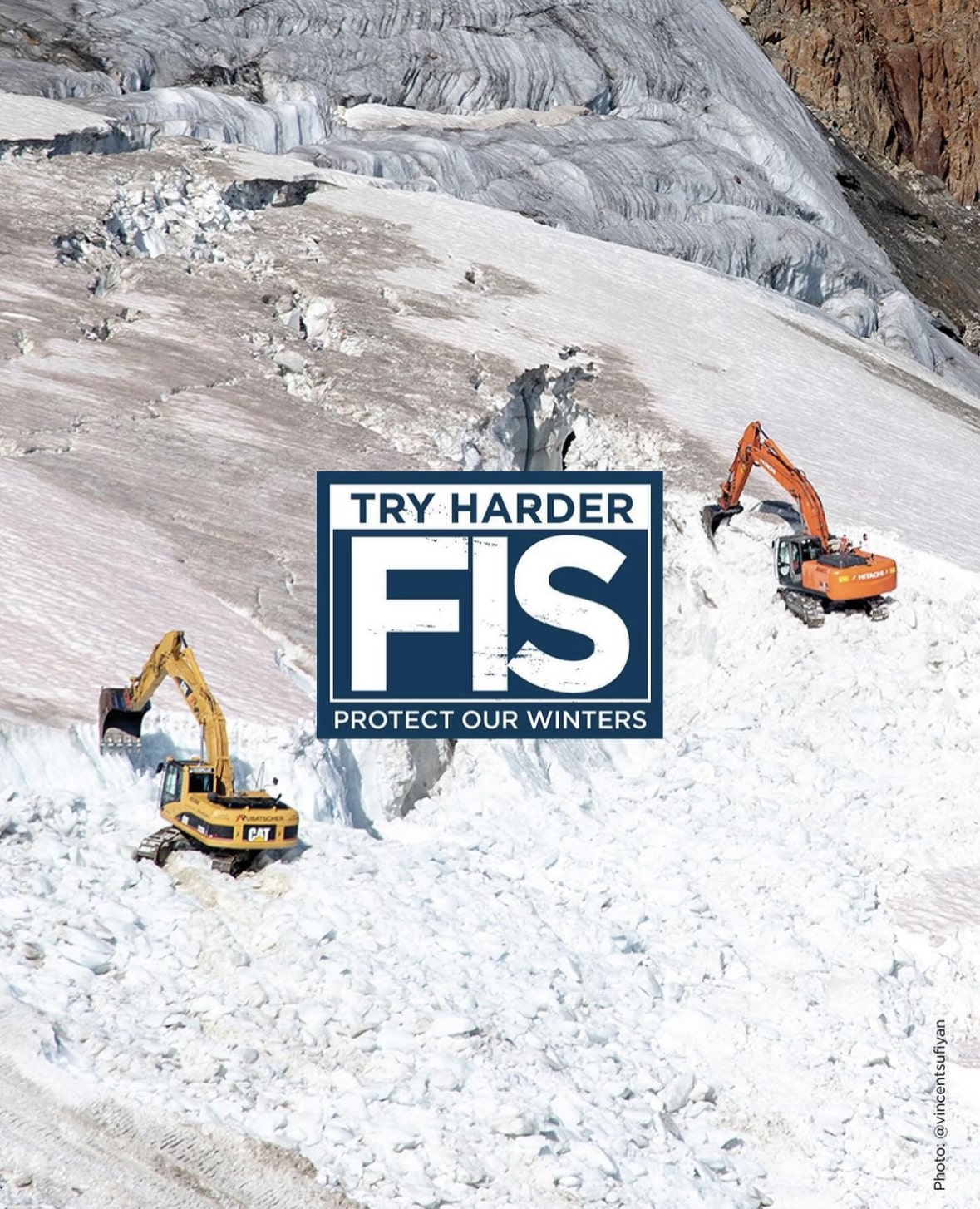 In an interview with Swiss newspaper 20 Minuten, Franz Julen, President of the Local Organization Committee ('LOC') for the World Cup cross-border event at the Matterhorn, admits that he can understand that the pictures have caused a lot of outrage. He emphasizes that "No one knows the issue of the receding glaciers as well as we do in Zermatt. We know what it's about and take this sensitive topic seriously." However, he stresses that no one was 'breaking off the glacier', saying "That's wrong, three excavators worked on the glacier for three weeks. However, they did not break anything, but filled and secured crevices with ice and snow."
"They made us a scapegoat. How is what we are doing in any proportion to what happened in China or Qatar? For the Olympics in China, entire ski resorts were created 'from scratch', and new, fully air-conditioned football stadiums were built in Qatar. No-one says anything about that, but they attack us?"
Julen further rejects accusations that it is only about commerce, pointing out that glacier skiing is a loss-making business for Zermatt Mountain Railways. However, the picture is different for FIS which needs the early season sponsors in order to secure funding for the season. Sponsors like to see an early season event in order to get people stoked about the upcoming season. Statistics show that sales take off after the first World Cup events and companies sponsoring these events are not interested in investing in events in late spring, when they pivot towards their summer products.
Glacier scientist Matthias Huss admits that seeing diggers above 3,000m (9,842ft) is disturbing, but also points out that "the effects of climate change are much more dramatic." He admits, "The diggers look dramatic but they don't hurt the glacier since the ice would have melted next season anyway." Nevertheless, the professor at ETH Zurich points out that holding the races in late spring would present far less interference than holding ski races in late fall, when massive intervention is needed to get the race courses ready.
Irrespective of economic and environmental aspects, the canton of Wallis/Valais has ordered a halt of the heavy machinery work and is investigating if all of the work was properly approved, as some of it may have occurred outside the approved ski area zone.