This level of fun should be illegal. 
In order to challenge myself and try something new this year, I decided to take on powdersurfing ("powdersurfing:" not "powder surfing." It's one word!). I did my homework, researched various brands, talked to local shredders I know, and resolved that Grassroots Powdersurfing was the best brand for me, if not one of the best powsurfing brands out there. They're based out of Logan, Utah, which is right up the road from my home of Sandy in the legendary Wasatch Mountains.
I got my hands on the 140cm Flying Carpet Model, which retails for $439.95. It was love at first surf.
Construction
The board has extra volume that gives it ample float while maintaining solid performance in shallower depths and tricky snow. It works awesome in about 5-16″ of Utah powder. Its shorter length makes for a very fun, playful ride without sacrificing great flotation. It rides stable at high speeds but still maintains agility in tighter, more technical terrain. It's a great board for learning, charging big mountain lines, or cruising mellow flowing hills. It's made exclusively available with Grassroots' CDC 3-Dimensional Base Technology for the highest performance in all conditions and the most aggressive and responsive ride possible, while still keeping a friendly, playful feel to it.
Personal Experience
I've ripped this board in Big Cottonwood Canyon (report here), reminding me of the days when I used to live on the beach and surf smooth, glassy, head-high waves on my 6'0 shortboard. I'm a skier at heart who surfs in the summer, and this board is an epic way to challenge myself with something new. It keeps me humble. Mind you, I'm still learning, so I'm not posting any crazy content yet, but I'll tell you one thing: learning how to powsurf on the Flying Carpet is addicting as hell. It floats super smooth and you can get a lot of speed on it if you want. It turns easy and face shots are not hard to come by in even a little bit of powder. Every time I leave the zone after powdersurfing on this board I immediately start thinking about when I can go next and how I can improve my style. Thankfully, it's all made pretty easy with the Flying Carpet.
Flying Carpet Description
"Don't be fooled by it's short seeming length, the Flying Carpet Powsurfer 140cm is packing serious volume from nose to tail giving it excellent floatation, agility and pop. This makes for a very playful ride and allows the rider to get as aggressive as they'd like. A high-volume, compact and convex shovel nose keeps the Flying Carpet Powsurfer 140cm easily afloat and allows the rider the option to move around and ride this board in more forward weighted positions. Each stance position gives the board a different feel in the turns, so that freedom in your feet translates to a variety of ride/feels on the same board. Characteristics of this board create a high-speed ride in the steeper slopes that can hold speed well thru flats and mellow terrain. Traditional sidecut, high volume nose/ waist width combined with our CDC 3-dimensional base make this board feel as though it's floating on air.. hence it's name. It's rounded tail and short length make it incredibly agile and it's steeper kick tail gives this board excellent pop when launching airs, popping ollies in the flats, dropping cliffs or smacking lips. A versatile board for all around riding that would make an excellent start to a proper powsurf quiver. This board has been tested by the best powsurfers in the world in a wide variety of snow conditions from mucky slush to light and dry powder and it's handled beautifully. The Flying Carpet has a wide body, so it prefers depths over 5-6 inches but can still be ridden in shallower snow on mellower slopes. Performs well riding backwards but keep the switch turns light as the convex nose can be a little slippy when it becomes your tail while riding backwards. Recommended for US mens boot sizes 9.5-12 and rider weights between 140-210 lbs (72-118kg). * For riders with bigger feet (12+) or for those who ride light/dry/deep pow and want ridiculously good float, speed and agility in a smaller package be sure to check out the "wide" & "X-wide" options. If you are not sure what width will be the best powsurfer for you contact us and we are happy to help. "Drop", "Elders" & "Pleyewood" graphic by Nate Reifke | "Tree" graphic by Mark Kowalchuk" – Grassroots Powdersurfing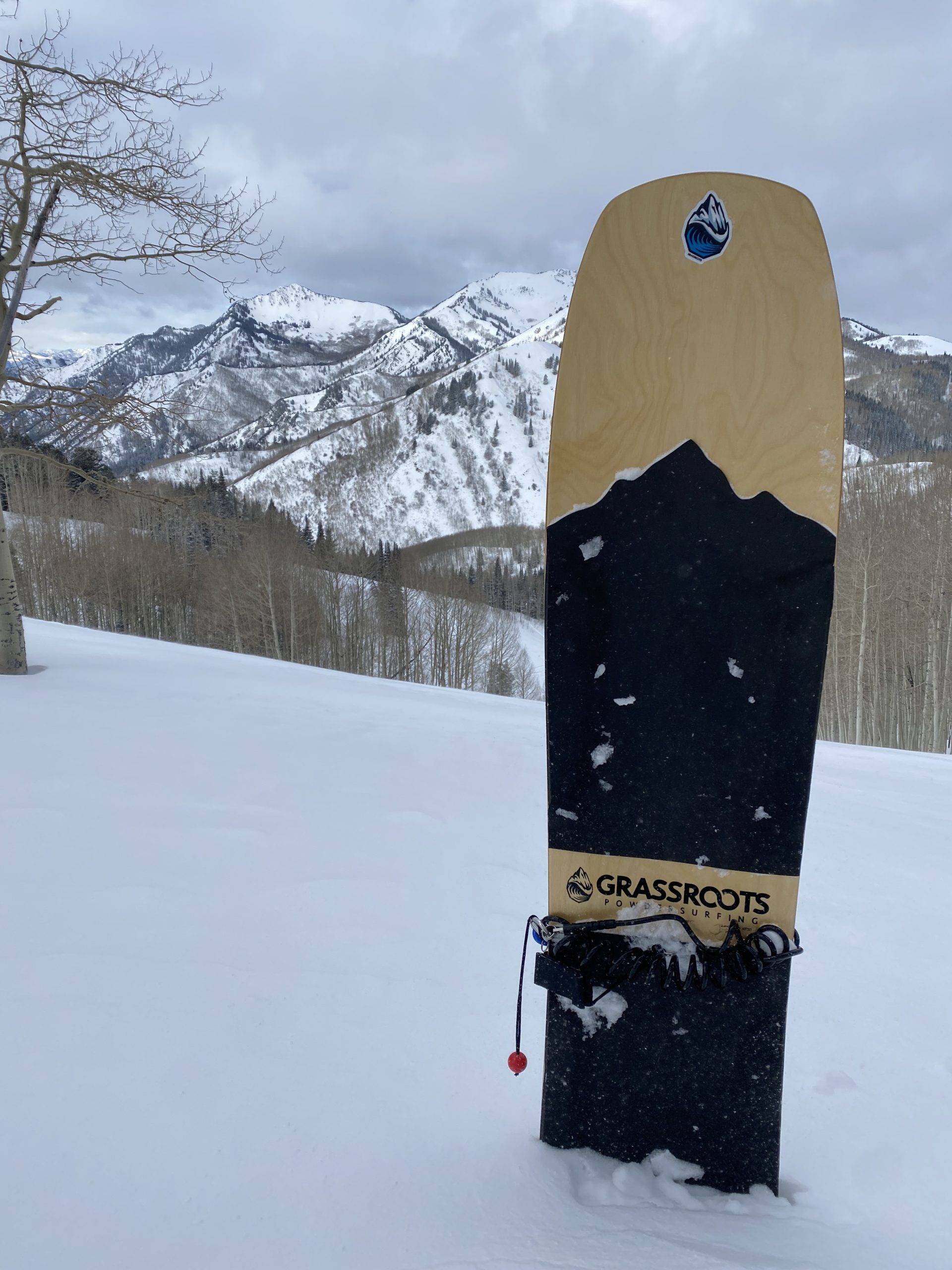 Tips and notes about the Flying Carpet
Because of the double concave construction, you will need to wax the board (hot wax just like skis/snowboards) and scrape perpendicular to get into its channels. You can scrape tip to tail on the nose/tail areas but for the waist where it turns double concave, you'll need to scrape perpendicular.

B

uff it tip to tail.
You'll need a leash for this board, just like with a surfboard. You don't want the board flying off and getting lost or hitting someone in the face. I highly recommend getting the quick-release leash that Grassroots makes for riding in avalanche terrain. You can remove the quick-release part when not riding in or around anything threatening but it's a great thing to have if you ever do venture into avalanche terrain. The quick-release cord can be adjusted in length and I make mine so it dangles just below the waist of my coat for easy access.
Grassroots takes safety very seriously as they've seen what can happen even in small avalanches: leashes can easily get wrapped around the neck or limbs even while taking a relatively small ride in a slide. Company founder Jeremey Jensen searched high and low over the last decade to find a suitable quick-release mechanism for a layer of safety and came up with this design. Grassroots also sells quick-release belts that function in a similar way to avoid potential strangulation from the leashes. The leashes really are the most dangerous part of powsurfing so be wise to that. So many people think it's all soft powder and rainbows when you're powsurfing but things can go really wrong if you're careless. The more aggressive you get the more prominent are falls—it's a lot tougher to outrun or exit slides, and when you hit rocks and stumps it's more likely to toss you into whatever lies beneath. So be careful but most of all have fun!
Skin tracks are a little tricky on the board, at least while learning, as the board is specifically designed for powder. Keep that in mind when skinning up a trailhead for several miles that you'll have to exit back down on.
And above all: powdersurfing is so damn fun! It's truly a unique activity that feels more like surfing in the ocean than traditional snowboarding, but with its own twist on it. There's nothing like cruising a white wave and getting a splash of powder to the face as you surf down the mountain with ease…
See this board in action, ridden by the best powsurfers in the world in a short film series titled "The Powsurf Chronicles."
To purchase the Flying Carpet, visit Grassroots Powdersurfing's website.
Happy powsurfing!