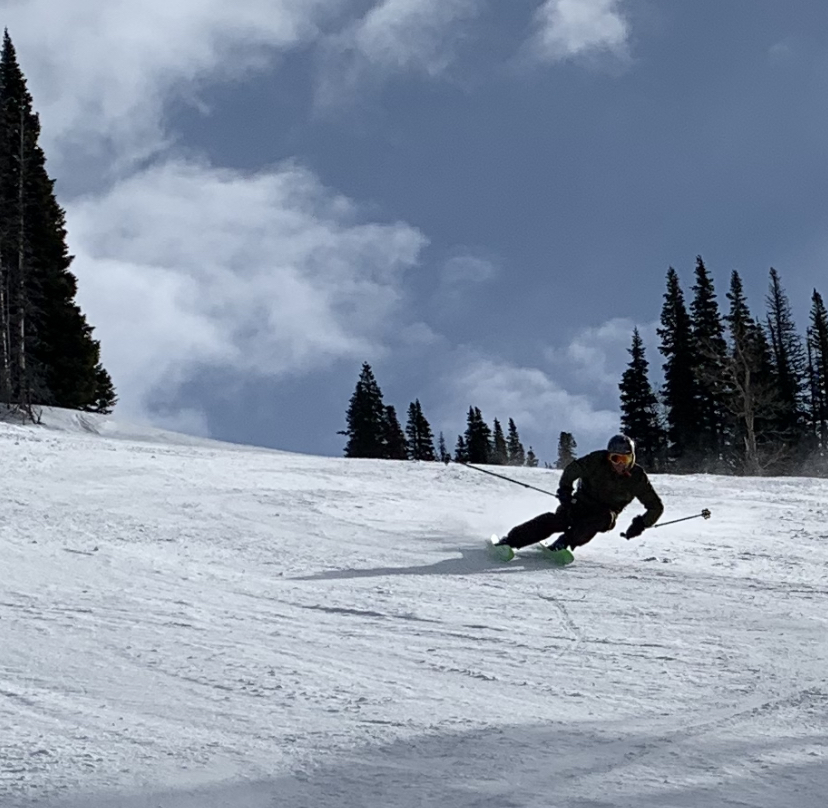 Report from Thursday, March 12, 2020, and brought to you by Grand Targhee
From Big Sky, Montana we drove to come to ski Grand Targhee in Alta, Wyoming. 
The morning at Grand Targhee Ski Resort started off chilly and overcast.
But the groomers were solid and fast.
Like scary fast.
Hugging your edges all the way down the stiff corduroy is an excellent way to start the morning. 
We did this over and over again.
When our legs were warmed up and the sun started to rear its head, we decided it was time for a stroll in the mountains.
So we hit a bootpack up Mary's Nipple in search of something soft.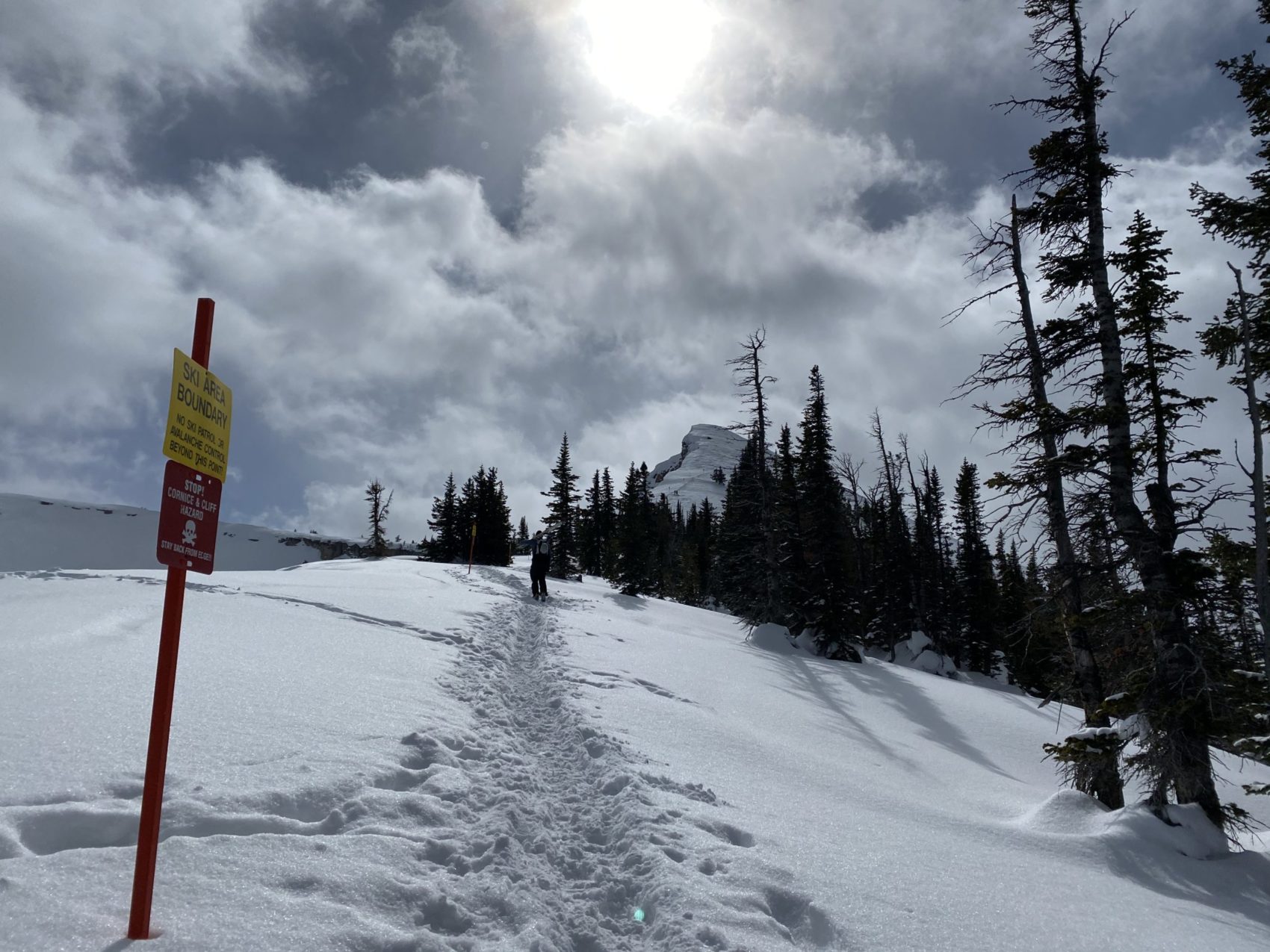 The moderately-steep, iced-over booter up to the summit had some of the best views I've seen all week on our recent powder-fueled journey across parts of the U.S. and Canada. 
We had an amazing view of the Grand Teton with its summit shrouded in cloud-cover. 
You think that mountain is big until you actually see it — but then you realize it is much, much bigger than your mind could have pictured it.
We sat up here for a while and reveled in the scenery before deciding where exactly we we're going to drop.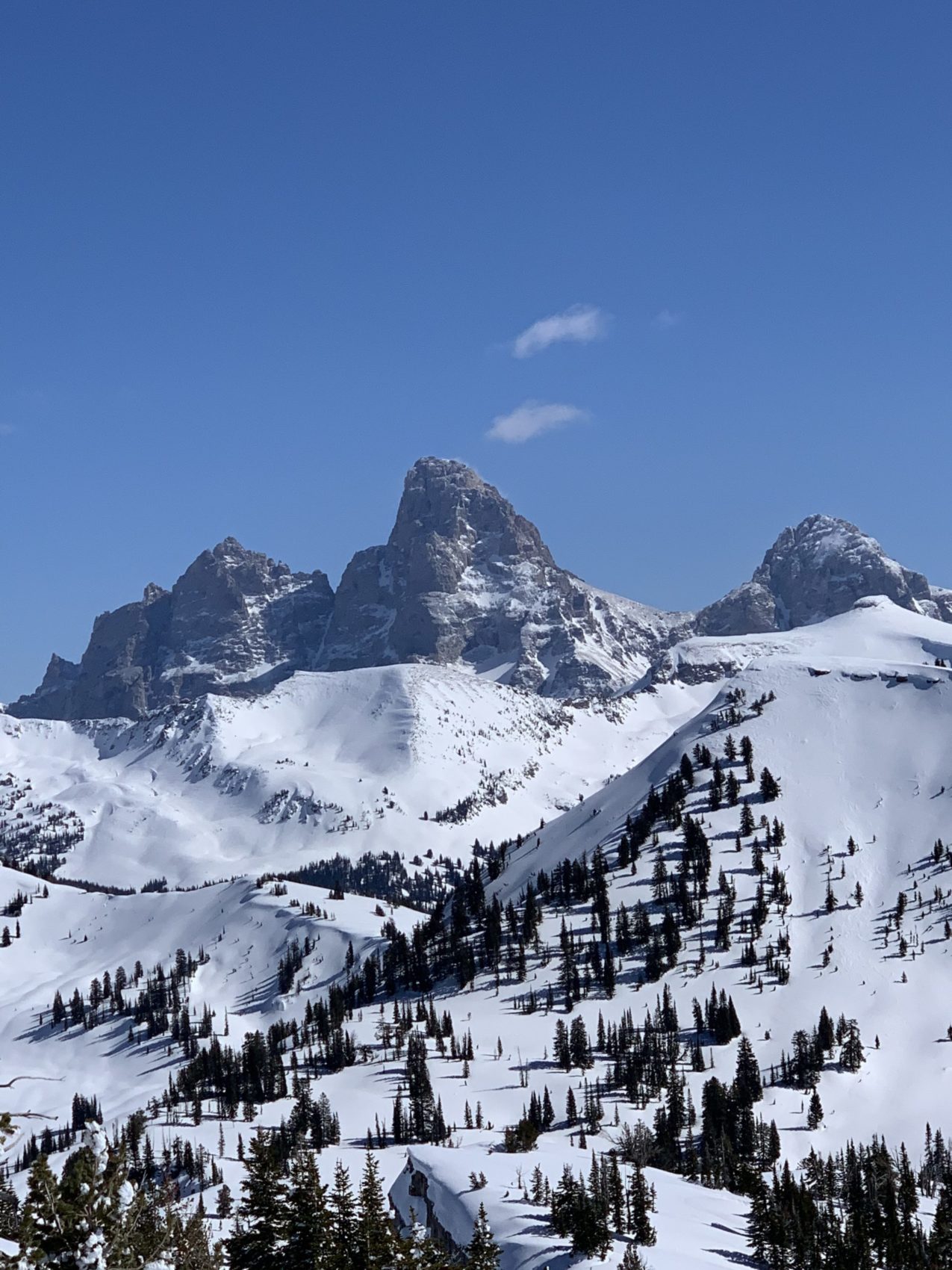 Peaked Mountain  — the next summit over on the boot pack — looked like it had some better skiing than Mary's, so we marched on over to there. 
Once there, we found the north-facing aspects to be a lot creamier than others.
We dropped on a north-facing slope heading back towards Mary's Nipple and found some soft stashes still lurking in the shade.
It was a nice transition from the harder-packed groomers this morning.
By the time we finished our little excursion, the sun was shining bright and the warmer temps were softening up the snow everywhere.
It was time for some spring skiing.
With a rat pack of about six, we ripped the groomers till we couldn't rip 'em anymore.
Most of the Grand Targhee mob we were rippin' with today were gray-haired, ride-or-die ski bums that came here for similar reasons as we — to ski as hard as our legs allowed us in a fine place with good company.
Reasonable men.
The rest of the afternoon brought with it a wave of springtime vibes that haven't been felt since prime-time slush skiing last season hitting the wave at Snowbird. 
And by 3 o'clock the snow was soft and the mood was light.
It wasn't quite slush skiing, but the snow wasn't anywhere near hard either.
Then, in some way or another, we found ourselves in Grand Targhee's terrain park.
The park at Grand Targhee is actually pretty big with a lot of features ranging from interesting rail setups to smooth, sculpted step-up jumps that kicked you way up into the sky.
The primordial park skier dwelling deep within somehow found his way to the surface today. 
So we entertained this and ripped some park.
We hit boxes and sent 360s off of large park jumps that we haven't hit in a long time.
Being based out of a place like Alta, Utah this winter, these things begin to feel like a distant memory.
But it's always good to reflect back on your humble beginnings and send it for old time's sake.
We lapped the park until close.
And, just like that, our time at Targhee was under wraps.
We we're thankful.
Another day, another ski.
And tomorrow — JACKSON HOLE, WY BABY!
Snow Numbers 
Forecast
Photos