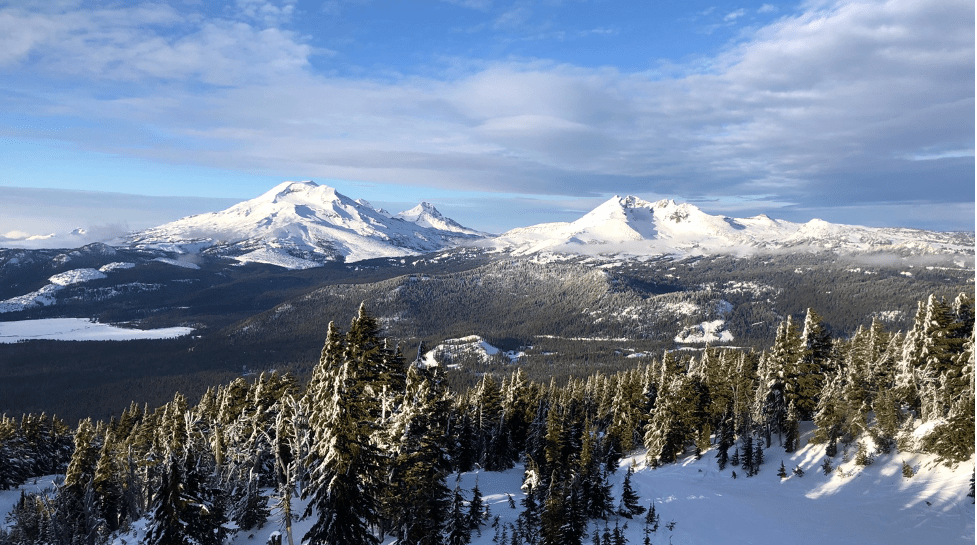 There are few places like Bend, Oregon, where you can gaze up thousands of feet to marvel at a half dozen prominent peaks rising out of the high desert. In the past half-century, Bend has become known as an outdoors utopia for all-season play. And just twenty miles from Bend sits Mt. Bachelor, a 9,068-foot volcano. Depicted above is the view from Mt. Bachelor toward the Three Sisters and Broken Top.
Mt. Bachelor has terrain for everyone. Dubbed "Mt. Flatchelor" by some, Bachelor is not sheer in the way the Sierras or the Rockies may be. The slopes allow families, park rats, and free riders all to come, learn, and grow. The resort boasts twelve lifts (eight high-speed lifts), providing access to over 4,323 acres and 3,365 vertical feet of varied terrain. And these are big lifts— four cover over 1.5K vertical feet— something few hills can say! The snow at Bachelor is blessedly drier than many Pacific Northwest resorts, and the weather patterns offer a good volume of the fluffy stuff! The resort averages 462" of snow annually, with a base routinely between 150-200". And, if you don't have a pass for the day, Bachelor welcomes uphill travel to the Summit!
Bachelor has long been known for its park culture. Chiefly derived from the Skyliner chair, off of which there are multiple terrain parks. These parks attract some of the most skilled athletes in the west— and people riding up Skyliner (replaced with a new high-speed six-pack during the summer of 2023, among other upgrades!) are often witness to their prowess. In the modern era, Bachelor has teamed up with Woodward to provide immaculate park up-keeping and a variety of rails, jumps, and wacky features. Annually, the Woodward team creates the "Peace Park," an assortment of strange and fun features that includes a Volkswagen Bus and a Big Wave Challenge. This culture permeates the Bend, OR, ethos, and one product is Bachelor's annual Rendezvan festival at the ski resort.
But when I go to Mt. Bachelor, I go for the trees. Whether you like them tight and technical (I do!) or a bit more spaced and friendly, Bachelor has the stuff. If you look toward the ski boundaries: off the backside of the Summit Chair, east of the Cloudchaser Chair, or west of the Northwest Chair, you can reliably find some of the most immersive tree skiing in the world. When I go home to Bachelor, I spend my day, bell to bell, riding the 2.3K vertical foot Northwest Chair. Unlike many resorts where crowds abound on the slopes when you ride Northwest, you do not often see other people during your descent— though you may hear their hoots in the trees. There may be lift lines at the bottom of Northwest on a weekend, but during a lull, one should enjoy being ensconced in the trees and alone for thousands of vertical feet, much of which is often fresh tracks. If that doesn't make for paradise, I don't know what does.