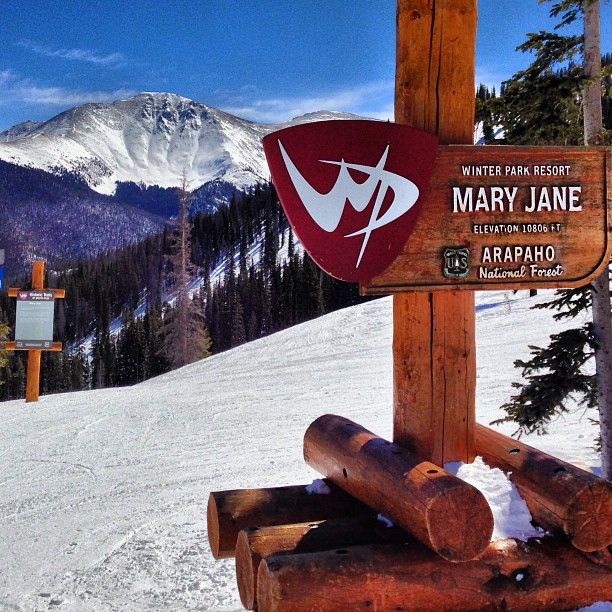 Winter Park Resort is the best resort to grow up skiing at; it truly is a winter playground. With terrain for all levels of skiers, it's perfect for families, entry-level skiers as well as local ski bums looking for good old-fashioned fun. After 81 years, fun is a tradition here. It's located just over an hour away from Denver. Situated west of the Continental Divide, just over Berthoud Pass, allows commuters the chance to avoid a majority of I-70 traffic and take in breathtaking views the whole way there.
Winter Park offers a variety of terrain, from easy cruising blues on the Parkside to steep chutes in the Cirque and famous bumps on the Jane side. 
Mary Jane, the separate but conjoined territory of the resort, is known for the best bump runs. Perfect bumps fill long runs leaving some of the most entertaining and challenging lines to be explored. These legendary moguls can be found up the Challenger lift. Not only does it access these famous bump runs, but it's also located next to the best parking lot for aprés tailgating. Utah Junction parking lot, or C-Lot, is just a few steps away from the C-lift, with no shuttles needed, and is a common hangout spot for tired bumpers after a day of hitting moguls.
There's nothing like lapping the Panoramic lift up to Parsenn Bowl on a bluebird day; with amazing views of the Continental Divide and Parry's Peak, you can cruise down the spine and take in the views or explore some of the best tree skiing. Just on the other side of the Bowl is Eagle Wind. The steepest runs at the resort hide back here as well as the occasional moose! 
Growing up skiing Mary Jane was one of the best experiences. Anything could be conquerable as long as you believed you can do it! I started to ski at the Galloping Goose before I could walk; a slow two-seater lift located at the base of Mary Jane that takes new skiers up with just enough vert to warrant a small pizza wedge on the way down.  After graduating from the goose I highly recommend trying out Dilly Dally Alley, especially for kiddos entering into a life of skiing, a series of whoop-dee-doos just past the High Lonesome Express on the Winter Park side is a blast. For some entry-level tree skiing, Ski Papa over at the Discovery Zone is the perfect way to ease a little ripper into becoming a tree bashing addict. From there I slowly built confidence on The Park side's many cruisers, like Cranmer and Jabberwocky. Soon I was crushing bumps over at Trestle and the Jane and haven't stopped since.
The best thing my parents taught me when I was learning how to ski was something they never mentioned at all, the "color of the run". When I grew up skiing I didn't know if I was skiing blues or blacks I was just there to ski it and have fun! 
With all the different terrain available it's impossible to ever be bored at Winter Park Resort. Different terrain and new challenges will improve your skills and confidence as a skier every time you go out. Whether you're pounding bump laps on the C-lift, hucking cornices in the Cirque, jump turning your way down Eagle Wind or cruising Cranmer on the Parkside. They've maintained an old-fashioned vibe, anyone is welcome as long as you're there to have fun! 
Stats:
Average Snowfall: 326.9in per year

9,000ft Base;  12,060ft Highest Point with 3,060ft vertical

Two distinct Mountains The Winter Parkside and Mary Jane, with access to five additional territories the Cirque, Vasquez, Eagle Wind, Parsenn Bowl, and Trestle 

23 lifts with 166 trails on 3,081 skiable acres  – 1,212 acres of off-piste terrain