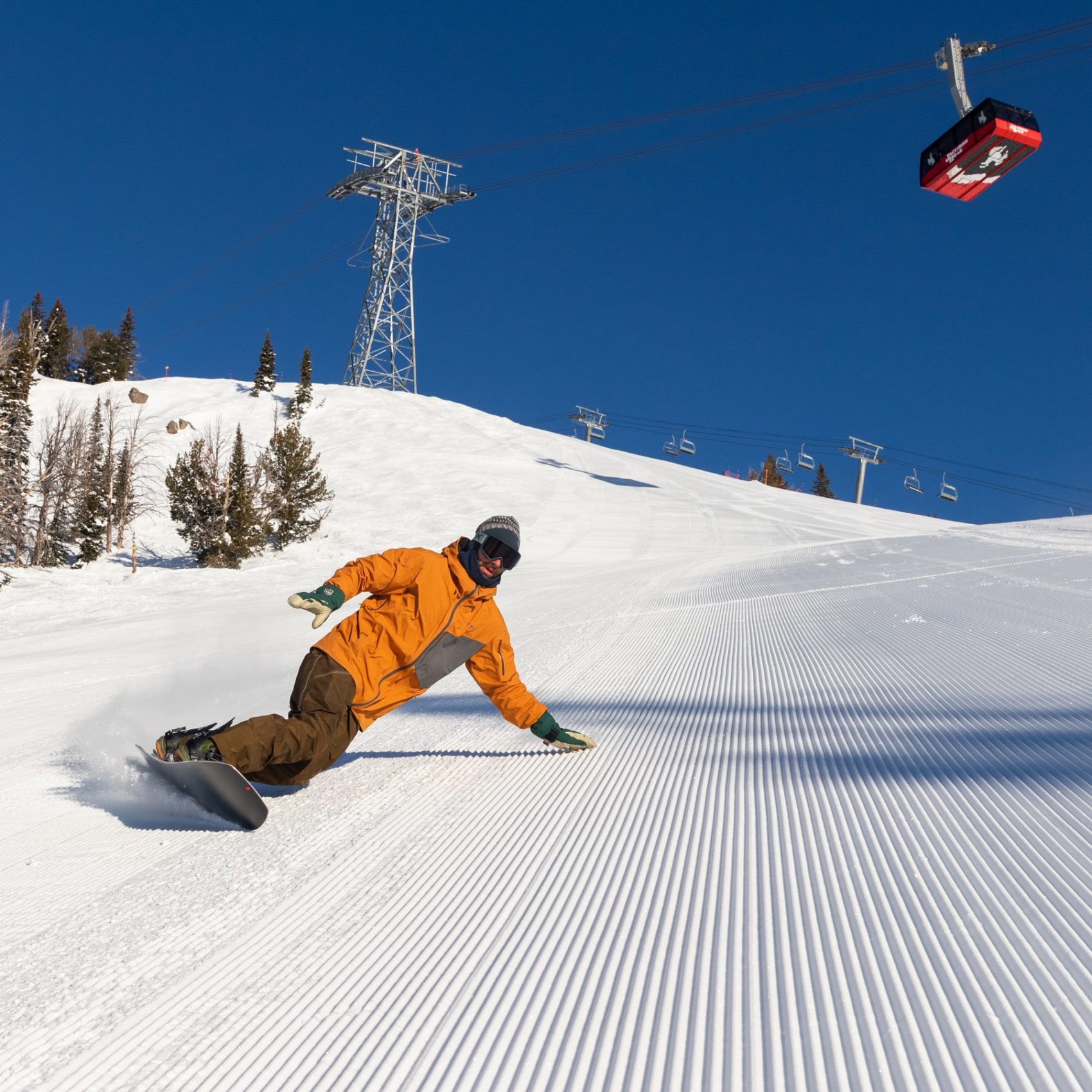 Jackson Hole Mountain Resort, WY president Mary Kate Buckley has addressed guests, employees, and partners about expectations for next season in a letter sent out yesterday.
The letter reveals that Jackson Hole plans to open on Thanksgiving Day, November 26th, 2020, and remain open for 137-days. Lessons learned throughout summer operations, during which not one single case of COVID-19 has been reported among employees, will be implemented throughout the winter too. This includes all employees and guests wearing face coverings in all public and indoor places, and lifts and gondolas will be loaded with groups from the same party. Restaurants, guest service centers, and retail/rental facilities will be arranged to ensure appropriate distancing and the resort will work to pre-fulfill ticket purchases to eliminate a stop in a guest service center.
Having been closed all summer for maintenance and repair, the Aerial Tram will open for the winter, albeit with separate capacity considerations. Buckley does not elaborate here, other than to say they will comply with State and County ordinances.
Jackson Hole Mountain Resort has seen over 500″ of snow the last three seasons and they are hoping 20/21 is the fourth for what promises to be yet another awesome, if not unique, season. Let the countdown commence…
Here's the letter in full, below:
August 6, 2020
To our JHMR community of valued guests, employees, and business partners:
After closing our mountain operations on March 15 we were faced with navigating JHMR through uncertain times, in an uncertain world. We spent many weeks creating a variety of scenarios for our summer operations and we evaluated each scenario against our priority for guest and employee safety and health in light of the COVID-19 pandemic.
We followed the lead of the National Parks and opened for summer operations on May 30. From opening day we pioneered and embraced a variety of health and safety protocols in conjunction with Teton County Health. These include requiring masks to be worn by all guests, including inside all buildings, facilities, and in lift lines. We are requiring mandatory testing of all of our employees for the live COVID virus and continue to conduct weekly random testing. We are communicating real time updates to guests via the JH Insider app and enabling diners to remotely order food for pick up, amongst a number of additional safety measures. We are very proud of and grateful to both our employees and to our guests for their diligence in adhering to our guidelines. Our data shows that to-date, there have been zero transmissions of COVID-19 to our employees while at the Resort. We are grateful to the Teton Village Association for issuing guidelines for masks to be worn at all commercial properties in Teton Village, to Teton County for their mandate requiring masks to be worn county-wide, and to all of our commercial partners' efforts to create a safe environment for our guests to recreate with us this summer.
The manner in which JHMR operates has enabled adventurers to come back to the outdoors to safely experience our hiking and mountain biking, climb our Via Ferrata and enjoy epic views accompanied by foodservice from The Deck at Piste at the top of the gondola, and outside at the Tin Can Cantina, in the base village this summer. If not for the presence of the masks and our other protocols, the joy and memories might seem like any other summer.
We will leverage our learnings and the proven success of safe summer operations to our winter season. In the same way, we swiftly, proactively, and successfully addressed summer business, health and safety this winter will remain paramount.
We will comply with all health ordinances. On March 15 we closed the Resort per the direction of Wyoming Governor Gordon and in response to a health ordinance from the Wyoming State Health Officer; we will continue to follow any and all health ordinances this coming winter.
Even under our most cautious scenario, we plan to operate the Resort for 137 days, opening on Thanksgiving Day, November 26, 2020, through April 11, 2021.
We will leverage our experiences and learnings from our summer operations and implement new operational safety protocols to protect our guests and employees from the transmission of COVID-19 for the upcoming winter. Our protocols are being developed with guidance from the Centers for Disease Control and Prevention (CDC), Jackson's St. John's Health, Teton County Public Health, and the State of Wyoming.
We will require our employees and every guest to wear face coverings in lines, when loading and unloading chairlifts, gondolas, the Aerial Tram and in all indoor resort facilities, including retail, restaurants, guest services, ticketing, administrative offices, and restrooms.
Guests will be advised to practice physical distancing by staying at least six feet away from other groups of people while standing in lines, inside buildings and structures, or moving around the property. We will work to pre-fulfill ticket purchases so that our guests can arrive with tickets in hand to eliminate a stop in a guest service center. Restaurants, guest service centers, and retail/rental facilities will be arranged to ensure appropriate distancing. Lifts and gondolas will be loaded with groups traveling together or individually, with separate capacity considerations for the Aerial Tram. All capacity changes will be in alignment with State and County ordinances.
Our recent survey of our loyal guests shows a strong desire to spend time in the mountains this winter, and we are looking forward to welcoming you back to JHMR for another fantastic season. We've been working hard all summer to improve some of our trails, extend our snowmaking and invest in a number of other upgrades that will make our mountain even better (if that's possible!). We've crested 500" of snowfall the past three years and we're hoping to make this the fourth. We'll be open, safe and ready for you, and together with your vigilance and compliance, we'll have another great season.
Best,
Mary Kate Buckley
JHMR President