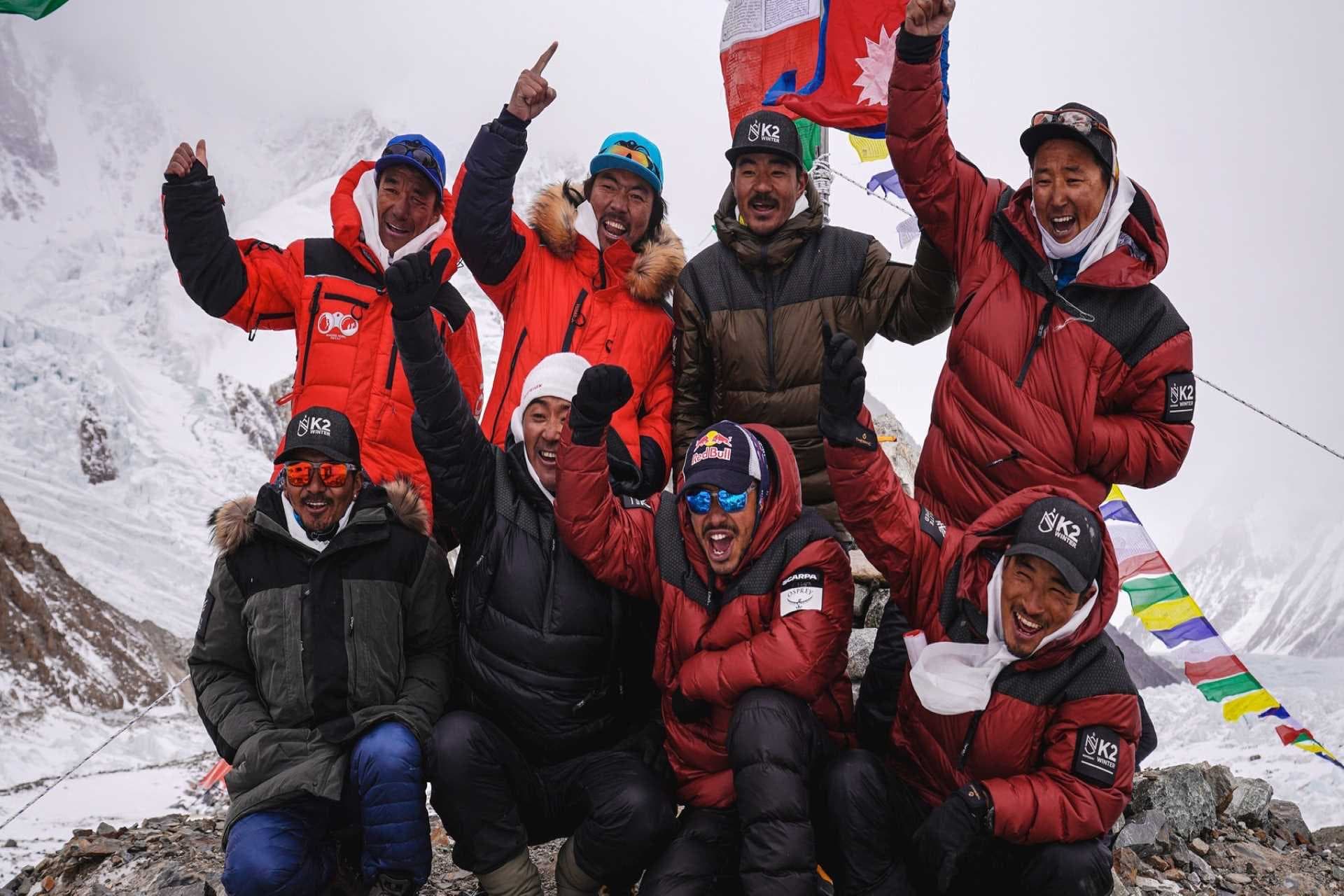 A team of ten climbers from Nepal on Saturday become the first mountaineers to successfully summit K2, the world's second tallest peak, in winter.
K2, also known as 'The Savage Mountain' is the only mountain over 8,000m that had yet to be summited in the winter.
The group of Sherpa's reached the top of the 28,251-foot peak together at 4:56 pm local time. The names going down in history are Nirmal Purja, Gelje Sherpa, Mingma David Sherpa, Mingma G, Sona Sherpa, Mingma Tenzi Sherpa, Pem Chhiri Sherpa, Dawa Temba Sherpa, Kili Pemba Sherpa, and Dawa Tenjing Sherpa.
Several teams were on the mountain attempting to be the first to the top. The attempt cost Spanish climber Sergio Mingote his life; he fell down a crevasse attempting to make his way down to Base Camp.
K2 was first climbed in 1954 by Italian Achille Compagnoni, and the first winter attempt was in 1987-88. Until now, none had got any higher than 25,098-feet.
K2, at 8,611 meters (28,251 ft) above sea level, is the second-highest mountain in the world, after Mount Everest at 8,848 meters (29,032 ft). It is located on the China–Pakistan border between Baltistan in the Gilgit-Baltistan region of northern Pakistan and Dafdar Township in Taxkorgan Tajik Autonomous County of Xinjiang, China. K2 is the highest point of the Karakoram mountain range and the highest point in Pakistan and Xinjiang.
K2 is known as the Savage Mountain after George Bell, a climber on the 1953 American Expedition, told reporters, "It's a savage mountain that tries to kill you." Of the five highest mountains globally, K2 is the deadliest; approximately one person dies on the mountain for every four who reach the summit. Also occasionally known as Chhogori, or Mount Godwin-Austen, other nicknames for K2 are The King of Mountains and The Mountaineers' Mountain, and The Mountain of Mountains after climber Reinhold Messner titled his book about K2 the same. K2 is the only eight-thousand-meter peak that has never been climbed from its eastern face. Ascents have almost always been made in July and August, the warmest times of the year; K2's more northern location makes it more susceptible to inclement and colder weather. In 2021 the K2 became the final eight-thousander to be summited in the Winter.
Almost all of its ridges have now climbed the peak. Although Everest's summit is at a higher altitude, K2 is a more difficult and dangerous climb due in part to its more inclement weather. As of June 2018, only 367 people have completed the ascent. There have been 86 deaths during attempted climbs, according to the list maintained on the list of deaths on eight-thousanders.
The summit was reached for the first time by the Italian climbers Lino Lacedelli and Achille Compagnoni on the 1954 Italian Karakoram expedition led by Ardito Desio.