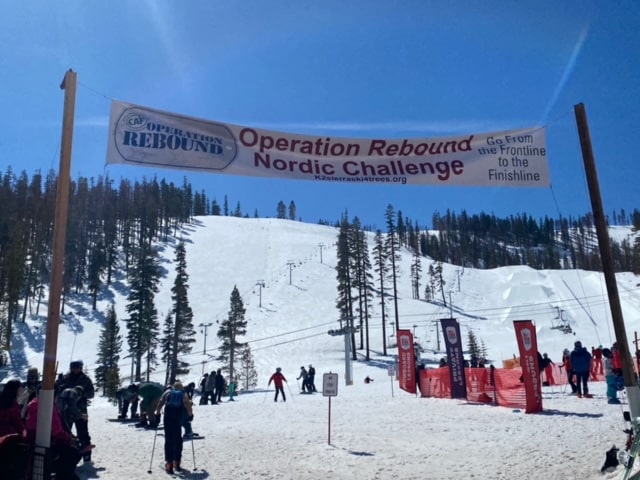 In 2021, the devastating Caldor Fire in Northern California wiped out over 220,000 acres of national forest, mostly within El Dorado County. It was one of only two fires in the state's history to crest the Sierra Nevada as it raced up and over Echo Summit and into the Lake Tahoe Basin. Along the way, locally prized ski resort Sierra at Tahoe sadly lost approximately 50,000 trees.
This past April, K2Sierra4Trees put on a backcountry race/tour ("R'our") fundraiser event transporting seedlings through the Caldor Fire burn scar while supporting Operation Rebound and the Challenged Athletes Foundation, as well as Sierra-at-Tahoe. Participants started near Kirkwood on their skis and worked their way to Little Round Top before completing the Operation Rebound Nordic Challenge at Sierra-at-Tahoe. There were two 'Cookie Stations' en route that provided water, words of encouragement, and, of course, cookies to participants.
The idea began last October, when event organizer James Cahill (Sierra Ski Patrol), his logistics director Jeff Crovitz (Sierra Mountain Host), along with John Rice (Sierra General Manager) proposed it as a way to help Sierra recover and rebuild after the extensive damage done by the Caldor Fire by delivering seedlings provided by the Resource Conservation District. 40 volunteers set up and groomed trails, making this event possible for the 19 skiers involved after postponing three times due to the massive snowfall in the region. In addition, $2,897 was raised during the event for Operation Rebound.
When asked about what drove Cahill to start this event, he responded with a true local's passion, 
"I have been working at Sierra 14 years and Kirkwood as a ski patroller/ adaptive crosscountry skiing instructor etc. I am a grandfather and my grandson Bodhi will see the legacy of his grandfather long after I am gone."
This event is set to happen annually for years to come, so mark your calendars for Saturday, March 16, 2024. Hopefully, 30-40 years from now, the area is full of big Red Firs and Western White Pines growing in the footprint of the Caldor Fire.