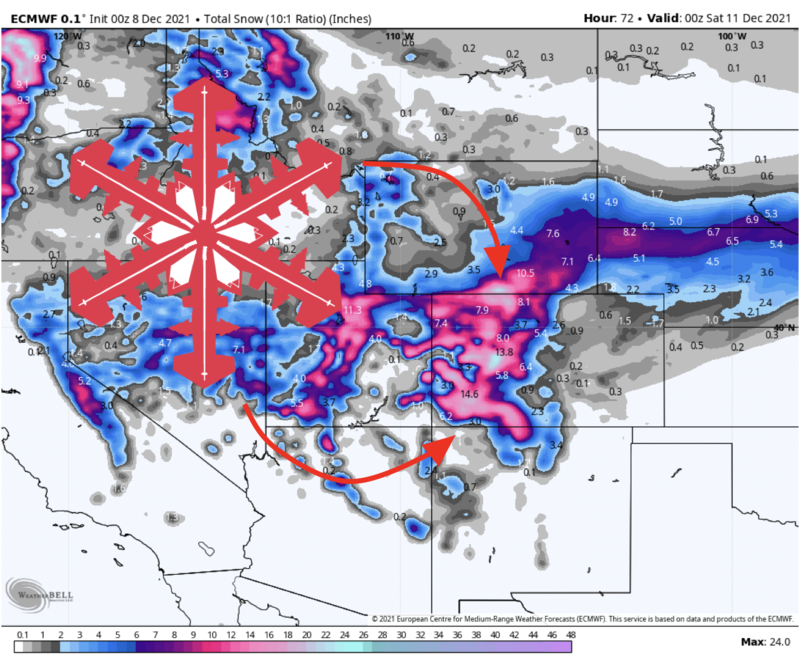 Forecast By SnowBrains Meteorologist Nathan Tarino
Updated 2:00 pm MST  12-8-2021
Forecast Summary
A significant winter storm will bring heavy mountain snow across Colorado from Wednesday evening into early Friday morning. Double-digit snow totals are likely for many Colorado ski resorts, with a few favored areas likely to pick up as much as 30″ of snow.
Most mountains can expect 6-12″ of snow, with higher totals generally west of Vail. San Juan Resorts like Wolf Creek, Telluride, and Powderhorn are likely to see particularly deep totals. Good accumulations will fall across the Park Range as well, which hosts Steamboat.
Friday and Saturday morning will be very chilly at resort peaks. Be prepared for single-digit temperatures in the mornings if you plan to tear up the new snow before temperatures warm somewhat by Saturday afternoon. 
Short Term Forecast
Through Friday
An upper low spinning off the coast of California is ushering Pacific moisture into the Southwest. Mountain snow showers will fall through the late afternoon Wednesday as this storm pushes into the continental US, before a much stronger disturbance and associated cold front approach on Thursday.
A strong cold front will push through Colorado overnight Thursday. Snow will spread across the state through the early afternoon ahead of the front, persisting through the night and into Friday morning before tapering off.
First chair Friday will be a treat! In total, expect between 6″ and 14″ of snow at the resorts closest to Denver, with the Aspen area coming in on the higher end of the range. Look for 12-20″ for at Steamboat, and 16-28″ of snow in the San Juan resorts like Wolf Creek, Telluride, and Silverton.
Temperatures behind the cold front will be quite low. The higher elevations will cool down to the single digits through the day Friday, even dipping below zero in some spots by Saturday morning. Breezy conditions on Friday morning will add to the cold. Layer up!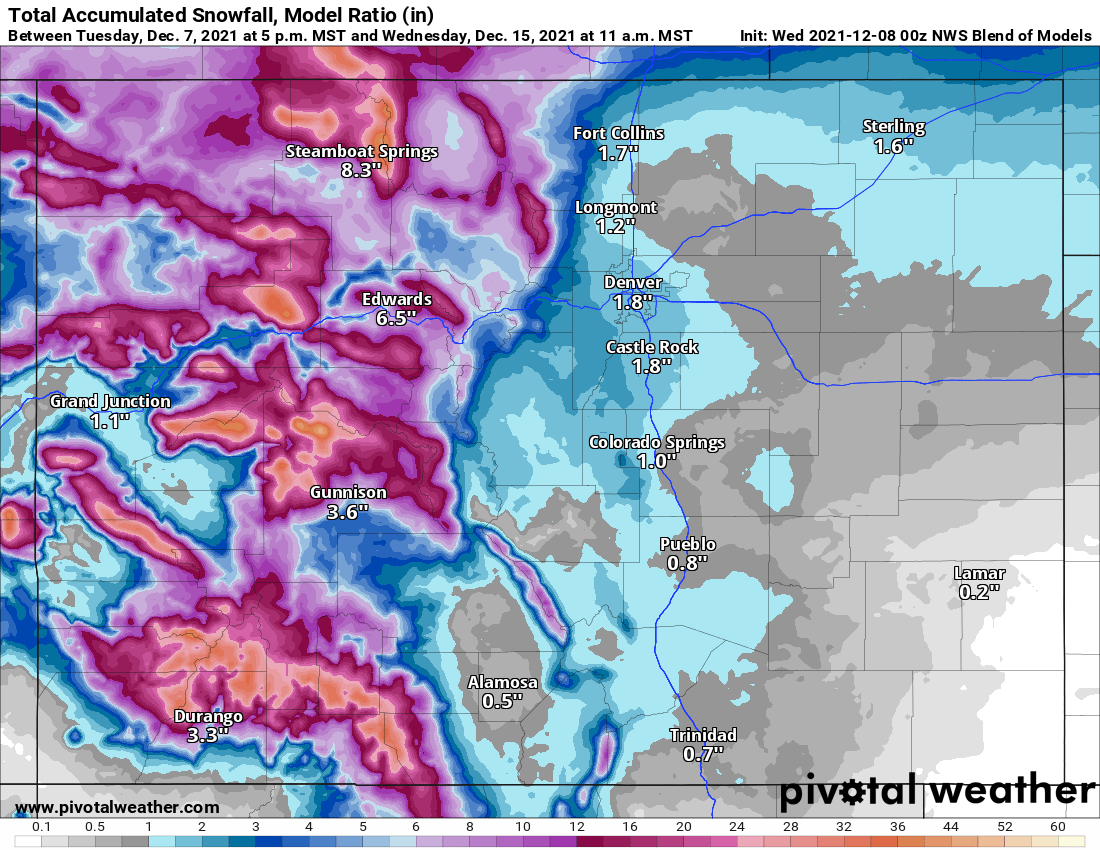 Medium – Long Range Forecast
The next chance at snow comes in the middle of next week, sometime around the 15th of December. Colorado has a shot to get the scraps of a storm that looks set to bury California's mountains. Nothing to write home about, but after the recent dry spell, it's good to have something to look forward to.
Beyond mid-month, the large scale pattern looks neither excellent nor bad for snow. You can expect occasional chances for storms, with another prolonged dry spell looking unlikely. The Climate Prediction Center's long range forecasts are a mixed bag, calling for a chance at wetter but warmer conditions than usual as we get into the holiday season.
Enjoy the snow!