If you travel one hour down the St. Lawrence River from Quebec City, Canada, you will stumble upon the small town of Charlevoix, home to the resort with the largest vertical drop in eastern Canada. With a 2526' (770m) vertical drop, an average of 212" (645cm) of snow a year, challenging terrain, vast off-piste skiing area, and spectacular views that will make you think that you are about to ski right into the St. Lawrence River itself, Le Massif de Charlevoix is a resort that should be on any east coast skiers bucket list. This, paired with its unique location, history, and design, will make for not only a great ski experience but one that stands out. Yet most may have heard of the resort but have never considered going. This article may make you think twice about Le Massif.
History:
If you go to Le Massif's website, it will tell you that the resort opened in 2002, but in reality, it goes much further back. Le Massif has a very complex and fascinating history that shows people's passion for skiing. Starting in the 1970s, Le Massif opened as a place for only die-hard skiers, one where, rather than lifts taking you up the hill, it was snowmobiles with a rope attached that would get you to the top of the mountain.
In 1982, Le Massif, or La Société de Développement du Massif as it was known then, switched from snowmobiles to school buses as a means of transportation to the top of the mountain. This was possible due to Le Massif being a resort that has road access to both the top and bottom of the mountain. Guides would then take groups of skiers down the mountain each day, allowing for much more of a backcountry type experience.
As development of Le Massif progressed, it became an 'upside down' ski resort where the main lodge, parking lots, and accommodations were situated at the top of the hill rather than the bottom. In 1992, Le Massif was able to install its first chairlifts and base lodge at the top of the mountain. But by the end of the 1990s, La Société de Développement du Massif was bleeding money, and current owner Daniel Gauthier bought the resort in 2002, seeing the potential to turn Le Massif into a full-blown ski resort.
Oh, and we cannot forget to talk about Le Massif without mentioning its triple black diamond La Charlevoix. Yes, this run is very steep, but it also serves as a reminder of the time Le Massif built a hill upon a mountain in order to try and make a run long enough to meet the standards for FIS Men's downhill racing so that they could be a contender to host the Winter Olympics.
Getting There:
One of the most unique parts of Le Massif is how to get there. Of course, it is quite easy to drive there and is only an hour east of Quebec City, but to truly make your trip unique, you must take the train. From Quebec City, a train takes you along the shores of the St. Lawrence, and you are dropped right at the base of Le Massif, wherein a couple of steps you can be straight on the gondola and going up the mountain. The breath-taking views along the route, paired with the ease of travel, make for a truly unique skiing experience.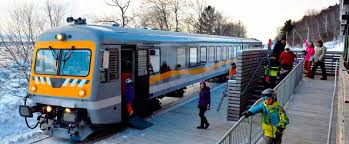 The Future:
With Le Massif under the ownership of Daniel Gauthier, one of the co-founders of Cirque du Soleil has invested massive amounts of money into the resort, hoping to make it not only an iconic ski destination but a year-round one too. Currently, construction is underway to develop a base area at Le Massif that will add a brand-new village to the resort. With the first phase scheduled to be finished by December 2021, this new base area will increase resort accommodations, adding a club med, condos, and chalets. The village will "include an array of accommodation units, a microbrewery, a café, a daycare, a snow school, a general store, an outdoor and rental shop, as well as a ticket office" (Le Massif). With this new development in mind, along with the recent addition of summer activities, including hiking, mountain biking, and downhill biking, Le Massif de Charlevoix hopes to rival Mt. Tremblant as the go-to destination for Quebecer's looking to hit the slopes.