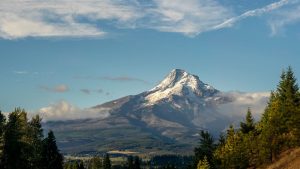 Climate change has led numerous predictions to be made about the future of the skiing industry. An alarming study led by researchers at Lawrence Berkeley National Laboratory reveals that there may not be enough snow to ski on Mount Hood in 50 years and that the Cascades may not have any snowpack by 2070.
Dr. Alan Rhoades, a researcher who was part of the study, explains that peak annual snowpack in the Cascades could decrease by almost 25% in the next 30 years. "Coastal mountain ranges such as the Cascades may face more amplified losses," states Rhoades, per Columbia Insight.
Climate change is an inevitable factor that is nearly impossible to work around in the ski season. "It's just the freezing point of water is non-negotiable … as we continue to warm more and more, we can't have below-freezing conditions be maintained for long periods of time," Rhoades explains. With rising temperatures, the only thing resorts can do is oblige with the warming climate and attempt to extend and enhance the season through artificial factors.
Resorts will most likely have to heavily rely on artificial snow in the coming decades, as seasons are getting cut shorter every year. "We found that low to no snow might occur in the next 35 to 60 years," Rhoades claims. Being reliant on artificial snow can be unfortunate for resorts, as it is very energy and cost-intensive.
Unfortunately, artificial snow can only suffice so much when it too can heed to warm temperatures. "Then eventually if it gets warm enough, it's just virtually impossible to keep…producing artificial snow to meet skier needs," Rhoades states. "In some regions, at maybe lower elevations, those ski resorts would likely be pretty dramatically impacted."
With the rate society is contributing to climate change, Rhoades believes it's best to prepare for a "less snowy future." His goal as a researcher is to highlight the impact of climate change on snowpack. Rhoades hopes to identify solutions and arrange future skiing customs around the warmer future ahead of us.