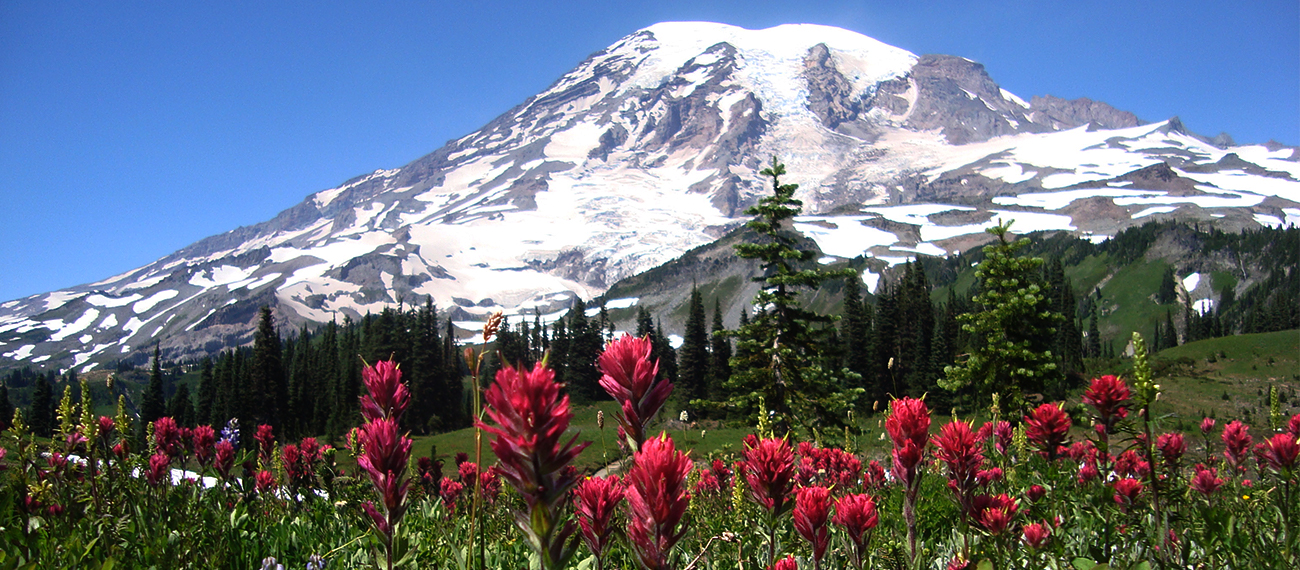 Rangers and Mountain Rescue volunteers yesterday recovered the body of an individual who fell through a snow bridge at Paradise in Mount Rainier National Park, WA, yesterday. The individual, whose identity is being withheld pending notification of family, was found at the bottom of a steep drainage under 8-10 feet of snow.
Rangers initially received the report of someone who had fallen through the snow from a hiking companion who called 911 at 4:22 pm. Rangers responded with a hasty team and swiftwater rescue gear and were able to tentatively spot an unresponsive person sixty feet downslope through a hole in the snow. The terrain was too steep and hazardous to safely conduct a recovery in the dark.
This morning, thirteen Mountain Rescue Association volunteers and three National Park Service rangers began digging a trench at the base of the slope. At 12:30 pm a ranger in a dry suit descended into the trench and recovered the body from the base of a waterfall fed by snowmelt under the snow.
Volunteers from Central Washington, Everett, Olympia, and Tacoma Mountain Rescue units assisted with the search and recovery. 
Water flowing underneath melting snow is one of the greatest dangers that hikers face in the Cascades Mountains this time of year. Water can carve and melt large voids, which may be partially or completely invisible from the surface. To avoid this danger:
Do not hike alone. A companion may be able to call for help.
Check-in with a visitor center for current information about hazards in the area where you will be hiking.
Stick to well-marked routes over the snow.
Avoid hiking in drainages where water is likely to be moving under the snow.
Look for holes or depressions in the snow, and listen for the sound of rushing water.
When hiking in steep terrain, carry an ice axe or wear traction devices to prevent falls.
Carry the "10 Essentials," including extra food, water, clothing, and navigation aids.
Mount Rainier National Park is an American national park located in southeast Pierce County and northeast Lewis County in Washington state. The park was established on March 2, 1899 as the fifth national park in the United States, preserving 236,381 acres (369.3 sq mi; 956.6 km2) including all of Mount Rainier, a 14,411-foot (4,392 m) stratovolcano. The mountain rises abruptly from the surrounding land with elevations in the park ranging from 1,600 feet to over 14,000 feet (490–4,300 m). The highest point in the Cascade Range, Mount Rainier is surrounded by valleys, waterfalls, subalpine meadows, and 91,000 acres (142.2 sq mi; 368.3 km2) of old-growth forest. More than 25 glaciers descend the flanks of the volcano, which is often shrouded in clouds that dump enormous amounts of rain and snow.
Mount Rainier is circled by the Wonderland Trail and is covered by glaciers and snowfields totaling about 35 square miles (91 km2). Carbon Glacier is the largest glacier by volume in the contiguous United States, while Emmons Glacier is the largest glacier by area. Mount Rainier is a popular peak for mountaineering with some 10,000 attempts per year with approximately 50% making it to the summit.
Paradise is famous for its glorious views and wildflower meadows. When James Longmire's daughter-in-law, Martha, first saw this site, she exclaimed, "Oh, what a paradise!" The park's main visitor center, the Henry M. Jackson Memorial Visitor Center, is located in the upper parking area. Paradise is also the primary winter-use area in the park, receiving on average 643 inches (53.6 feet/16.3 meters) of snow a year. Winter activities include snowshoeing, cross-country skiing, and sledding. The road between Longmire and Paradise is plowed, but closes at night during the winter. See the current Road Status for updated information about park roads. Paradise is located 19 miles (30 km) east of the Nisqually Entrance and 12 miles (19 km) east of Longmire.