Trip report from August 18, 2023
Powder stashes and space for slashes; Mt. Dobson makes an impression measured in ear-to-ear grins.
Roosted conveniently in-between the South Island mountain communities of Fairlie and Lake Tekapo, Mt. Dobson ('Dobo' to its faithful) is a respected fixture on the New Zealand snow map. Its earned a solid rep for focus upon family (which is apparent from the carpark straight on up to the summit) and its warm kiwi welcome to all abilities of skiers and riders.
But what really, really sinks the hook is the sneaky wallop Dobo packs when it comes to terrain.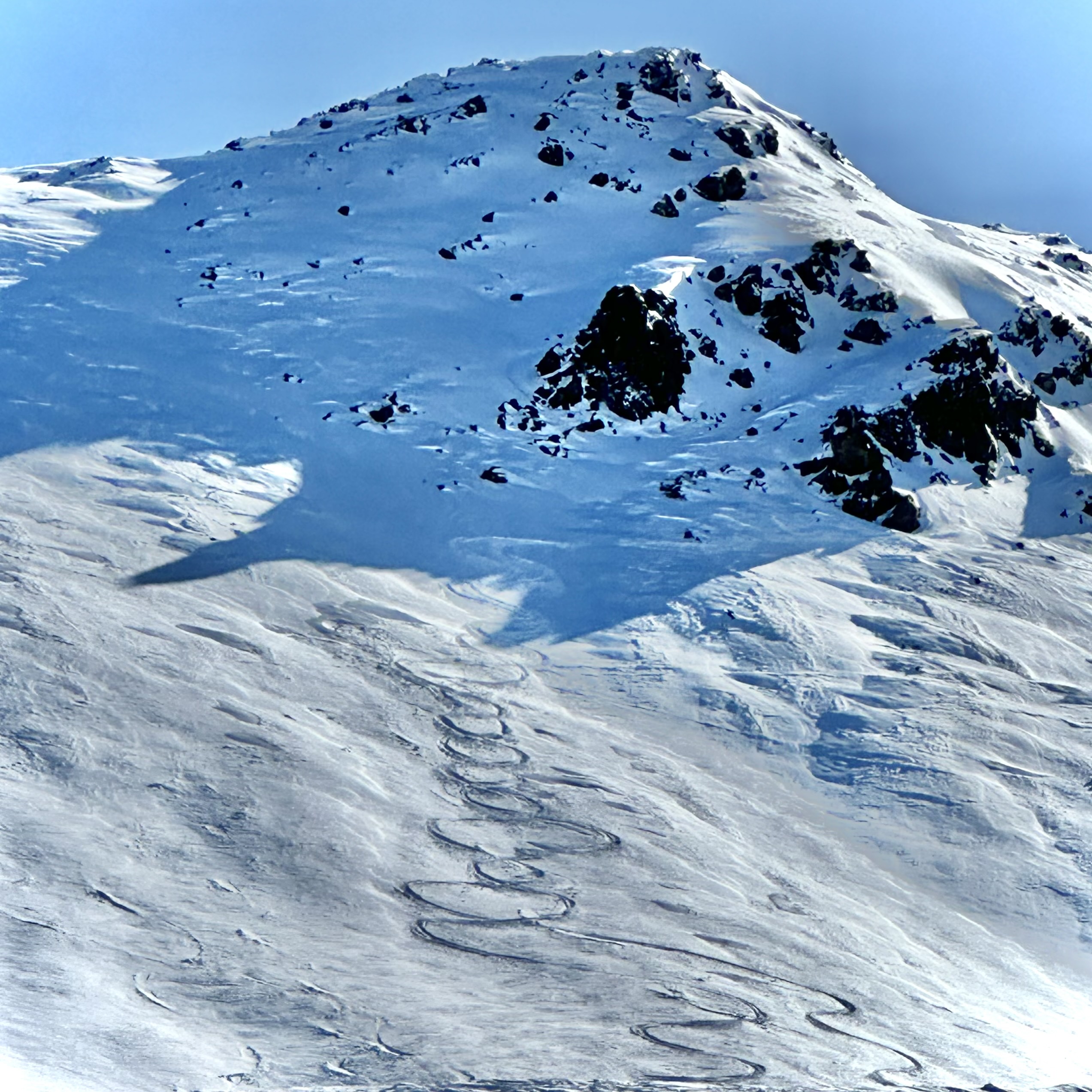 Ranked among New Zealand's top-five highest ski fields, Dobo reaches to just over 6800 feet of elevation and is accessed via 15km of unsealed ribbon road aimed at the sky.
The ski field rocks a Triple-Chair, Platter, T-Bar, and beginner Tow Cable. A cozy base camp comprising cafe, rental shop, and ski club wait where those venerable transports meet. And a crew of truly cruisie ski-characters make sure all the above runs smoothly while the snow flies.
High among the many winning attributes of New Zealand ski fields is their sense of spaciousness. Of course the skier numbers ebb and flow by the day. And carparks get full just like anywhere else. But even at their zaniest, there's still a feeling that this day is reserved just for you.
By that standard alone, Mt. Dobson–the one and only Dobo–shines like a diamond.
Our recent visit to mighty Dobo–which has been long awaited, to be sure–happens to have landed within those idyllic conditions of recent snow, followed by skies as clear and bright as a bluebird's song. 
Boot-deep fresh blanketed the Dobson slopes for our visit and though the day's riders tried admirably, it could not be tracked out. There was simply too much terrain.
Snow consistency was a curious combo of dry yet creamy snowpack, which was playful in its soft cushion while at the same time mischievously edgy. 
Honestly, when the day finally wound down we didn't want to leave Mt. Dobson. The good vibes and sun-drenched carpark had us hanging out so long somebody eventually asked if we were after jobs. We're thinking about it…
…and we're definitely already planning our return to the Dobo.