Report from August 24, 2023
After the previous day's deep powder and healthy hucks, we went deeper into the backcountry and stepped into bigger terrain.
Anubis Rock Chute.
FYI: Anubis was the Egyptian god of the dead and embalming as well as the guide to the netherworld (I have a minor in Egyptology and there's a rock that looks just like Anubis' head on a tower next to this chute)
I dislike the feeling of knowing this chute is in.
I think about it before I go to bed, right when I wake up, and the entire morning until I actually drop in.
The thing always scares the tar out of me.
Just going to look into it is enough.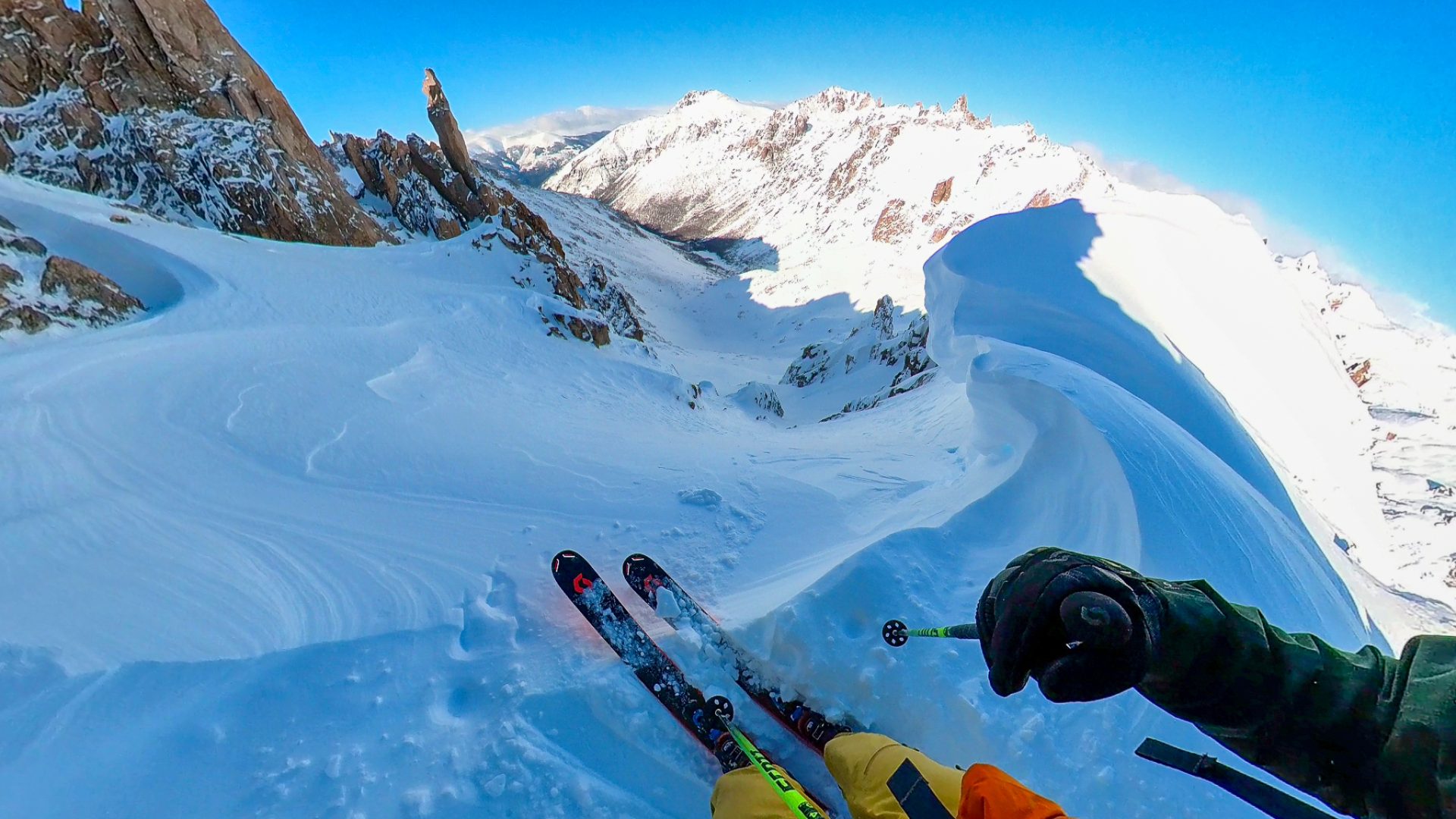 The top is a no-fall zone that funnels your conglomeration of meat and sinew through a slender 50º chute that ends in a rock wall.
You need to make that right turn…
If you make the right turn, you're rewarded with a steep wall holding a small curtain, allowing for only one speed-check turn, then immediately demanding a quick air that sets your speed back to HIGH.
Upon landing that curtain air, you get exactly one more speed-check turn to set yourself up for the perfect symmetry of the wind-spine in the dungeon of the chute.
The wind spine can be amazing and allows for 3-6 fun vertebral turns before it abruptly ends in a small exit cliff that should definitely be hit.
Once terra firma is confirmed and your meat and sinew package is found to be upright, you have to make the decision to continue ripping powder for another 1,000 vertical feet to the valley floor or cut hard right and head back up for more.
But how does it all feel?
It feels furious.
Pure fear at the top in the no-fall zone.
Distilled focus in the miss-the-rock-wall right turn
Back to fear as you barely control your speed and jut out onto the curtain
Euphoria upon landing the curtain air and driving towards the wind-spine
Could nine tickling every vertebra of said spine
Then unadulterated badassery as you regain control and realize what you just rose to
Badassery?
Is that OK to say?
Even about one's own experience?
Absolutely yes.
Because whether it actually is badass or not has no bearing on how you feel in that moment.
You feel like a badass.
Now, take all that I've said so far and throw it out the window because yesterday, the snow was pretty bad in Anubis Rock Chute…
The upper chute was punchy and flow-less.
The miss-the-rock-wall turn was sketchy.
The curtain turn and air actually felt OK, as far as I remember…
The speed-check turn into the spine made me think I was going to crash for sure (you can even hear me say "Oh, Shit!").
The spine's severely wind-pressed snow was a full-body workout.
The exit air at the bottom was a relief.
It was just good to be outta there.
Once I finally caught my breath, I realized that the normal end-feeling was missing.
Badassery.
I certainly didn't feel badass.
I just felt like I survived the damn thing…
That in itself is a nice feeling, I must say.
From there, I skinned back up and skied one of the happy, mellow Sun Chutes that I love and headed home with spice still stuck in my teeth from Anubis.
Thanks, Patagonia!
Photos